A Must Have Wish List
When Cybil and Evan first moved into their home in Kennett Square, they had so many different plans for how they wanted the space to flow and look. But, like many homeowners, life went by and they never got around to tackling this specific area of their home. So, when we met with them at their house in Kennett Square, they had a pretty good idea of what they wanted to achieve by remodeling their space – here is their remodeling wish list:
1. Open Floor Plan
Since Cybil and Evan have been living in an enclosed space for so long, they are eager to take down some walls and enjoy the many benefits of an open floor plan! They would love to be able to walk in their front door and see all the way through to the back of their home.
2. Larger Kitchen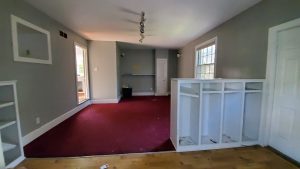 As a family who loves to cook, Cybil and Evan know that they definitely want a larger kitchen for preparing meals and a larger pantry for storing dry goods and snacks.
3. Room to Entertain
As Cybil and Evan's children grow, they want to have space in their home where they can entertain their friends and their kids' friends at the same time. Having multiple areas to entertain will also help them host family events like birthday parties or Thanksgiving dinner.