For many families homework sets off everything from minor squabbles to verbal battles between parents and children. Whining, stalling, yelling, bribing. They've all been done to avoid homework or to ensure that it gets done. A better homework routine could start with a better place to get the work done.
As a parent, where do you pay bills, do research for your next home project, or work from home? Maybe you have a command center in the kitchen, a separate home office, or a desk in your bedroom. The point is, you have a designated space to work. Why not have a homework station for your child? Having a designated space helps you focus on your tasks. The same is true for children, perhaps even more so, as they are full of energy and even more prone to distractions.
A homework station should function for your home's layout, whether it's small or sprawling, and your family's needs. It's all about finding and creating the right space, personalizing it for your child, and making it easy to stay organized. (It's hard to stay focused in a mess!) Whether big or small, these homework stations work for the home's layout, the child's personality, and organizational ease.
Creating the Right Space with Less
If you feel like your home is already bursting at the seams, you can still find space for a workstation. You just have to get a little more creative and maybe rethink underused square footage.
Homework Landing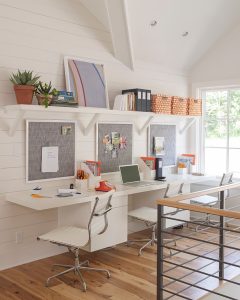 Project by Pamela Sandler
Have some room at the top of the stairs? Often, a landing is not large enough to create a true loft, but it may be more substantial than just a hallway. Here, a slim, wall-mounted desktop and a few sleek chairs create a space for the kids to study. Even if you don't have second-story landing, you can create similar set-ups in wide hallways. As a bonus for parents, the neutral palette coordinates easily with any style and makes it easy on the eyes.
A Space For Two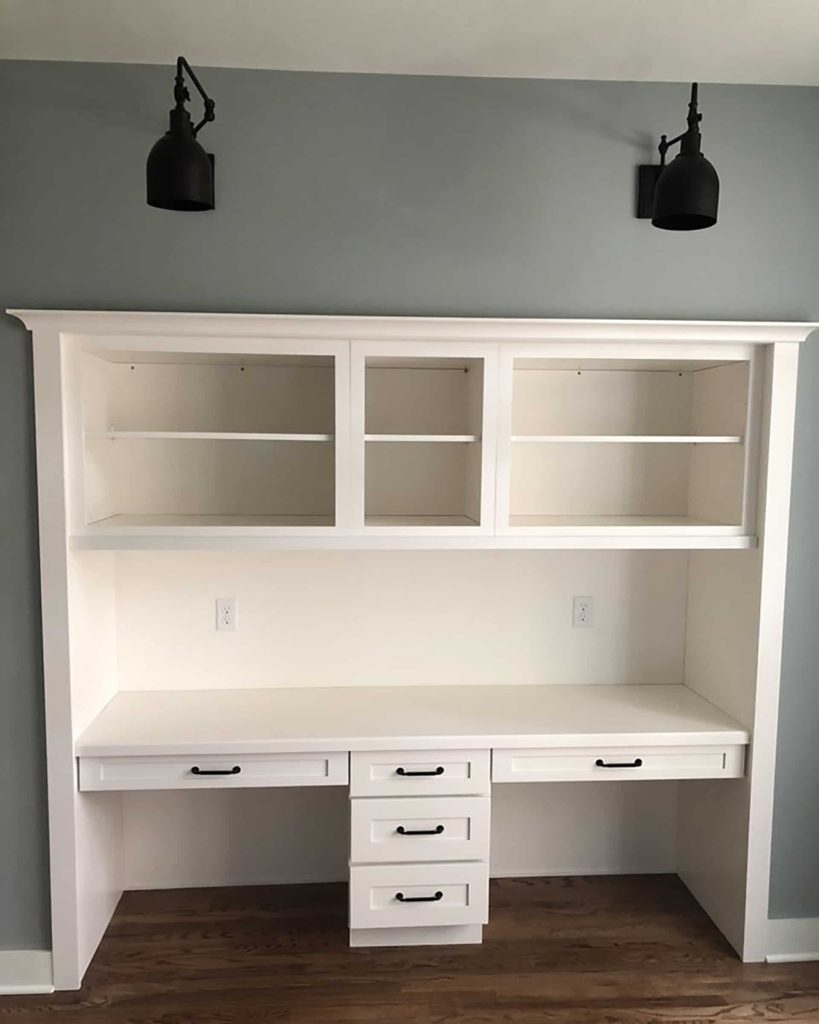 Project by COCOON
If you don't necessarily want an entire room dedicated to a place for homework, this build in desk space for two is ideal. With matte black sconces hanging above, and built in storage and shelving this is the perfect after school spot.
Work-In Closet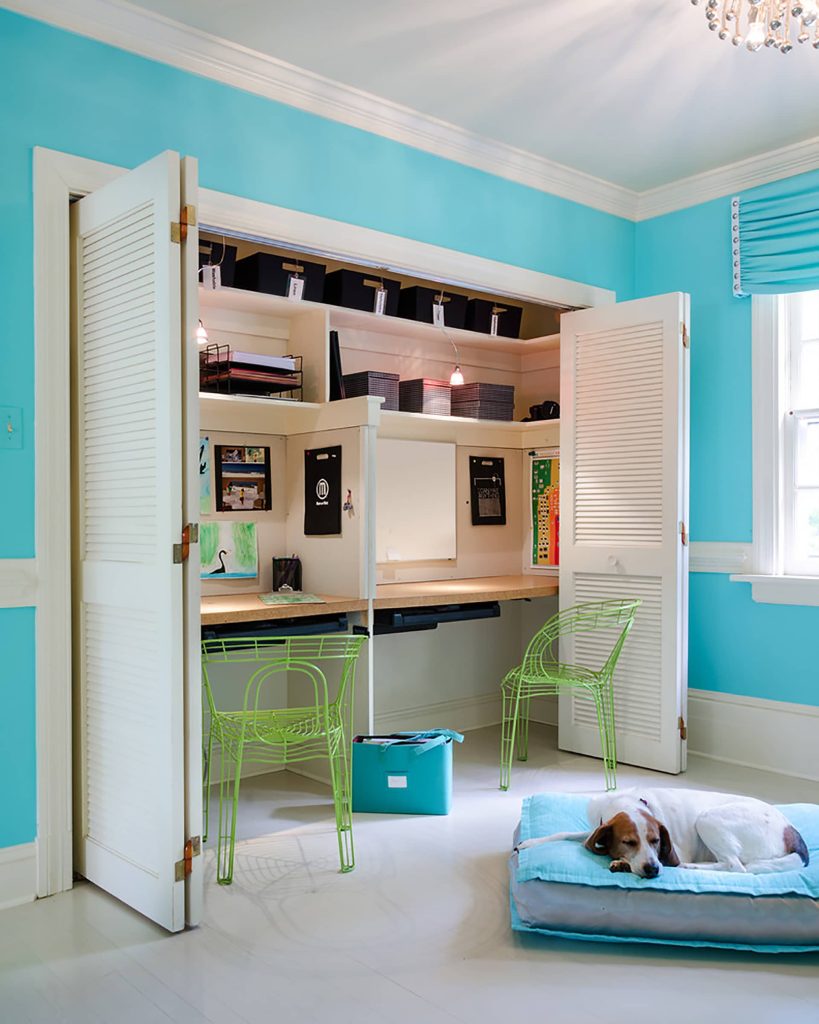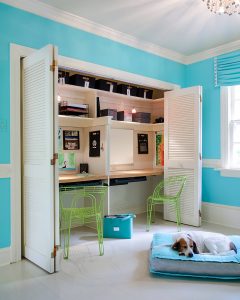 kathy-corbet-interiors-homework-station-west-chester-design-build
Project by Kathy Corbet Interiors
You may not have a spare room for a homework station, but you may have a spare closet. If so, you can easily transform one into a homework zone. This nook provides ample room for desks and storage. Teens can work hard and play hard in this island-inspired room.
Cozy in the Kitchen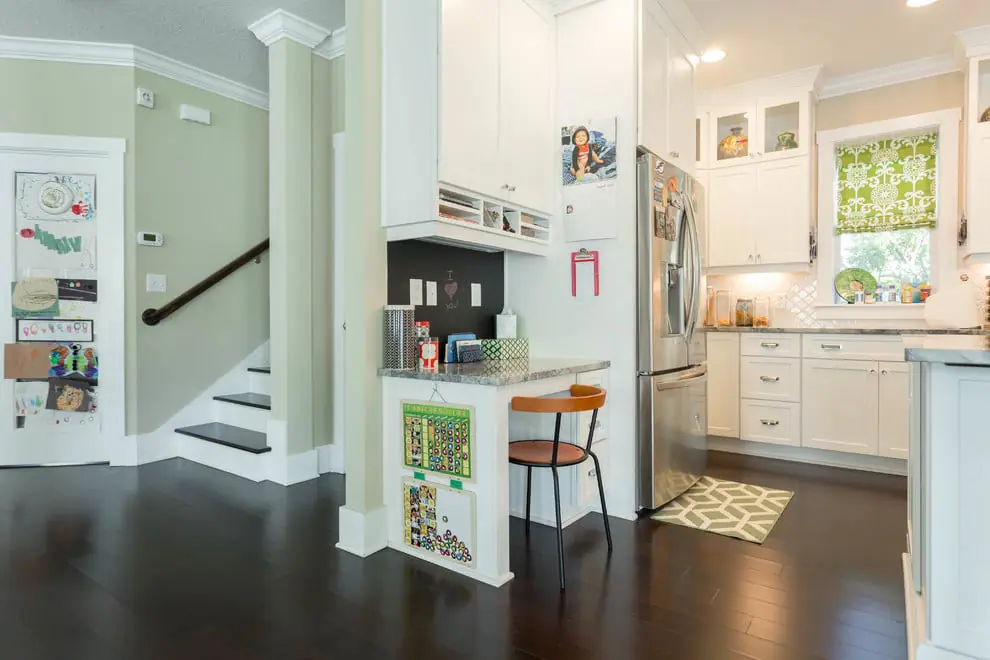 imagine-home-organization-homework-stations-west-chester-design-build
Project by Imagine Home Organization LLC
This compact command center provides just the right amount of room to focus on everything from Dr. Seuss to biology. Plus, the blackboard backsplash is just too cute and perfect for encouraging messages. Keep this cozy office space in mind if you're considering a kitchen remodel, but not sure how fit in desk.
Under the Stairs
hugh-jefferson-randolph-architects-homework-station-west-chester-design-build
Project by Hugh Jefferson Randolph Architects
This sleek and simple workstation provides a semi-private place to focus. The floating desk and shelves lend an airy feel to the condensed space.
Lofted Bed
foundre-homework-station-west-chester-design-build
Project by FoundRe
Sometimes there's nowhere to go but up. In this child's room, the bed gets a raise to make room for a work station. The lofted bed also does double duty as a bookshelf.
Creating the Right Space for Adults and Kids
If you have more room, you have more options when it comes to homework stations. In these rooms, the family that works together stays together. There's plenty of room at these work stations, and that can be the best way to get work done for parents trying to multitask and kids who need help.
Side by Side
lori-dubrow-design-homework-stations-west-chester-design-build
Project by Lori Dubrow Design
Kids have done homework at the kitchen table for decades. And It's no wonder. They're close to the rest of the family— and to snacks. These days homework in the kitchen is kicked up a notch with designated desks like this one. With enough room for mom or dad to sit and help, this work station is perfectly suited to grade-school-aged children.
Family Office
in-design-lori-ludwick-homework-station-west-chester-design-build
Project by InDesign/Lori Ludwick
This home office cleverly combines a perimeter desk and a work island to allow several family members to work at once. Multiple work stations and a combination of playful colors and neutral tones invite the whole family to work here.
Creating the Right Space in a Multipurpose Room
If you don't have one room to designate for homework, make a larger room multifunctional. These rooms create homework zones to encourage practical study time.
Clever Radiator Cover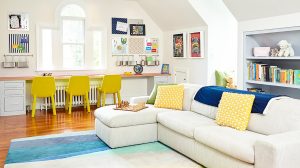 city-nest-design-homework-station-west-chester-design-build
Project by City Nest Design
If you bought a home with character, there's a good chance part of its character is a vintage heating system, AKA radiator heat. This family-room homework station encourages focused work, but also happens to cover the radiator. That's functional interior design.
Welcome Guests and Students
Project by Gateway Interior Design
Even if you have a guest room, chances are you don't have constant guests. When you're short on visitors, make the most of that extra square footage. These homeowners have a kids hangout, homework space, and a guest suite out of one room.
Making It Personal
Once you've found the right location for your homework station, you should consider creating a space that speaks to your child. Your home office most likely reflects your interests and your style. A homework station should do the same for your child. By personalizing it with colors, accessories, and pictures that they like, you create a space that they like to be in and, hopefully, work in.
Add Color & Accessories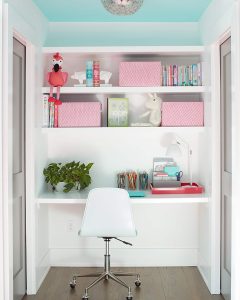 kristina-crestin-design-homework-station-west-chester-design-build
Project by Kristina Crestin Design
Filled with pops of aqua and pink, this alcove gives a girl a special place to work and create. The pink flamingo and ivory unicorn add some girl-approved whimsy to this work zone.
Picture This
postbox-designs-homework-station-west-chester-design-build
Project by Postbox Designs
Sizeable portraits, illuminated by farmhouse-style task lighting do double duty in this hallway homework station. While name placards often designate a child's workspace, the photos denote each child's station here. They also act as a small gallery on this extensive wall.
Keep It Organized
Even for most adults it's hard to work in a mess. Extra papers, open books, and even stray wrappers can distract you from getting to work. It's the same for kids. Make it easy for them to stay organized, especially if they're already prone to leaving toys, coats, or shoes all over the house.
Wall of Storage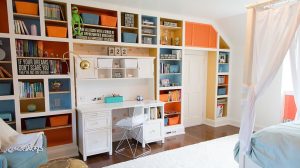 james-mccoy-carpentry-homework-stations-west-chester-design-build
Project by James McCoy Carpentry LLC
Colorful cubbies like this can help anyone sort through personal items. They serve as bookshelves, trophy and picture displays, and even house some inspirational quotes. The desk also provides additional storage for easy access to utensils and other items needed to complete assignments.
Storage on Display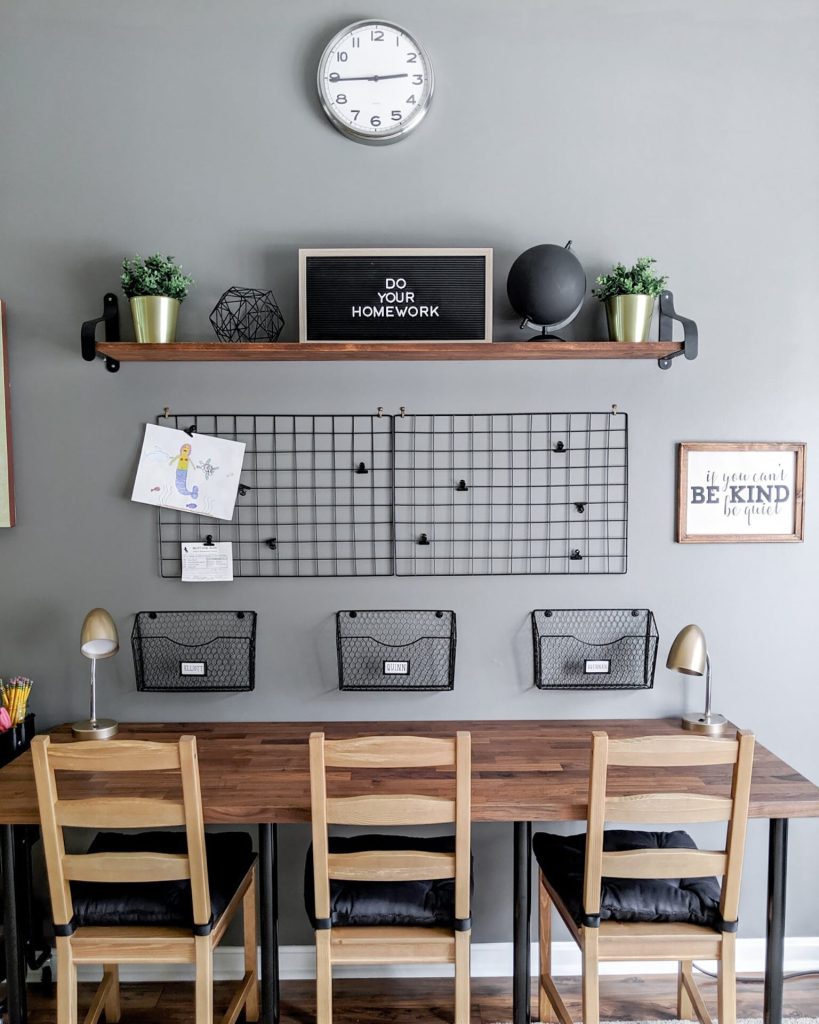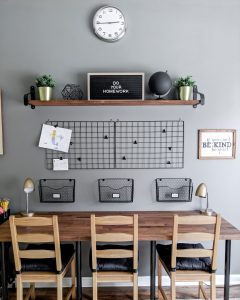 melissa-life-with-less-mess-homework-station-west-chester-design-build
Project by Melissa of Life With Less Mess
No room for a wonder wall of built-in organization? No problem. With a few key accessories, you can add organized storage to a workstation of any size. At this workstation, a few tin cups separate markers from pens and pencils. Wall-mounted files hold works-in-progress. A portable cart holds a few key containers of writing utensils. Plus few words of encouragement remind kids just what this space is for.
Earn Some Extra Credit
Whether you have plenty of space or need to carve out some room, you can create a homework station that can help your child get focused and develop good study habits. When it's organized and reflects who they are, it can even be a place they want to go. And with any luck, it could even lessen some of those homework battles.
As a family-owned business helping homeowners, COCOON listens to what families need. Contact us to find out how we can transform your space to suit your family!
This is an image round up post featuring work from various sources. If you do not want your work featured on our blog, please contact us at [email protected]. Thank you!