Is your home makeover complete? You have the master suite you envisioned. Your friends meet in your man cave for Eagles games every Sunday. You have all the countertop space you need to cook and entertain. You could leave doors open to every room, showcasing their style and order. Or maybe not every room. What about the utility room? That door probably stays closed, hiding the ever-present heap of laundry and shelves of assorted cleaners.
You could leave that door open, too. All it takes is a laundry room remodel. Even if you don't like to do laundry, and chances are you don't, your laundry room should feel like the rest of your home—like you. Maybe if it did, you would save your Saturday nights for laundry, just like Sheldon Cooper, folding board and all.
A laundry room makeover can come in as many styles as kitchens, baths, or any other room in your home. From contemporary to traditional, take a look at these 25 laundry rooms. They could inspire your next home remodel.
Black and White Laundry Rooms
Black and white is a neutral palette, but its striking contrast works in any style or any room. In these transitional laundry rooms, black and white strikes a balance with soft wood tones and natural accents common to farmhouse-style design.
Project by Ram Construction, Inc.
This elegant laundry room is a study in trends. From the Shaker cabinets and white subway tiles to the brass fixtures and the medallion-patterned floor, this room reflects current trends and timeless style. The woven rug adds a natural texture to the otherwise crisp surfaces.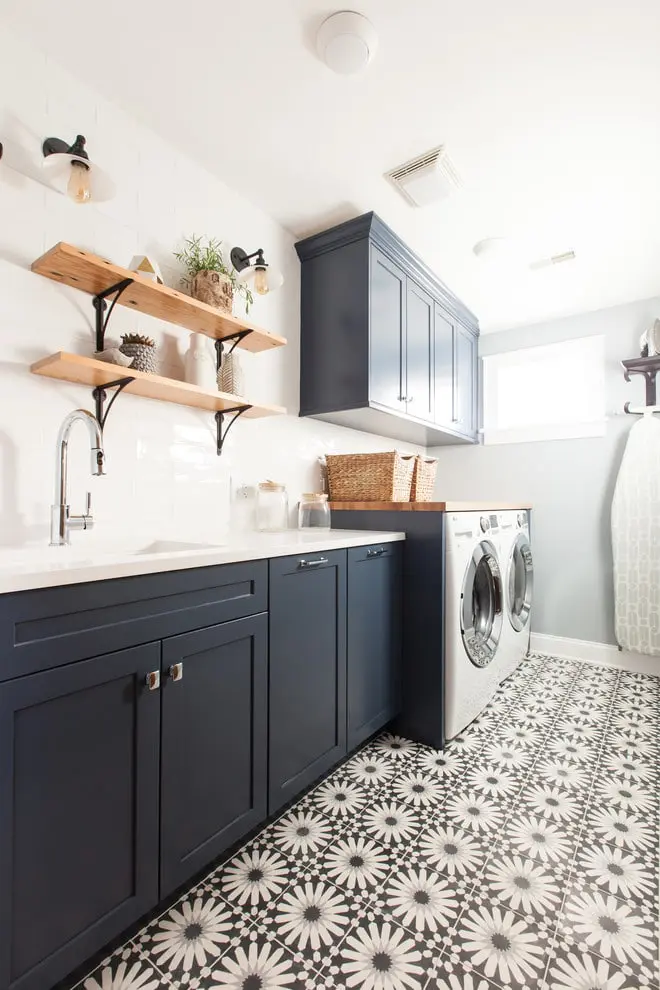 Project by Foster Hill Design
Black and white create a clean and classic combination once again. A butcher block countertop and natural wood shelves offset the black and white with warmth. A patterned floor adds shape and whimsy to the predictably square edges of the rest of the room.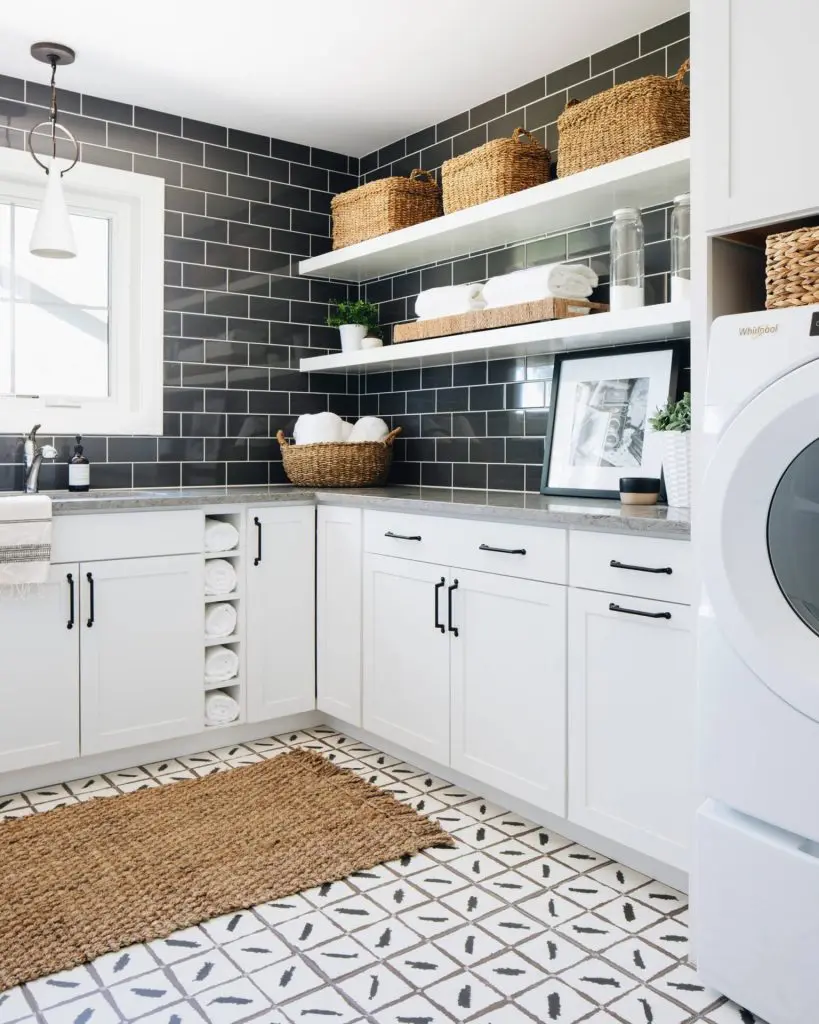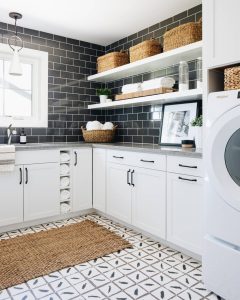 Project by Timber Trails Development Company
Subverting the usual trend of white, the black subway tile contrasts the stark white cabinetry, shelves, and window. It's the highlight of the room. Wicker baskets and a woven rug bring in texture and warmth while the floor tile quietly ties the color scheme together.
Laundry Rooms with Hints of Color
Unlike your kitchen, your laundry room does not attract family and friends for gathering. This means you can have a little fun with your laundry room design. You can add some color in the laundry that you may not have considered in any other room, even on built-in cabinetry. The following rooms may inspire you to get creative.
Project by Raykon Construction
This is absolutely divine design. The raised-panel cabinets topped with crown molding epitomizes traditional style. The brushed brass knobs hearken back to Victorian aesthetics, yet their simple, oval shape maintains transitional standards. The rug and the chandelier guide your eyes from top to bottom in this exquisite laundry room.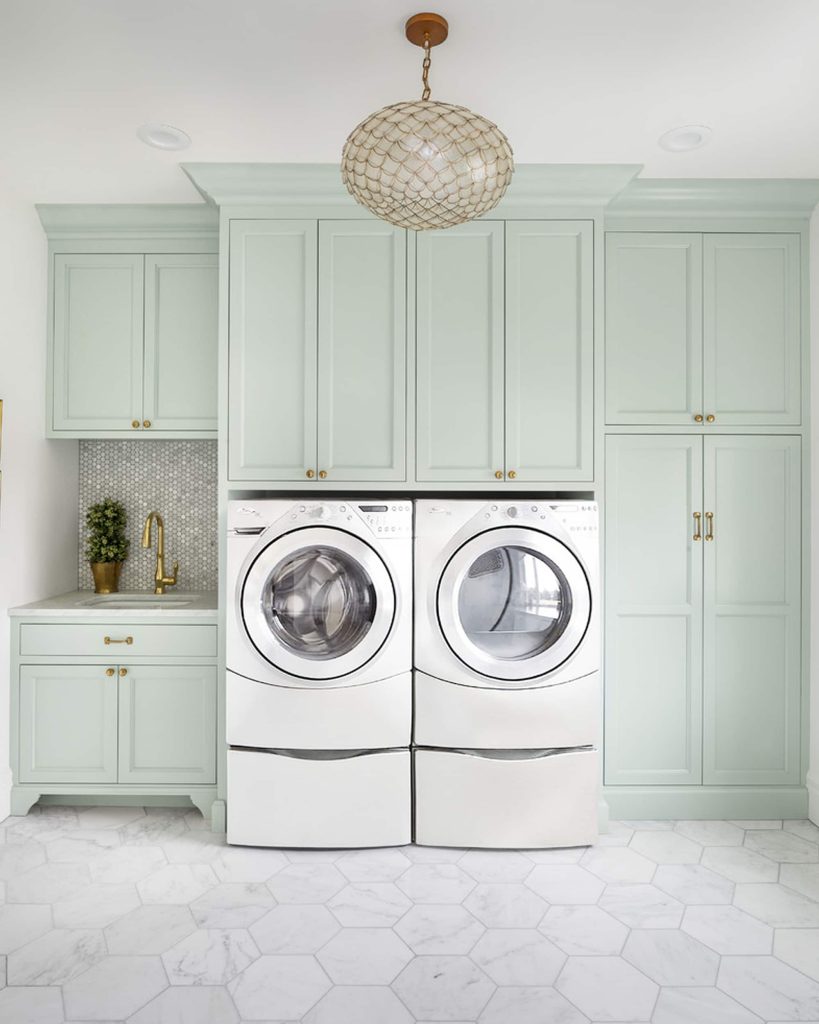 Project by The Fox Group
From the soaring mint green cabinets to the hexagon marble tile and brass hardware, this bright and beautiful laundry room invites you in. It's so pretty that you may not want to bring your dirty laundry along.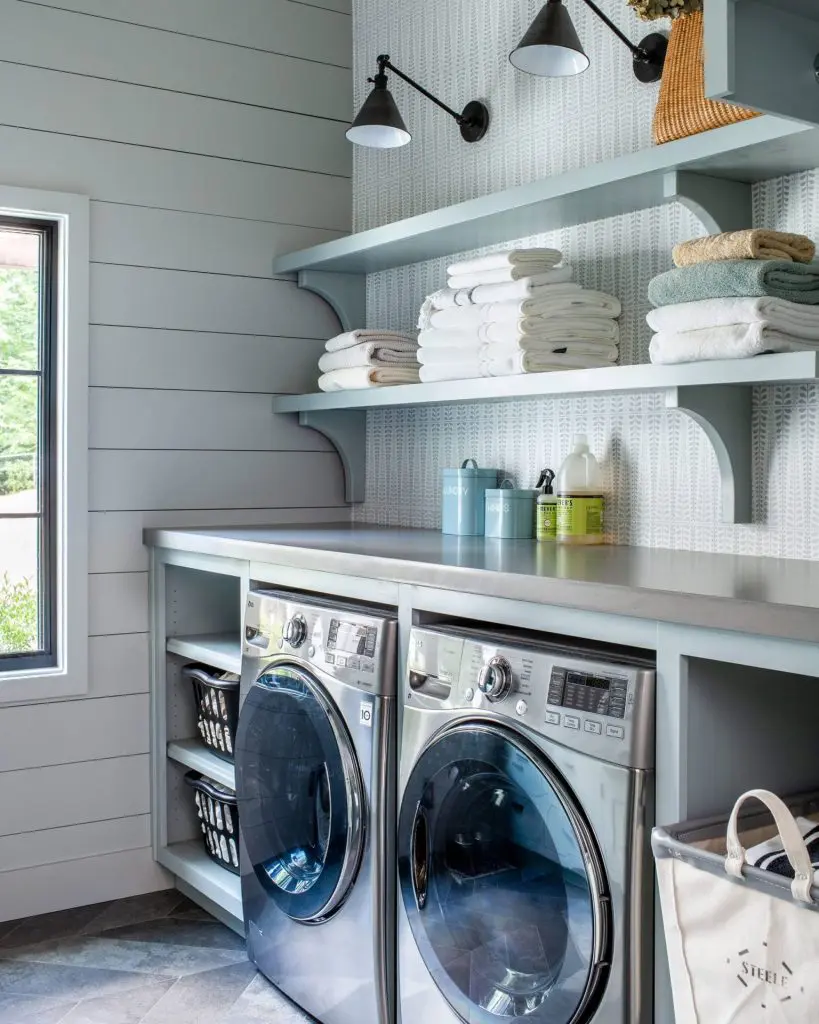 Project by Alan Clark Architects, LLC
The cool palette in this laundry room invokes a refreshing feel, while the textures and patterns keep the style from being sleepy. Chevron floor tiles, a shiplap wall, and patterned wall paper create interest while their subtle tones prevent any one of them from overwhelming the space. Gray anchors the room on the floor, one wall, and the countertop, while the robin's egg blue shelves and cabinetry softly accent the space.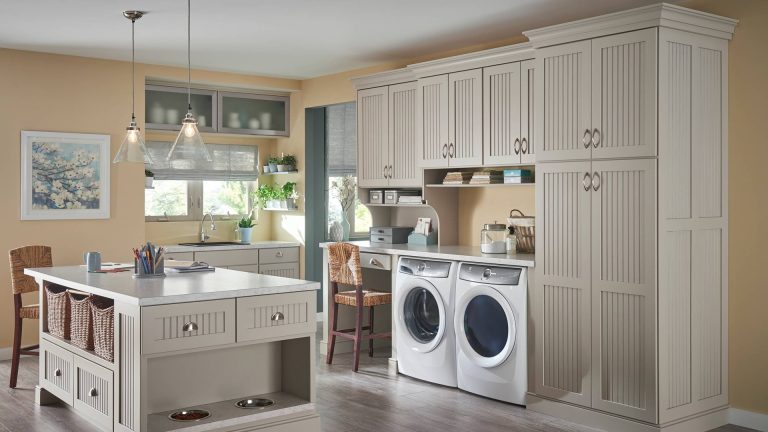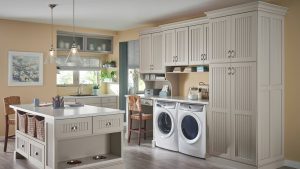 Project by Schuler Cabinetry
This multi-purpose room just happens to house appliances for laundry. In a room like this, you can start that craft project or feed the dog while you wait for your dryer to buzz. There's loads of laundry storage in this transitional space. It combines some trends with traditional looks, such as the warm-gray beadboard cabinets and the cup-bin drawer pulls finished in brushed nickel. Together with the cool-toned wood floors, these features create a kind of modern country style.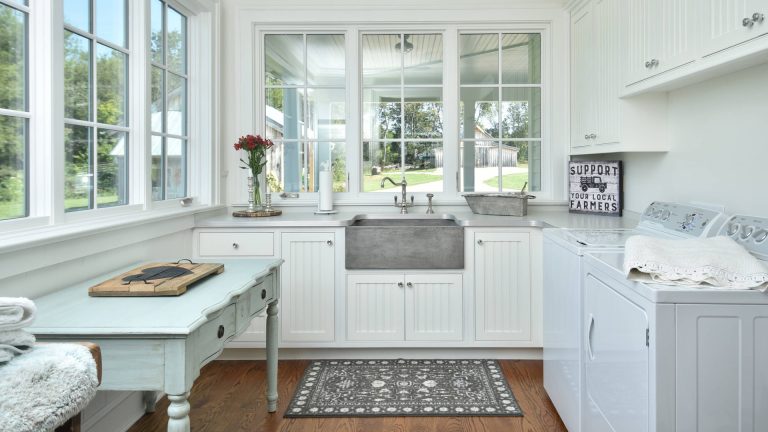 Project by Jonathan Miller Architecture & Design
Everyone wants a room with a view, but who would expect it in a laundry room? White beadboard cabinets add country charm while the stained wood floors bring a traditional coziness to the space. The soft blue table adds a touch of color and charm, and it even serves as another place to set a laundry basket. The concrete laundry sink adds an additional natural tone and texture to this clean, crisp room.
Laundry Rooms with Eye-popping Color
Want to take your love of color even further? The laundry room can be the perfect spot to add those bold colors that you love without having them dominate your home. Whether it's wallpaper, paint, or even the washer and dryer, color can wow in the laundry room.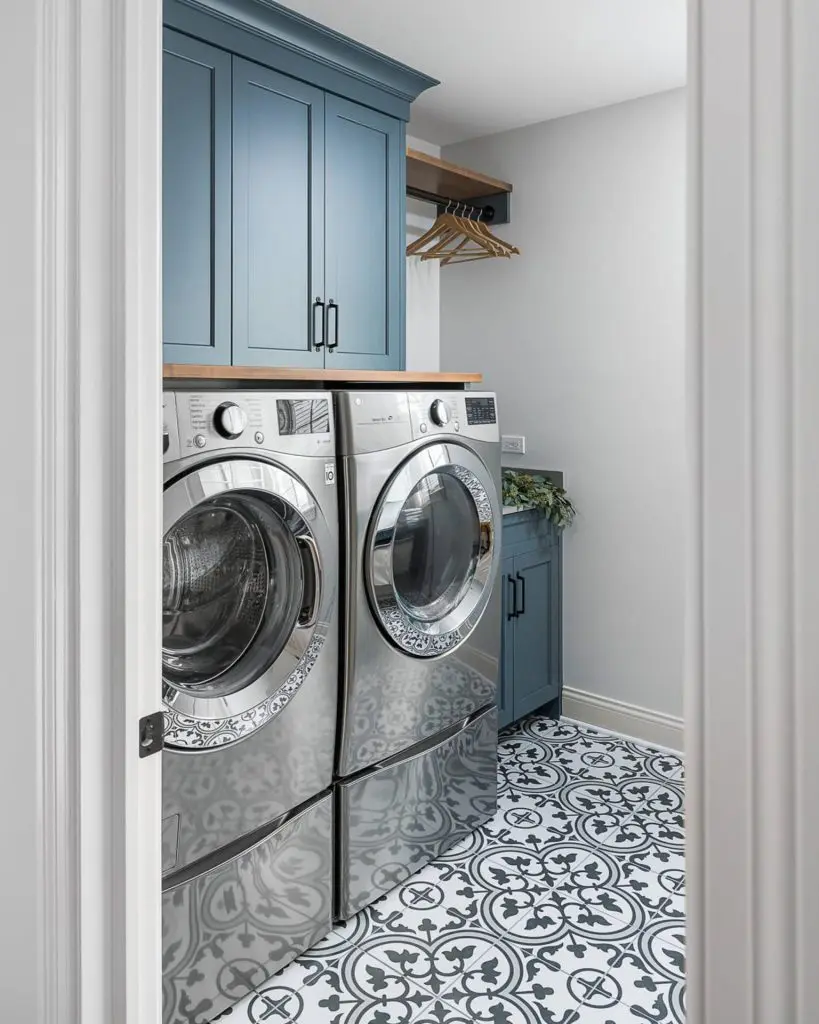 Project by Plain and Posh
This small laundry room packs a major punch with its teal Shaker cabinets and black-and-white tiles. While this bold combination may be too much in a kitchen or even a bathroom, it's just the right amount here, with the white walls balancing the color and pattern.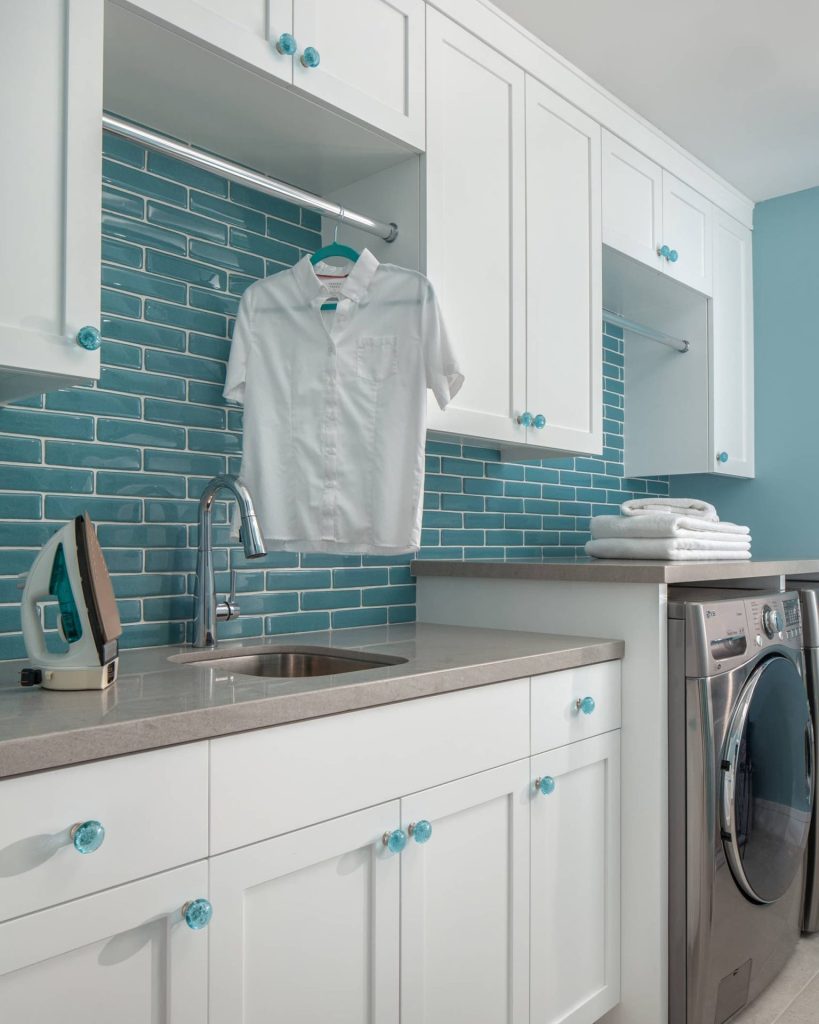 Project by EBHCI
These Caribbean blue walls and matching glass knobs must make the homeowner feel like they're on island time. Bright white cabinets, and a neutral floor and countertop serve as the backdrop to this playful blue hue. The motto for doing laundry in this house has to be, "don't worry, be happy."
Project by Cindy O'Brien Design
Sky-blue cabinets, gleaming white tiles, and a whimsical pineapple wallpaper create a clean, fun laundry room. A woven wood window shade and woven baskets once again provide warmth for an otherwise cool room. The herringbone tile and rug create movement and texture on the floor.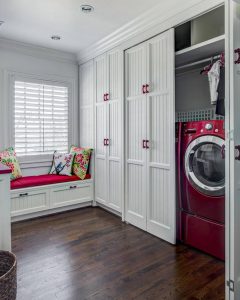 Project by Kitchen Design Concepts
Candy-apple red accents infuse the traditional walnut-stained oak floors and beadboard cabinetry with a dose of fun. The red pulls tempt you to open any one of these cabinets or drawers. After all, there must be something fun inside, right? Tucked inside the closet doors, even the red appliances simply shine.
Project by reDesign Home
Shaker cabinets are an ideal canvas for any color, such as the celery green here in this room. The deep reddish-brown herringbone tile anchors the bright but earthy palette of this laundry room. It also happens to be a great color for hiding dirt. Beautiful and practical!
Modern Laundry Rooms
If you remodeled the rest of your home with a modern aesthetic, do the same with the laundry room. Contemporary is synonymous with clean. And what space in your home should feel cleaner than your laundry room? Continue that clean style in a room meant for cleaning.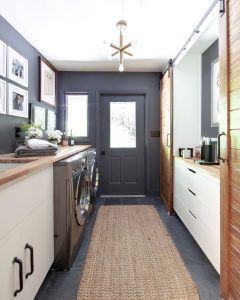 Project by Lucy and Company
Creamy white cabinets and butcher block countertops pair perfectly with the charcoal walls. Framed photos add personality and prevent the dark walls from closing in on this galley laundry room. Sliding closet doors add easy access and provide pretty cover for cleaning supplies and other essentials.
Project by Iconic Estate Homes
Cool brown cabinets with a strié finish exude a modern warmth in this neutral laundry room. A metal hex tile backsplash sparkles, adding a little bling to this otherwise subdued room.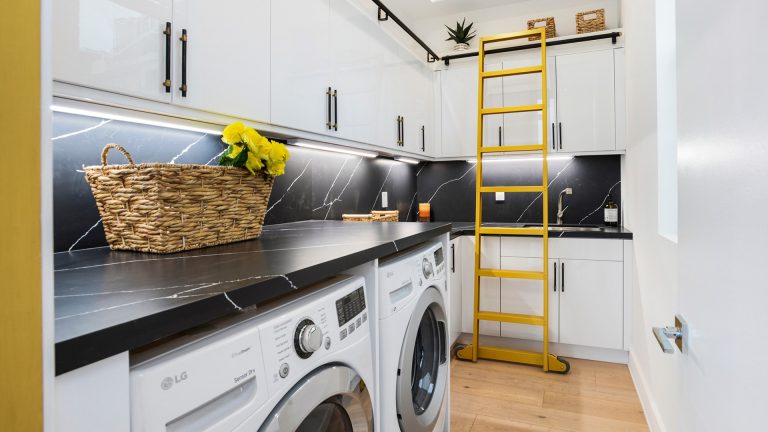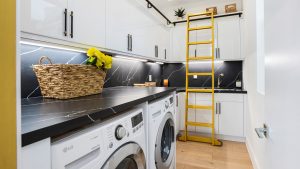 Project by VBM Home
Bright white bounces light around this narrow, but nifty room. Sleek matte black countertops pop against the glossy white cabinets. Undermount lighting ensures ample wattage in this windowless space, and probably even makes spotting stains simple.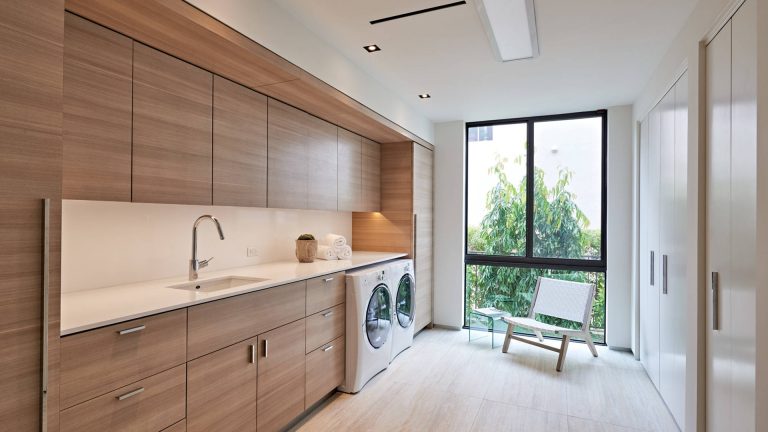 Project by Zahn Development, Inc.
With a large picture window that frames a tree and allows sunshine to flood the space, this room is, dare we say it, soothing. The smooth cabinets and unstained wood floor stretch across this expansive room, as if reaching for the window. Clean, white closets on the opposite wall keep the space light and open. It's no surprise that a chair rests in this laundry room. Perhaps it's a quiet respite from the rest of the house. After all, kids don't come looking for you in the laundry room.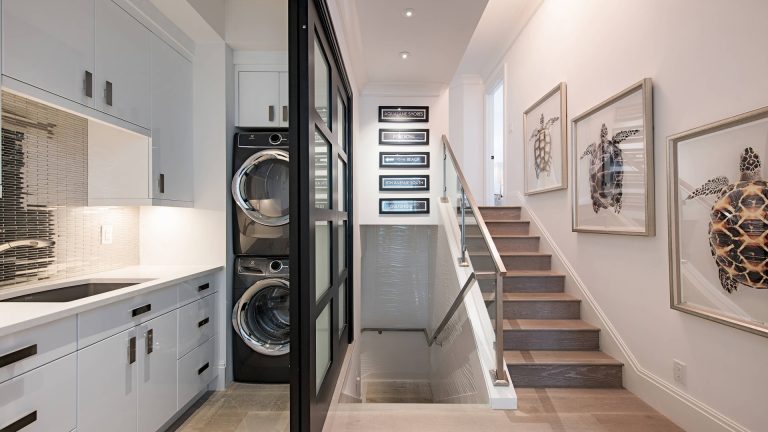 Project by Westin Hills
Sliding framed glass doors conceal this efficiency-sized laundry room—not that they need to. The stark white cabinets frame the style highlight of the space, the polished metal backsplash. Meanwhile, the washer and dryer are neatly tucked away, to be seen only when used.
Project by FoxLin Architects
This sprawling mud room/ laundry room has space for everything. Rather than hiding, the black appliances stand front and center against the white cabinets, white floor and light gray walls. Boldly patterned avocado wallpaper accents the end wall, adding color and shape in a room dominated by neutral right angles.
Warm Wood Laundry Rooms
For some, crisp white walls, cabinets, or countertops create a fresh feel for a laundry room. For others it's a bit too stark. If you prefer the warmth of wood, check out the traditional cabinetry in these laundry rooms. They create a cozy vibe, perfect whether you're loading, unloading, folding, or ironing.
Project by Augusta Fine Homes
The subway tile and Shaker cabinets showcase on-trend elements in decidedly more traditional tones, beige and dark honey-stained wood.
Project by Sean Freitas, Architect
The travertine herringbone tile sets the tone in this room. Grays, browns, and creams stagger across the floor creating a stone quilt for this serene space. The fawn-colored cabinets anchor the room, topped with crown molding for a finished look.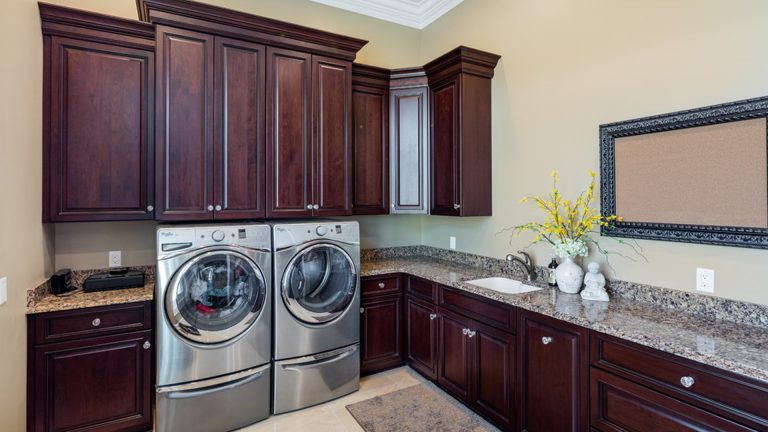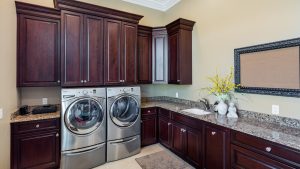 Project by McCartney Improvement Company
Raised panels and glass knobs lend a distinctly traditional feel to this luxury laundry room. Millwork on the ceiling adds custom detail.
Laundry Room Add-On: Dog-Wash Stations
After a muddy walk or a day at the beach, taking your dog upstairs or down a carpeted hall for a bath is less than ideal. Many proud pet owners have jumped on the dog-wash station bandwagon. With many laundry rooms near the entrance to a home, adding a dog bath in there makes a lot of doggone sense.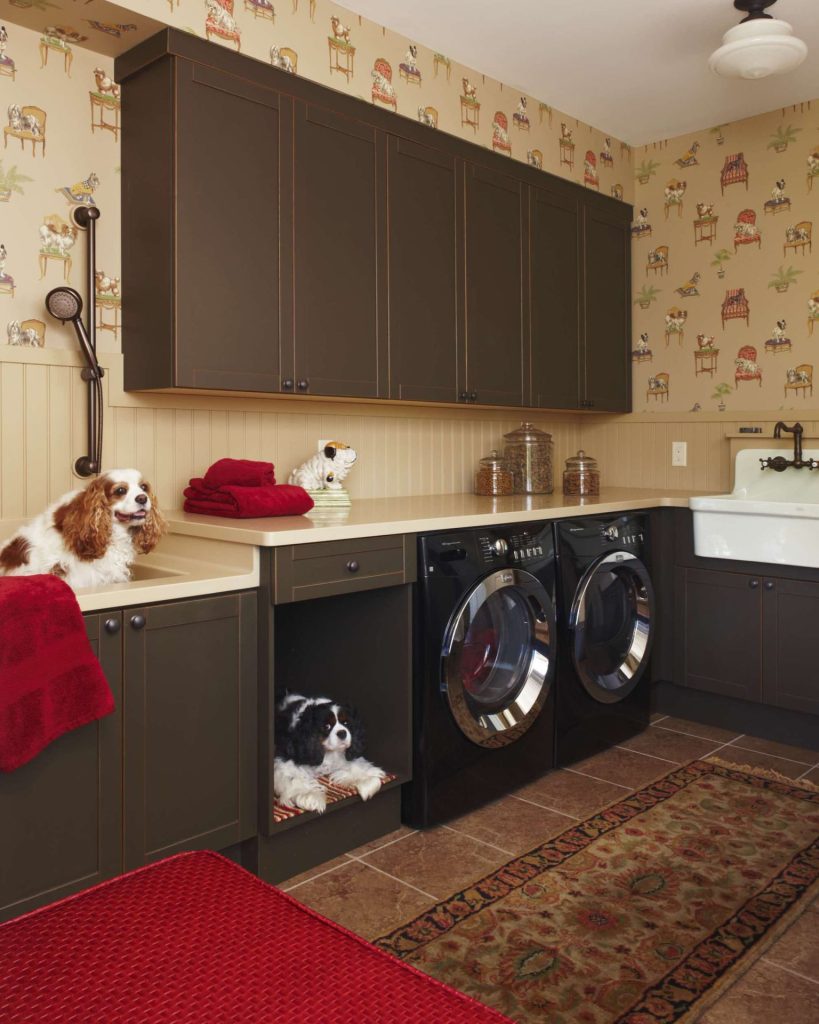 Project by mdt design
If it weren't for the appliances you'd think this was simply a dog room. From the whimsical wallpaper to the bed and bath, this dog-friendly room is beyond adorable. This room warmly welcomes those little spaniels, whether they need a bath or not.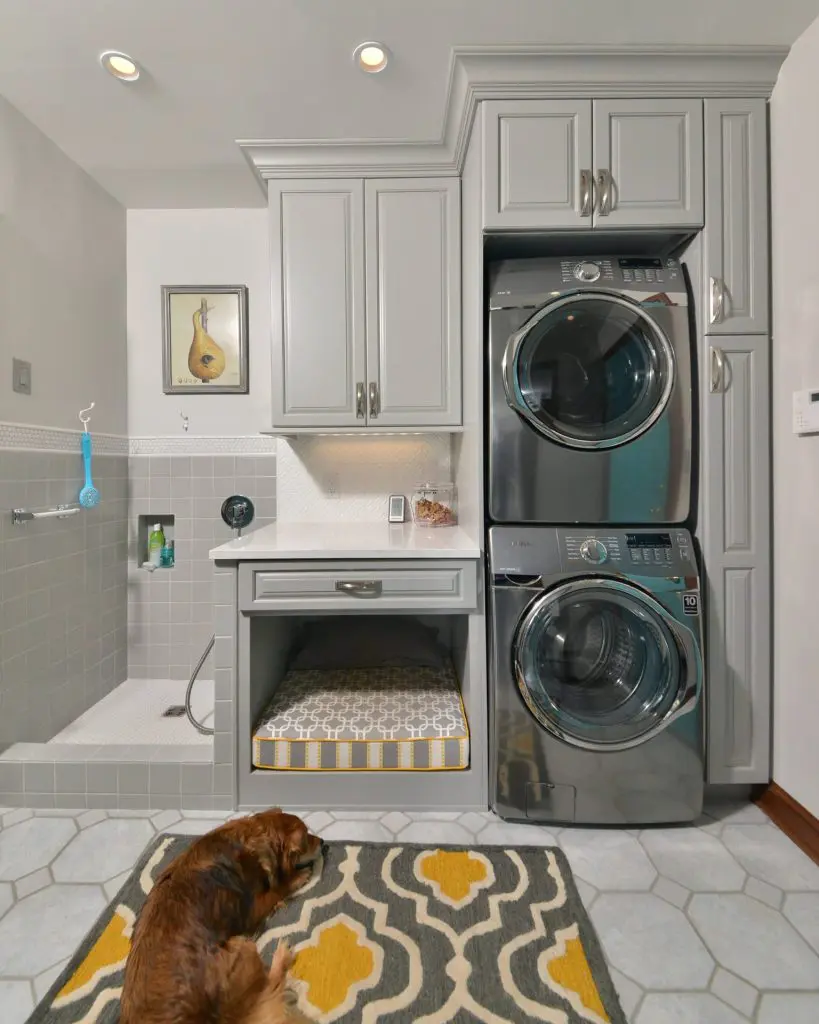 Project by Artistic Renovations of Ohio LLC
Stacking the washer and dryer made room for the dog bath and bed in this laundry room remodel. The ogee carpet adds a pop of color to this cool gray room and gives the dog a place to rest right when he walks in the door.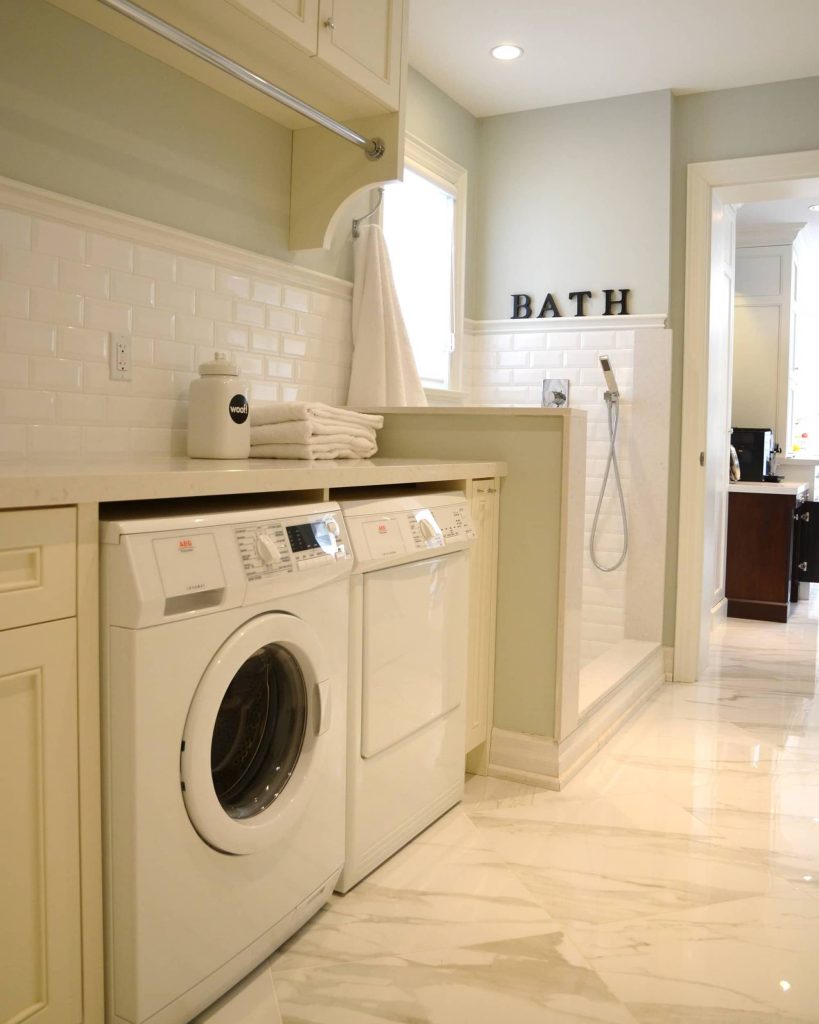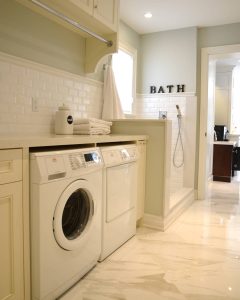 Project by Stacy McLennan Interiors
This floor-level bath makes it easy for a large dog to walk right in, and the white subway tiles make post-bath clean-up a breeze too.
Make a Clean Break
You don't need to stick with your old laundry room. Make a clean break from it. If you're thinking there's no need for this kind of home remodel, consider a couple of things. First, laundry room design gives you a chance to have a little fun. Because it's a room that's not open to the public, you can put up that whimsical wallpaper without worry, let a primary color pop on the cabinets, or stick a statement tile on the floor. If you want to try a something new, the laundry room is the place to do it.
Second, even if you are not up for a style adventure, you may prefer a laundry room that doesn't deter you from doing this much-dreaded chore. Fluorescent lights, wire shelves, and nondescript cream walls don't encourage you to sort and fold. New cabinets and shelving, can lights, and a large countertop can convert your laundry room from plainly utilitarian to delightfully functional.
Contact the design team at COCOON to help you reimagine your laundry room. Whether you need more efficient storage, space for hanging clothes, or just a more inviting feel, we can help you transform your laundry room into one that works for you, both in form and function. With more than a decade of experience in Chester County and surrounding areas, the COCOON team has helped dozens of families love where they live. There's no reason you can't love your laundry room, too. Contact COCOON today! Your laundry room transformation awaits!
This is an image round up post featuring work from various sources. If you do not want your work featured on our blog, please contact us at

[email protected]

. Thank you!