You're close to great friends, great schools, great jobs, and great restaurants. Life is great, right? It is if you think you have a great house, but maybe you think your house is just ok. It could be great though.
If you love your neighborhood, but only like your house, a garage conversion could help you love it. This type of home remodel offers quite a few benefits. It gives you more space in the same place. It's cheaper than a home addition. Plus, you don't have to move. You could stay in West Chester, Berwyn, or Media. And finally, there are so many conversion options. From a guest suite to a she shed to a playroom, a garage can be remodeled into almost anything.
Before you start a garage remodel, however, there are a few things you'll want to know.
Parking When You Convert Your Garage
The first thing you want to think about is, of course, parking. Consider where you will park your cars once your garage renovation is complete. Generally, you have three options.
First, you can keep your car on the existing driveway. Chances are, if you have considered converting your garage, you are already using the space in some capacity, even if it's just as storage. If that's the case, you're used to parking on the driveway. If you do park in the garage, you will want to consider how parking in the driveway will affect your daily activities. Do the benefits of additional living space outweigh the disadvantage of parking outside? It's up to you.
A second option, if your garage is large enough, is to convert only part of the garage. If you have a 2- or 3-car garage already, you could maintain some parking and get additional space—AKA a garage with living space.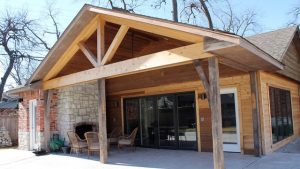 Project by Grant Homes Remodel & Restoration
Homeowners did just that for this home remodel, only converting a portion of their 3-car garage, while still keeping space to park.
The third option is to build another attached garage or a detached garage. This, of course, requires enough land and a larger budget.
Home & Garage Exterior
If you're considering a garage remodel, you must be in need of some more livable square footage. Whether the square footage is for a man cave or a pool house, you should keep in mind that the exterior of your home will change too.  For instance, have you thought about what will happen to the garage door?
Although keeping a garage door may be an option in a semi-converted space, such as a home gym or a workshop, garage doors generally head to the dump. A combination of windows, doors, and siding fill the sizable gap left. And of course, for consistency, keep the same type of windows that you have on the rest of the home, whether that's casement, double-hung, or something else.
Determining which siding to use may call for some color coordination on your part. If you have wood, vinyl, or cement board siding or something similar, you're in luck. You can generally find siding to match what's already on your house. If your siding has seen better days, you could replace it altogether, adding some curb appeal. (Check out this blog for more ideas on seamless exteriors.)
Project by Shannon Demma – Living Design
The converted garage provides a complementary pop of color on this home's exterior, while a bit of unused driveway has been repurposed into a patio.
Finding just the right color gets tricky if you have brick or stone, however. Even if you can find the exact same brick or stone, strong sun, relentless winds, and pouring rain have likely weathered your existing facade to a unique patina. The new brick or stone may stick out against the home's original exterior. If possible, try to find a siding that complements the color of your home's brick, stone, or other architectural elements.
Heating and Cooling in Your Garage Conversion
Your newly converted space should be comfortable. But before you think about which sectional sofa or plush bed to put in your renovated garage, you should think about garage climate control.
Typically, you simply tap into your home's HVAC (heating, ventilation, and air conditioning) system. This requires installing new ductwork and connecting it with your home's existing ductwork. However, before doing this, you need to consider whether your current HVAC system can handle heating and cooling that additional square footage. For reference, a typical 2-car garage is approximately 500 square feet. As with siding, a garage renovation could give you an opportunity to upgrade your system. There's no sense in remodeling your garage only to have it be an icebox in the winter or a sauna in the summer.
If your system operates well but would wane if forced to heat or cool more home, you could install a separate system for the garage. Of course, this is a more expensive option than tapping into the existing ductwork, but at least you know you would have proper climate control. If you're creating an in-law suite or a garage apartment, a separate unit might suit everyone better anyway. (Here's more on the advantages of separate climate climate control.)
Another separate option would be to install a mini-split unit. These are budget-friendly and functional.
Electricityin Your Garage Conversion
Again, you can generally tap into the existing supply for your electrical needs. To check if your home has a sufficient electrical supply, simply look in your electric panel. If you have additional "slots" below all of the other switches, you probably have enough. A typical 4-bedroom, 2 1/2- bath home has an electrical supply of about 200 amps.
In older homes, electrical supply may be more of an issue. If you do not have enough to supply your new studio or game room, a sub-panel would have to be installed.
Plumbing in Your Garage Conversion
Like electricity and HVAC, garage plumbing is tied into the rest of the home, making it easy to customize the space to your needs. Whether you need a bathroom for a small apartment or would like a wet bar for large gatherings, it's doable. Just be sure to have your enclosed garage heated and insulated properly to ensure pipes do not freeze.
Flooring in Your Garage Conversion
Garage floors tend to be several inches lower than the main floor. To account for the height difference, the cement slab is framed with beams to create a sleeper floor. The height of beams, whether they're 2×8, 2×12 or another size, makes up for that small step into the main part of the home. The space between the beams, also known as bays, can then accommodate any additional plumbing or electrical work. Once the space is insulated and the subfloor installed on top, you can add just about any flooring you would add in the rest of your home including hardwood, carpet, laminate—you name it.
Of course, building the garage floor up to the rest of the home is not always the most practical option. In some cases, there is a large difference between the floor of the garage and the home. In these cases, it's best to bring the garage floor up a bit, and accommodate the rest of the difference with stairs.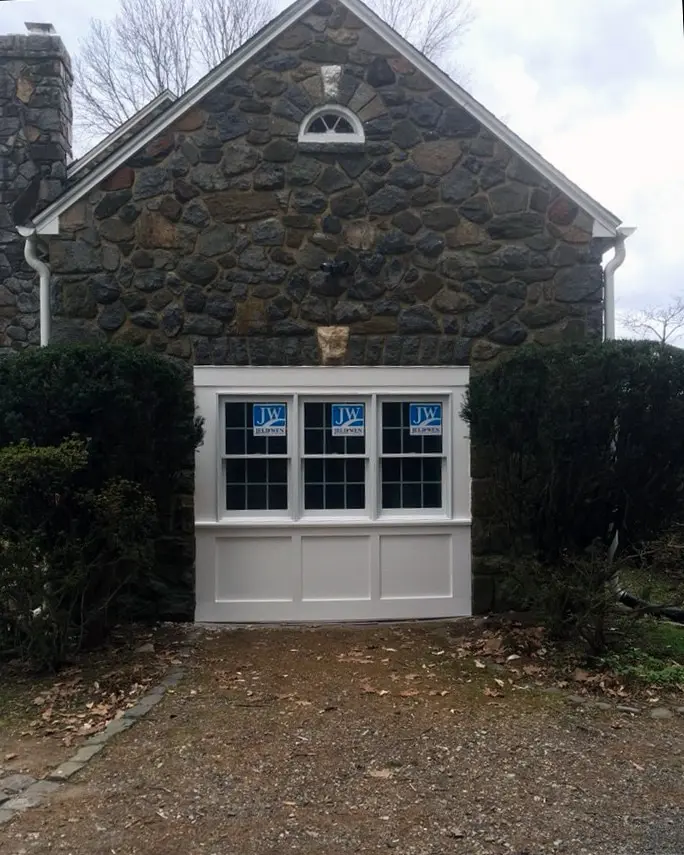 Project by COCOON 
The homeowner of this cottage converted her former garage into a living area. The sizable height difference between the garage floor and home required COCOON to lift the garage floor and add stairs into the main house.
Unique Considerations 
With a large door opening, closing, and sometimes remaining open, water can take its toll on a garage. Water seeping into the garage can rot the base of the walls if left unchecked. It can also damage the cement slab, if the grade of the ground is higher than the slab. Any water damage would have to be repaired before the rest of the remodeling work can start.
The slab may present another challenge: a slope. If a garage floor slopes, the remodeling team has to level it, another step in adding square footage to your home.
One more consideration: is your garage attached or detached? A detached garage conversion poses a few challenges. HVAC, plumbing, and electric cannot quite as simply tap into existing utilities. HVAC must be separate, and both plumbing and electrical require digging underground to run necessary lines to the garage.
One Garage, Many Possibilities
Garage conversions are probably the easiest way to add livable space to home. It's a blank slate, awaiting your ideas. If your home makes you ask yourself, "Should I stay or should I go," a newly converted space could allow you stay. No selling, no packing and unpacking, no moving required. You can continue to enjoy all you love about Chatham, Phoenixville, or Newtown Square.
With more than decade serving Chester County and surrounding areas, COCOON has a portfolio of converted garages for you to peruse. For even more great garage ideas, check out 39 garage conversions. Then give us a call to discuss your new space. Our design build team can help you create a floor plan design and interior style for your garage, whether you need a mud room, a bedroom, or a multi-purpose room. Your new room awaits! Call today!
This is an image round up post featuring work from various sources. If you do not want your work featured on our blog, please contact us at [email protected]. Thank you!