If you need more room, but don't have the land or the budget for an addition, you might want to consider an unexpected place: the garage. It may be surprising, considering it's unfinished, and probably even a little bit unkempt. It can be hard to imagine it as a livable space, much less a beautiful one. But don't let oil stains or garbage bins deter you. Grunge is out. Garage conversions are in.
Believe it or not, garages are actually conducive to becoming beautiful spaces. Large windows, thanks to the space left over from the door, and high ceilings are common in garage remodels. Both add airiness and light.
Plus there are so many options with a garage remodel. Whether you need a place to work or relax, a garage could fit the bill. It's also a great option for a guest suite or a vacation rental. Consider a man cave or a she shed? A garage remodel could make that happen. The list of possibilities goes on and on. That being said, this blog only has so much space. Here are 39 garage ideas that might inspire you to make your car move out.
Play Rooms for Adults and Kids Alike
Sometimes, your family and friends need more room to play, and a converted garage can provide just the right place for it. Cocoon converted a Glen Mills garage into a family room. See the transformation here. But family rooms are just the beginning. Movie buffs, card sharks and restless kids can all take advantage of a garage with living space.
Project by Hatfield Builders and Remodelers
This formerly single-car garage was just enough space for this family's foosball fun and some extra TV time, too. The French doors open to the backyard, making it easy to come and go, whether you're lounging inside or playing outside.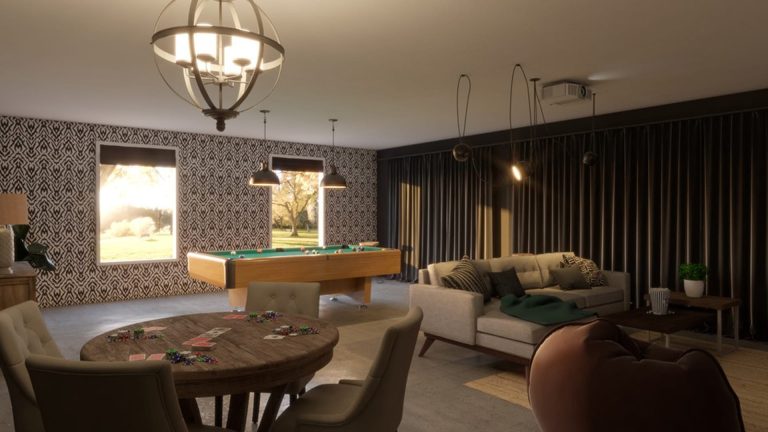 Project by Tetrachrome Design LLC
Good things come in threes in this family game room (and in our three-stage process). From movies to poker to pool, this room has all the bases covered. The playful design, including the wall of curtains and boldly patterned wallpaper, reflects the room's purpose: to have fun.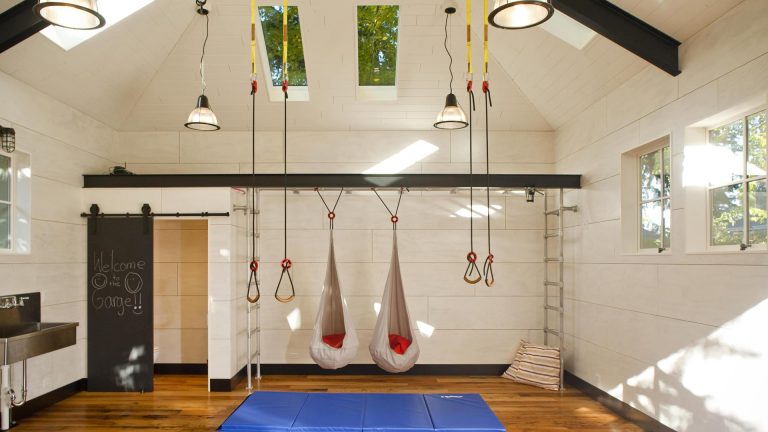 Project by Menter Byrne Architects
Care to take a tumbling pass? You can in this children's cheery playroom, complete with swing chairs, rings, monkey bars, and a bright blue mat.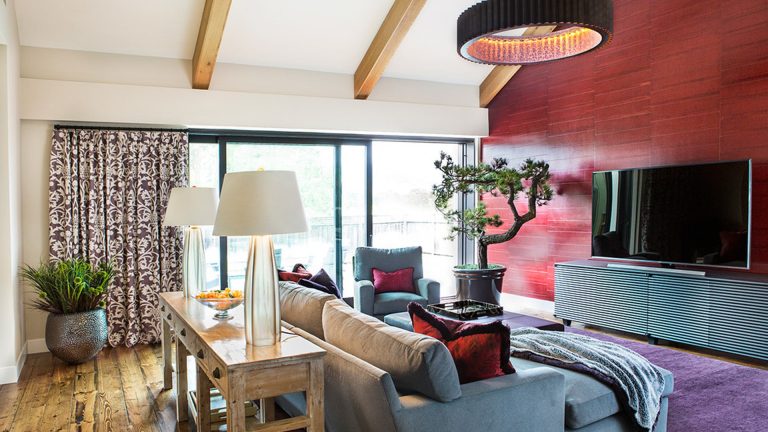 Project by Maquette Interior Design
Jewel tones provide a dramatic pop in this garage-turned-family-room. The dusty blue couch and TV console offset the textured ruby wall and amethyst area rug. Meanwhile, the creamy wall, wood floor, and wood beams offer a soft, neutral backdrop. This is garage living at its best.
Project by b + g design inc.
Cool gray surrounds this space, providing a secondary canvas for the colorful art. The couch and chaise lounges invite guests to sit back and enjoy the show in this contemporary home theater.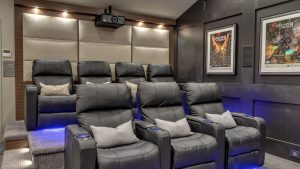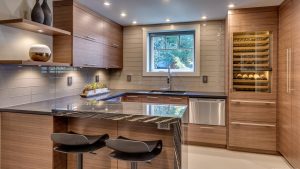 Project by Flow Smart Living + Interiors
Reclining stadium seating is just one of the fun features of this home theater. It also comes with a kitchenette, complete with a generous wine fridge and peninsula seating. The modern aesthetic and cool wood tones of the kitchen complement the theater.
Guest Suites
Looking for some passive income with a vacation rental or just need a place for your out-of-town friends and family to stay? A garage-turned-guest-suite could be just what you need. It's a home remodel that makes a lot of sense: convert a garage to a bedroom.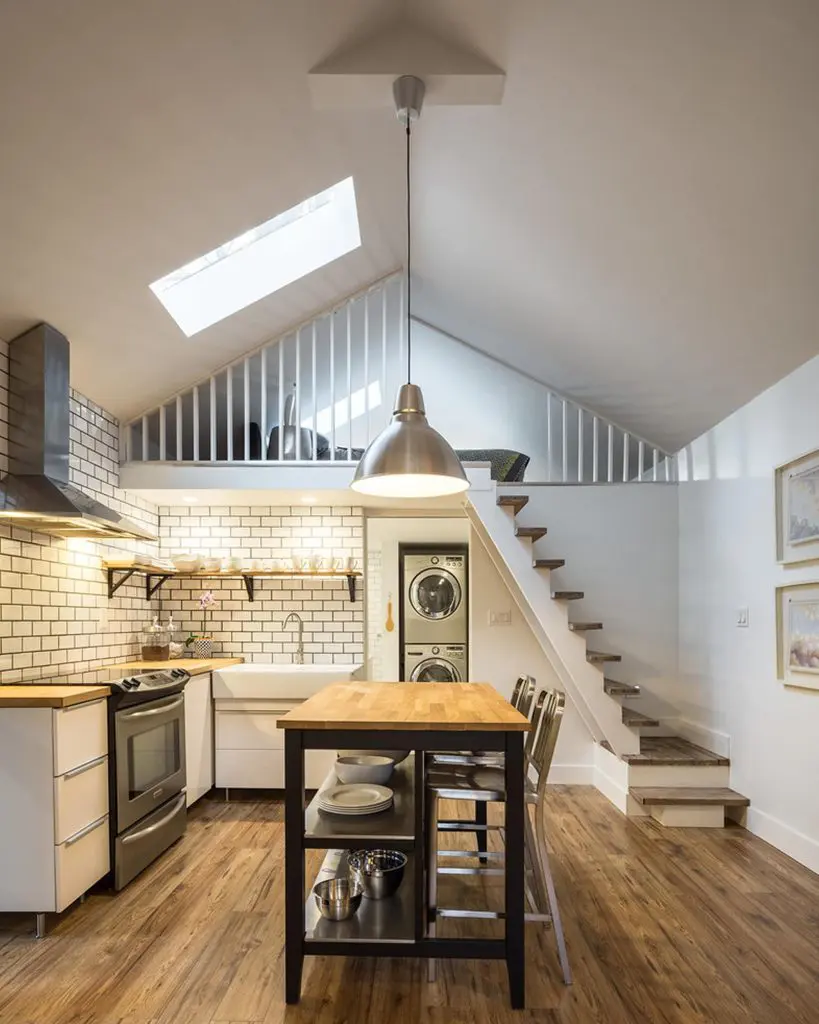 Project by Petitsuite Garage Conversion
This small garage apartment works for short-term or long-term guests. They have just what they need to stay comfortable: kitchen, laundry, and a cozy loft bedroom.
Project by Spazio LA
This peaceful suite provides a kitchenette, a Murphy bed, and a sizable living area, perfect for guests to relax. The beamed, vaulted ceiling is peppered with can lights that illuminate the space at night or on cloudy days.
Project by HDR Remodeling
Although there is no kitchen or separate living area, this sizable bedroom ensuite is more than comfortable and completely private. You wouldn't believe this used to be a detached garage!
Project by Rebecca Mitchell Interiors
If you're a little shy of color in the rest of your house, a guest suite can provide the perfect place for that pop of color. This beautifully blue guest suite is friendly and inviting. The exact opposite of what you'd expect from a garage!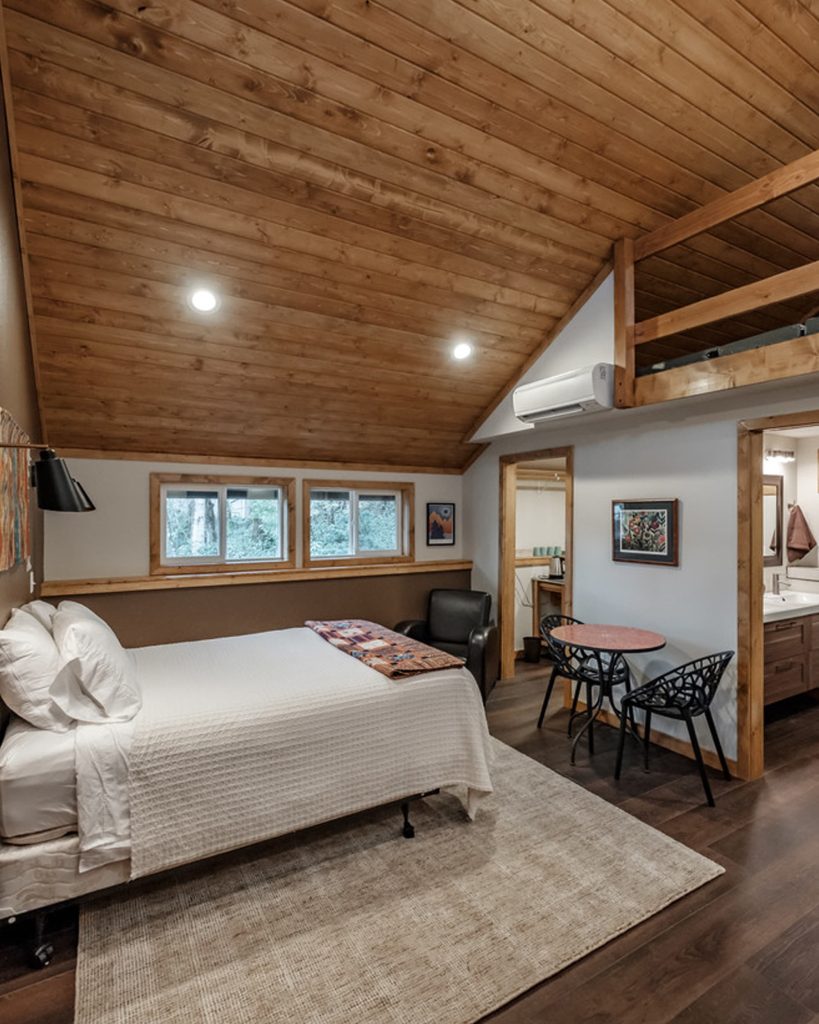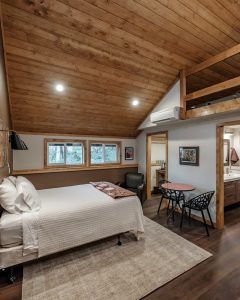 Project by B and W Builders
Warm woods and soft neutrals invite guests to linger longer in this bedroom suite. You might even think that you are in a cabin instead of a garage.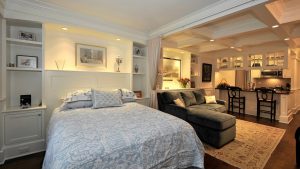 Project by RDstudio, inc
This simple, serene room provides space to relax and ample storage, perfect for extended stays. It also makes the perfect in-law suite. In fact, you wouldn't even feel bad about sticking your in-laws in this garage. For more on in-law suites, check out this post and contact Cocoon to get started.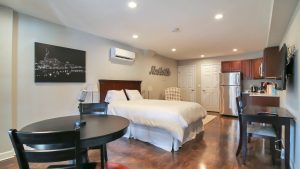 Project by Franks Home Maintenance
This converted garage provides everything vacationers, family, or friends need to be comfortable: a kitchenette, a bathroom, and a small sitting area.
Project by L2 Interiors
Black floors and white walls are warmed up with the wood ceiling and platform bed in this dramatically modern suite.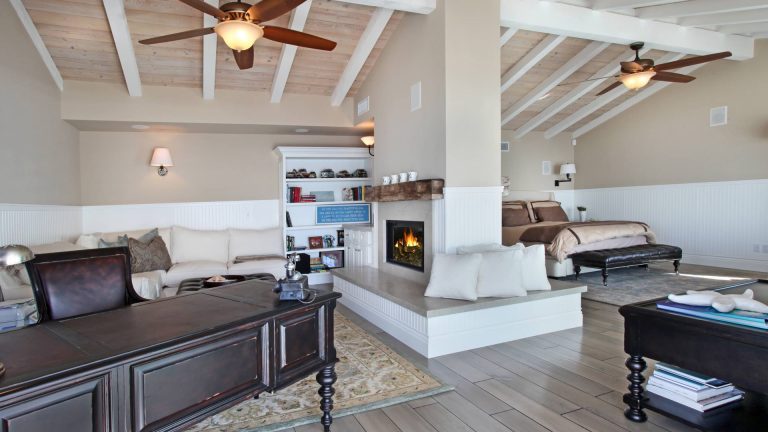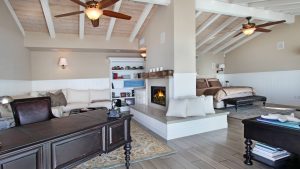 Project by Glover + Graham Design Collective
With its expansive space and soaring ceiling, this beach-inspired suite is a bedroom, living area, and office rolled into one.
Project by Hallmark Interior Design
The large window and swing seat bring the outdoors in, in this luxurious master suite. The millwork on the walls and ceiling add sophisticated architectural detail. (Whoever thought you would be using a term like "sophisticated architectural detail" when you are talking about your garage?)
Home Office
Whether you're in King of Prussia, Hockessin, or anywhere in between, if you work from home often, you should consider converting your garage into an office. Having a dedicated workspace can help you stay organized and give you a place to set work aside when you need to. These spaces offer inspiration, are conducive to focus, and provide much-needed quiet during a busy workday.
Project by The Home Index Interior Design
This office keeps the industrial aesthetic of a garage. Gray and black are prominent. Decorative details are minimal, and a glass garage door still offers the main entrance. Shelf-lined walls and a thick desk in the center of the room let everyone know that this room means business—at least most of the time. Green walls and red accents, reminiscent of an elementary school, offset the straight lines and dark colors. Even an office shouldn't be too serious, after all.
Project by Schnarr Craftsmen Inc.
Windows flood this office with light, while the fireplace adds ambiance. The ample seating offers a place to convene, and the TV provides news updates or downtime entertainment.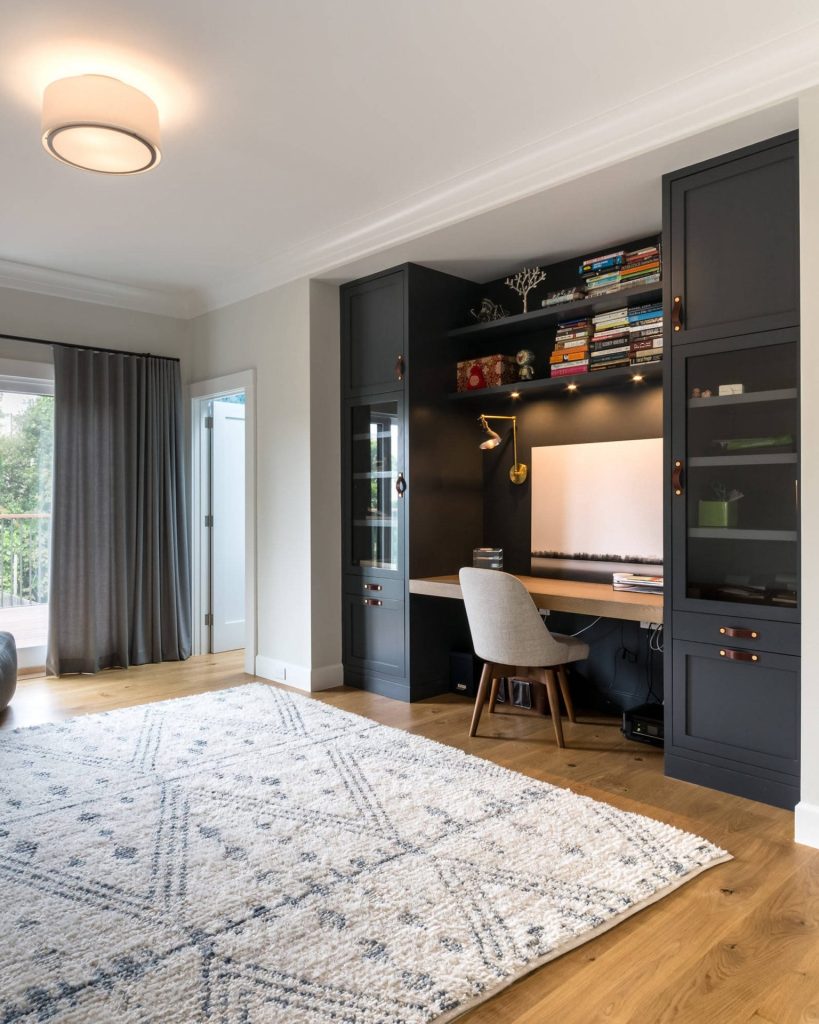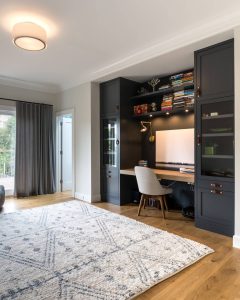 Project by North Bay Construction
The navy built-ins anchor this workspace, adding a regal touch to the washed wood floor and serene gray palette. The leather pulls on the cabinets add a handcrafted, rustic touch to the Shaker cabinets.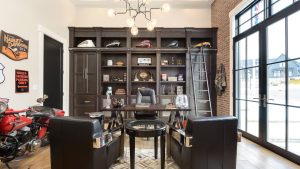 Project by Osmond Designs
While a motorcycle may not be in most home offices, it certainly fits here. The red pops against the cream walls, and the black ties in with the chairs and built-ins. The wood floors and built-ins add an organic feel to this office that gets your motor running.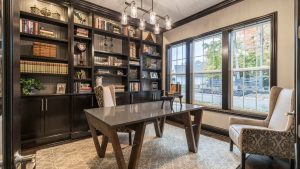 Project by Bob Webb Homes
Again, black built-ins are the focal point of this office, but a motorcycle is conspicuously absent, as are the leather chairs. In their place, however, are decidedly more traditional cream and gray damask wingback chairs. These chairs, along with a trellis-patterned carpet, create a classic look.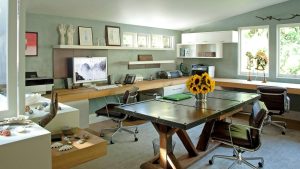 Project by Katie Leede & Company Studio
The trestle desk is the centerpiece of this calm office. The plaster finish on the walls adds texture and softness that balances the charcoal metal desktop. Meanwhile, the golden floors and wall desks lend warmth.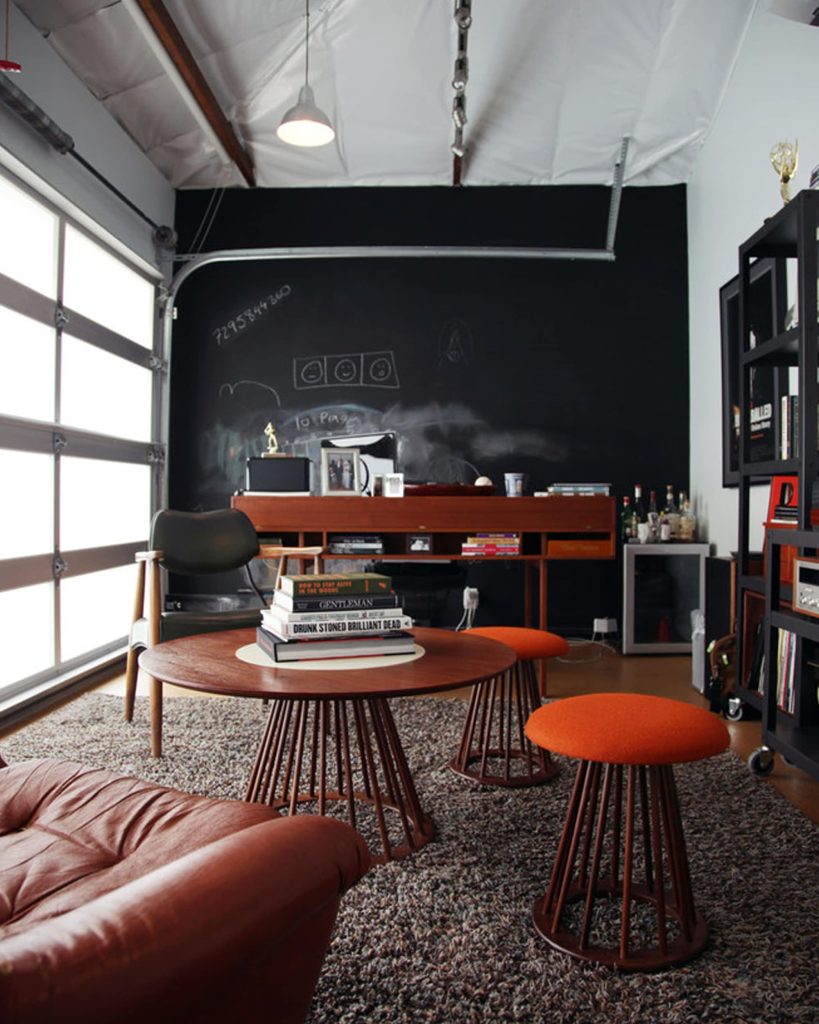 Project by Amy Sklar Design
A blackboard for brainstorming. A plush carpet and chair for break time. A glass garage door to let in all the light and vitamin D anyone needs. This playful office must make work a pleasure.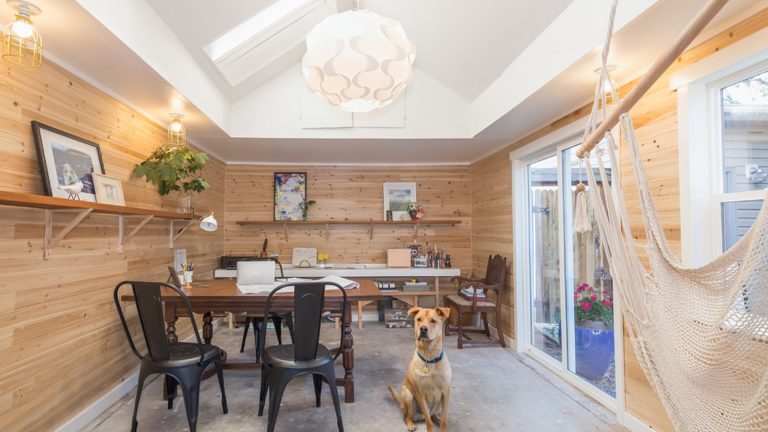 Project by Laura Medicus Interiors
This tranquil office is the perfect place to get to work. A window, patio door, and skylights flood the small room with ample sunlight. The cathedral ceiling adds architectural interest to an otherwise plain, rectangular room. It also creates the illusion of a larger space. Finally, wood-paneled walls add texture and warmth, without overwhelming the space.
Home Gyms
It's easier to hit the gym when you don't have to drive. Plus, converting a garage to a home gym is a bit more straightforward than other conversions. This is because the interior design of home gyms tends to be simpler. Few to no accents are necessary. A gym houses several pieces of equipment, which already create quite the visual mix.
In addition, color combinations are generally simple. To create a cohesive palette, a home gym may tie in the color of equipment, whether black, white, or gray. In contrast, warm wood tones offset steely dumbbells and towering machines. These gyms may motivate you to keep your New Year's resolutions.
Project by Identity Construction
Clean and modern, this gym is highlighted by broad patio doors that allow for a much-needed breeze during an intense workout.
Project by Nantucket Architecture Group
This is no ordinary detached garage conversion. More cottage-like than garage-like, this gym houses everything needed for strength-training or cardio. Dark floors hide dirt. White paneled walls brighten the space. And the wood-paneled ceiling warms it up.
Project by Brian Schmidt Builder
This gym has a more modern take on wood panels. The light washed wood adds texture to the room without creating visual clutter, while the white ceiling, recessed lights, and gray floor brighten this windowless space.
Project by Charco Design & Build Inc.
The glass wall, picture window, and unfinished ceiling maximize the space in this gym. The floor tiles provide a punch of colorful energy while also tying in the industrial colors of the machines.
Studios
Everybody has a creative side. Whether you are creative just for fun or it's your day job, you can convert a garage to a space that helps you get your creative juices flowing.
Project by Joseph Bergin Architect PC
Lined with windows and lights, this bright white studio creates the perfect canvas for any artist.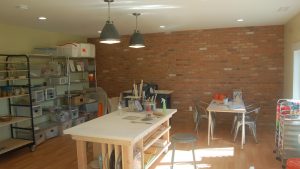 Project by Robin L. Tobin Architect
Exposed brick and wood floors add natural texture to this pottery studio, while the oversized pendants provide ample work light when the sun sets.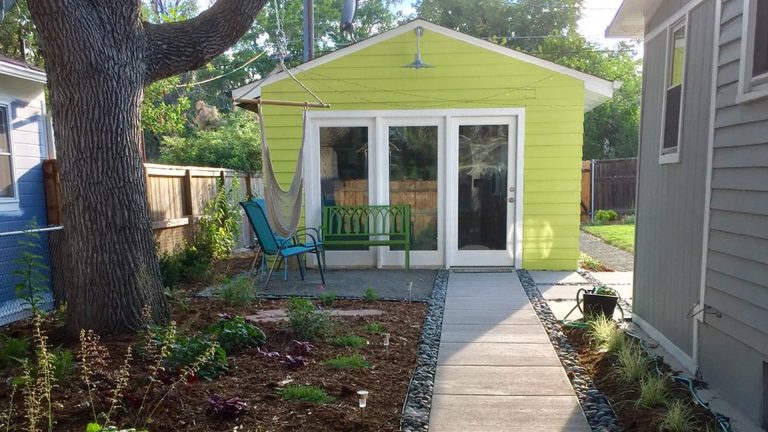 Project by Ann Tristani Design
This detached, single-car garage, not only provides a place for the homeowner to enjoy art, but also to create art. Again, white is the wall color, allowing the homeowners and guests to focus on the many paintings. The small counter, with storage hidden by shabby-chic curtains, offers a place to create.
Project by Laraarchitecture
With French doors opening up on two sides, this studio makes it easy for an artist to find inspiration outdoors. Again white is the color of choice, while a wood-paneled ceiling warms the space. There is more than enough room to create here.
Pool Houses
When you're ready to dry off and lounge, or just want to keep an eye the kids while they splash around, a pool house offers the perfect place for it. And a garage can become the perfect pool house. They are often already positioned toward the backyard, offer plenty of space and high ceilings, just right for a pool lounge. Plus, it keeps all the wet feet out of the main house!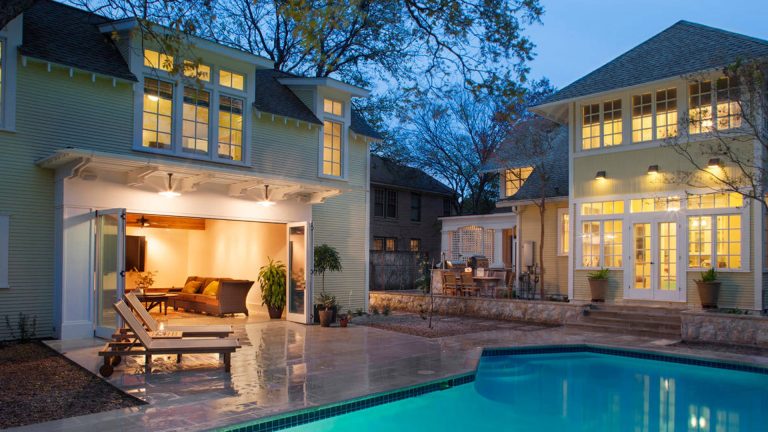 Project by FAB Architecture
The sliding glass doors bring the outside in, making this pool house just as inviting as the pool.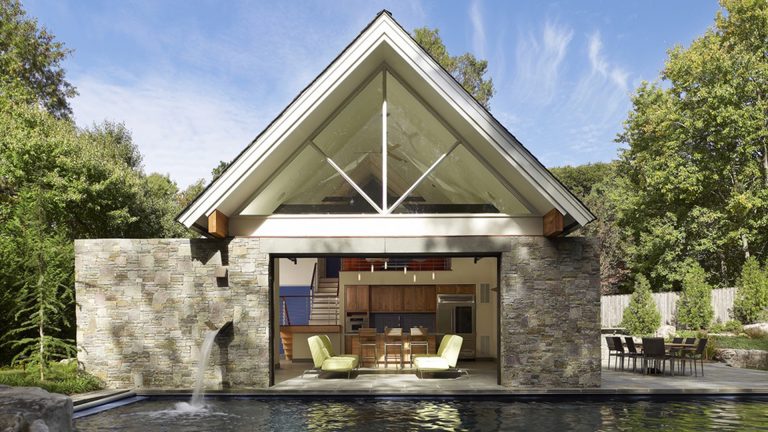 Project by Randall Mars Architects
The covered patio on this pool house meets the edge of the pool. It creates one unified space and provides much-needed shade in hot summer months. The full kitchen and family room complete this retreat. These homeowners need only walk into their backyard for a vacation.
Project by Di Biase Filkoff Architects
The quaint pool house provides a quick, comfortable place to relax, while the barn doors make this an easy indoor-outdoor space.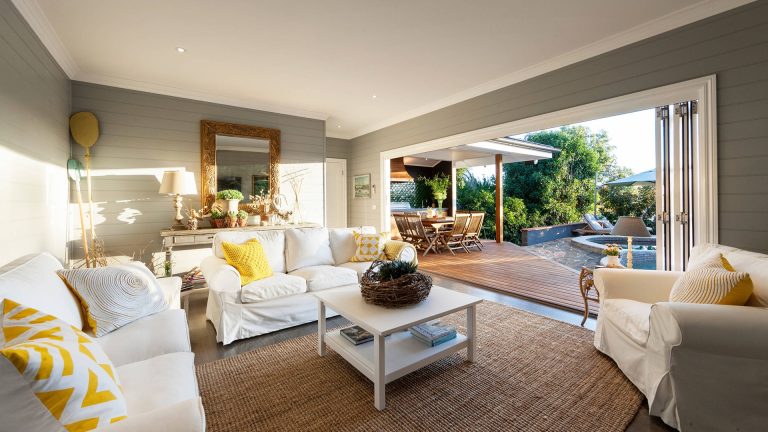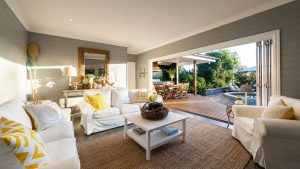 Project by Acorn Garden Houses
Whether you're swimming or just want to be outside, you can relax here. Plush seating invites everyone in, and the minimal decor draws your eyes outside.
Project by Blansfield Builders
This rustic pool-side retreat reflects its wooded surroundings. With a place to lounge, eat, and even warm up thanks to the fireplace, this pool-house is inviting, even in fall, winter, and spring.
From Grungy to Gorgeous
Unless you're a woodworker or DIY weekend warrior, you probably use your garage to cover a car or to house stuff you should have thrown out long ago. Don't let all that space go to waste. With a garage remodel, you can add livable, usable space to your home. The garage is a blank canvas. Create the space you want.
Contact COCOON designers today to assist you with your garage conversion. With more than a decade of experience in home remodeling in Chester County, we work with you on everything from floor plan design to interior design selections. It's time to get going on that garage. Call us today!
This is an image round up post featuring work from various sources. If you do not want your work featured on our blog, please contact us at

[email protected]

. Thank you!