If your parents or grandparents grew up during the Great Depression, you probably didn't let them see you throw much away. (Even if you didn't, you have probably heard the stories.) You could save that food for leftovers. You could stitch that hem or patch that hole. Waste not, want not, right?
That sentiment doesn't always apply to our homes, however. Nobody really does any living in the living room. We let dust collect on the dining room table. Even grandma probably could have made better use of her formal dining room.
Have you wondered what to do with formal dining space that you rarely use? You've come to the right place. If you want to maximize under-used space in your home, start thinking outside the box. Rooms don't have to be used for their traditional purpose. It's your home. Start using it for your family. As you'll see in the rooms below, you can repurpose a room entirely or simply add elements that make the space more functional.
Formal Dining Room
If you're like a lot of people, formal dining isn't your thing. When was the last time you set out the China, silver, and cotton napkins? If it's been a while, chances are your formal dining room isn't getting much use. It may only get a visit from you during holiday entertaining. Your kitchen, on the other hand, gets your regular attention. Friends and family gather around the island to share snacks and conversation. It's just fun, not formal.
Dining Room Conversion
With that in mind, why not expand your kitchen into your dining room? You could finally add that island, perfect for food prep and gathering around at parties. Perhaps the dining room could become your new eat-in kitchen. Project by Normandy Remodeling
Replacing this home's original dining room, this expansive kitchen is a home cook's dream. Complete with double ovens, prep sink, and an extra large refrigerator, this reclaimed space now fully functions for daily use, not just special occasions.
Storage
Even if you want to keep your formal dining room for dinner parties or special occasions, you could add kitchen storage for small appliances or speciality bakeware that do not get used regularly. You can use your kitchen cabinets for items you really need. Project by COCOON
Cool gray cabinetry provides ample storage for all dinner-party supplies and then some. With everything from serving dishes to barware neatly stashed inside, these cabinets transform a formal dining room. What was once a nice-to-have room is now a must-have room.
Bar Area
Give yourself another reason to use the dining room. Make it a lounge too. Project by Savvy Interiors
This airy dining room lures guests with its beverage center. Craft cocktails at five-o-clock on Friday, anyone?
Open Floor Plan Design
Sometimes you just need to see a space to use it. Breaking down walls that seclude dining rooms from the bustle of the kitchen and family room can make the room feel more usable and less formal. Project by Michael Nash Design, Build & Homes
The kitchen opens up into the once closed-off dining room, and the shared washed wood floors bring the two rooms together. The casual seating at the island and in the nook ensure that family dinners take place at the dining room table.
Formal Living Room
If you're not dining formally, you're probably not living formally. Sitting in a well-appointed room without a particular purpose not only seems odd, it is odd. Living rooms can be so much more than sitting rooms, more than just the overflow space for those special occasions in the dining room. They're actually a blank slate, perfect for hobby space, play space, or work space. Like dining rooms, they're also a great space to create a combination of functions. (In fact, feel free to incorporate these ideas in your dining room as well.)
Playroom
If you're not ready to renovate a basement or it's already a designated man cave, living rooms make perfect playrooms. With functional storage and a well-coordinated palette, a playroom can greet guests just as suitably as a more traditional living room.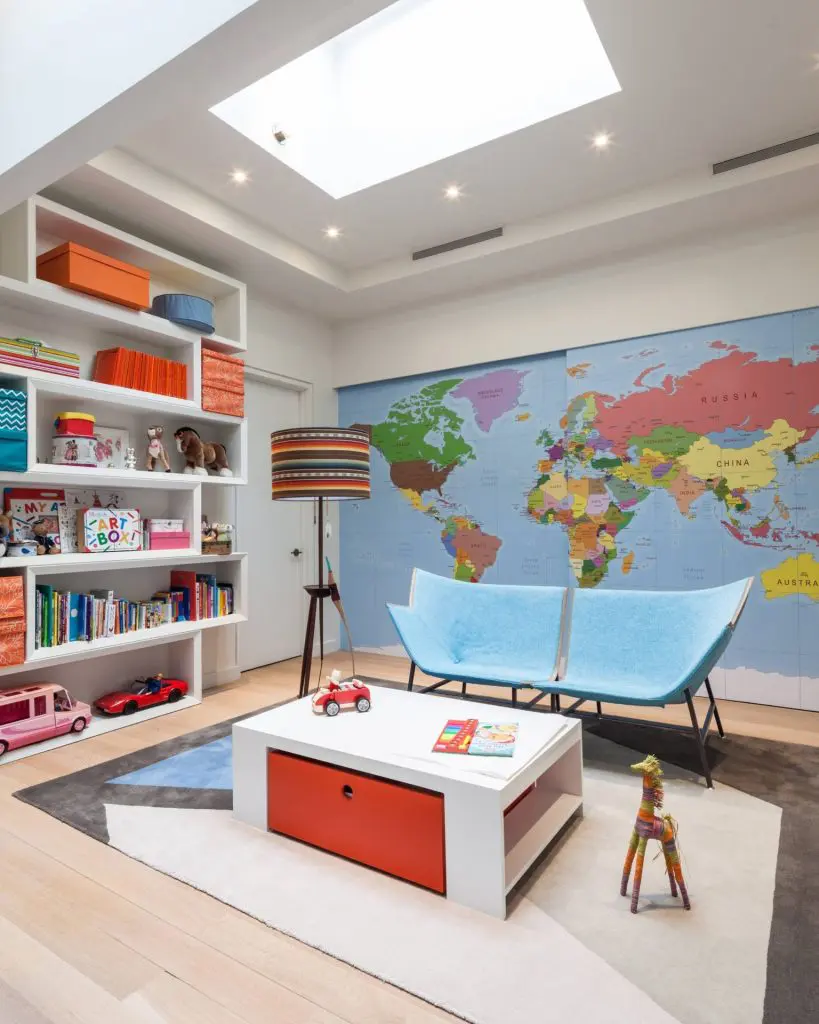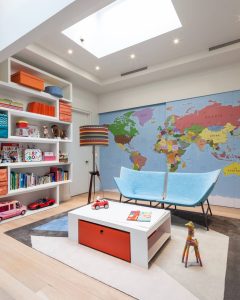 Project by Kati Curtis Design
A map mural provides a rainbow of color along the otherwise white walls of this medium-sized playroom. Storage, seating, books, and of course toys keep color moving around the room.
Library
If you'd like to reserve your living room for calmer activities, consider a library. Built-in shelves are a must for book lovers, but they can also hold precious pictures and favorite souvenirs.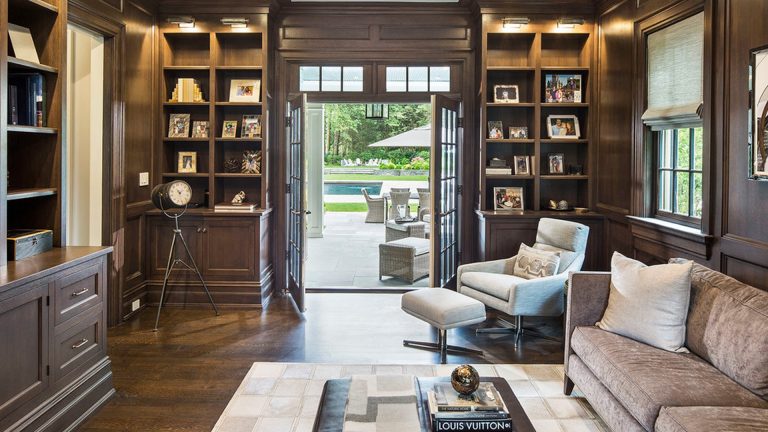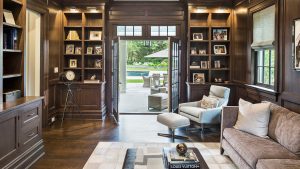 Project by JEM Woodworking & Cabinets
Wall-to-wall custom millwork makes this rich space the reading man's man cave. Warm and welcoming, you can kick back, relax, and enjoy a good book.
Craft Room
Need a space to get your creative juices flowing? If you're tired of piecing together quilts in the kitchen or sharing an office to scrapbook, look to your living room.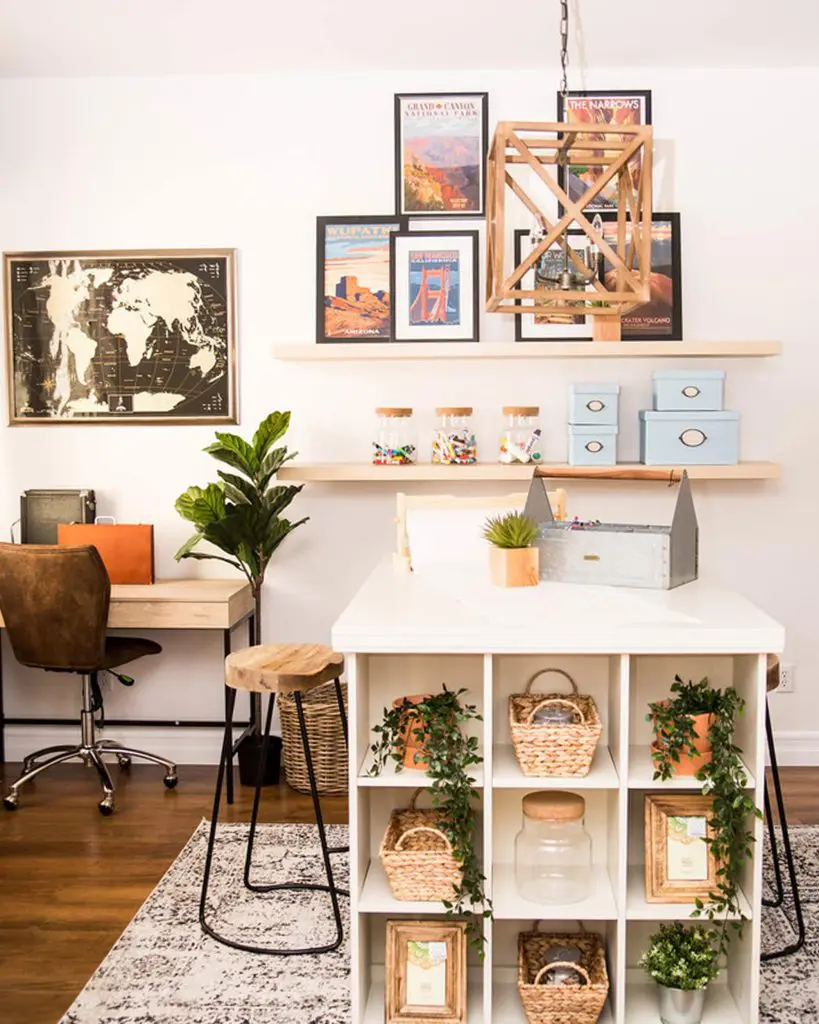 Project by Kimberley Kay Interiors
With a desk and a craft table, you create, edit, and finalize everything from photos to scrapbook layouts to quilt designs. Shelves and cubbies offer tidy storage for accessories, making clean up and organization a bit easier.
Home Gym
If the drive to the gym gives you one more reason not to go, you can bring the gym home to you. (Check out more home gyms in our post on garage conversions.)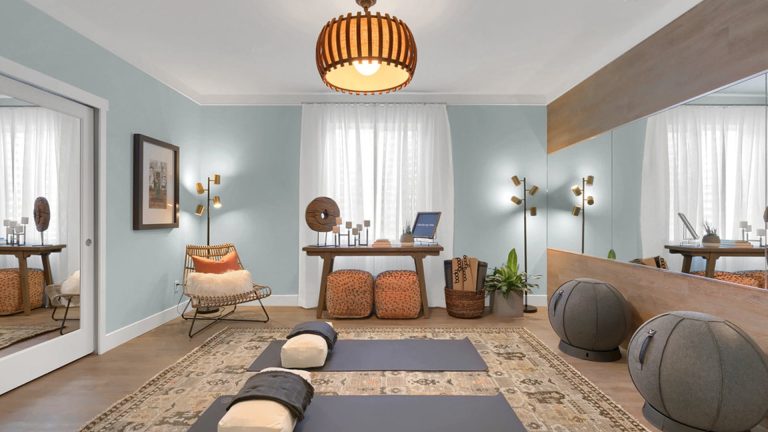 Project by Keller Homes, Inc.
The subdued tones in this home gym make it perfectly presentable, even in a living area. The closet conceals additional equipment when not in use. The mirrors let you keep an eye on your form while also reflecting light and making the space feel larger.
Lounge
Sometimes you want to bring your dinner party out of the kitchen and into a more comfortable space. Adding a small bar to a living room instantly transforms it into a cocktail lounge. Project by Masterpiece Design Group
Its espresso cabinetry and sleek backsplash make this wet bar a functional focal point in this living room.
Office
If your home does not have a designated workspace, you can easily add one. You don't have to work alongside crumbs at the kitchen table. Project by Mid in Mod Furniture
This living room combines room to relax with a place to work. Stretching the length of the wall, the slim, white desk blends into its surroundings.
Foyer
You may have more space than you know what to do with in your entryway. Grand entryways sometimes feel a little empty. Small entrances, on the other hand, feel like nothing more than a pass-through. Other than hanging a picture or mirror and placing a console table underneath, creating a functional foyer can baffle many homeowners.
Office
Tuck a proportionate desk and chair into the right area, and voilà, you have an office. Project by Vita Design Group
This sleek and slim desk mirrors the cabinets on the adjacent wall, creating a smooth visual transition. The wood-paneled wall, on the other hand, designates this space for work.
Seating and Storage
When guests enter your home, they usually look for a place to put their coat, purse, and shoes. Make it easy for them and you. Provide it right in your foyer.
Project by COCOON
The striking black-and-white floor and bright teal window seat offer a fun and friendly welcome to all guests. The window seat makes it easy for everyone to slip off their coat and shoes, while the cubby gives them an obvious place to set their belongings. Talk about a great first impression!
Under the Stairs
You probably can't create a full room from the space under the stairs. After all, Harry Potter never looked comfortable in his cupboard under the stairs on Privet Drive. However, the space under the stairs lends itself to small play areas, creative storage, and even offices.
Play Area
Children love to tuck themselves away into their own spaces. Remember forts you used to build? Some things never change. Project by Marre Design Group
This home inside a home can serve as a neighborhood clubhouse or just a place to escape the stress of elementary school. It's a perfect get-away for little ones.
Storage
It's a fact of life. Families with active children can always use more storage, whether it's for ice hockey gear, or instruments and music stands. Better still, if that storage is stylish.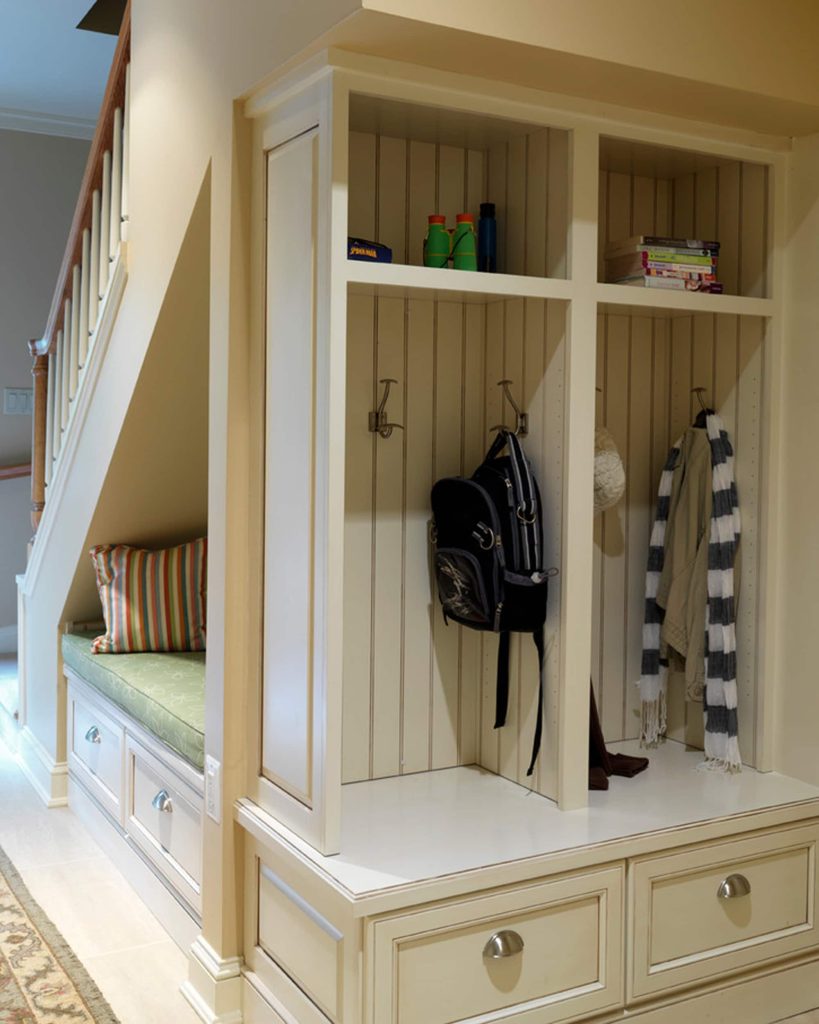 Project by Case Design/Remodeling, Inc.
Multipurpose storage makes the most of the space under the stairs. A seating nook, drawers, and cubbies keep shoes, jackets, and backpacks from piling up in the entryway.
Office
Having to finding a spare space to work or study in your own home thwarts your productivity. A designated place, even if it's just under the stairs, can work wonders for your focus.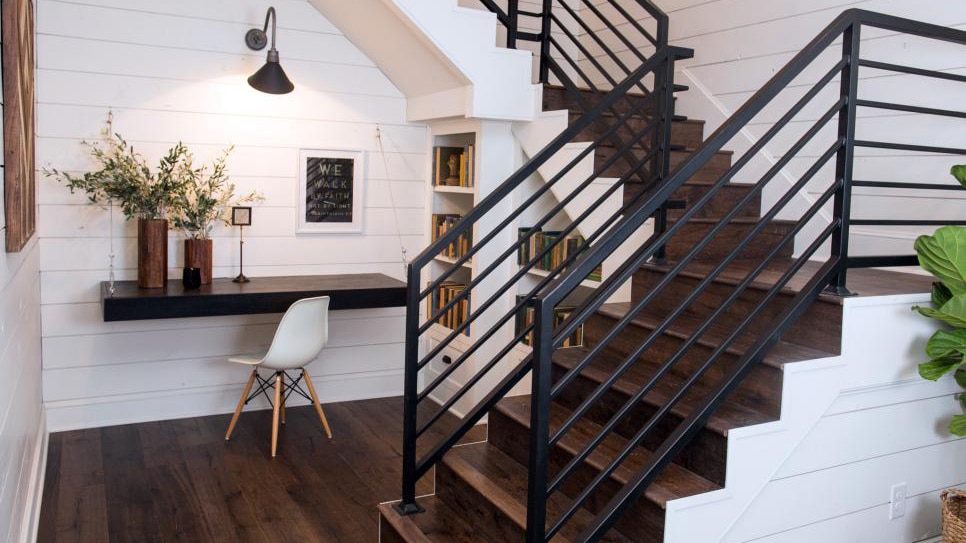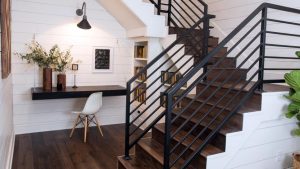 Project by Joanna Gaines
You might recognize this micro-office from the "Barndominium" episode of Fixer Upper on HGTV. Nestled right uner the stairs, Jo found a way to squeeze an office into this floor plan by getting creative with the space.
Oversized Bedroom
Even if you had cramped quarters in a Philadelphia apartment, you always knew that one day you would have more. Now that you have a sprawling master bedroom, you aren't quite sure what to do with all that extra square footage. Well, you have several options.
Sitting Area
Maybe you and your spouse don't always agree on a TV show to wind down to at night. Or maybe you'd just rather curl up with a book. A separate seating area provides the place to watch what you want or watch nothing at all. Project by Rachel Reider Interiors
You could kick your feet up and have a cup of coffee to start your day in this sunny master bedroom retreat.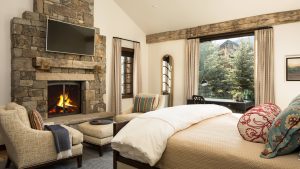 Project by Jacque Jenkins-Stireman: A Design Studio
This rustic retreat is conducive to lounging and binge-watching, and sleeping, of course.
Office
Most work can be done from anywhere these days, but it's better with a desk. If you have a bit of extra room in your master bedroom, make use of that space with a home office.
Laundry Room
Tired of lugging loads of laundry up and down the stairs? Add a second-floor laundry room with that extra space in your master bedroom. (Check out these 25 laundry rooms for more inspiration.)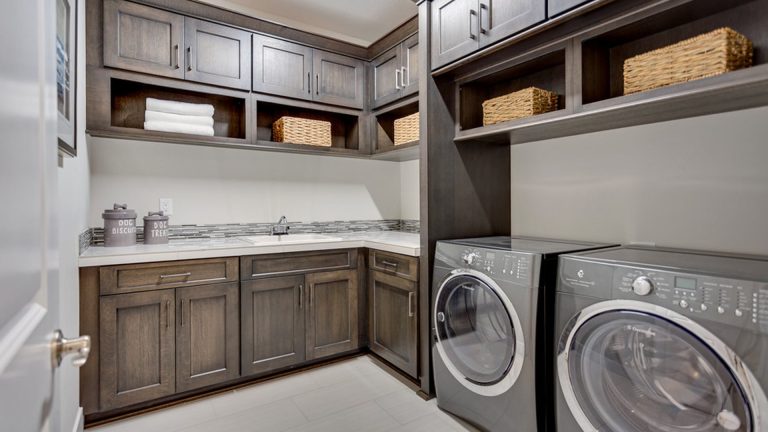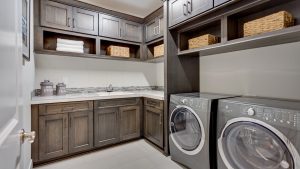 Project by Adams Design Center
With plenty of storage for cleaning supplies, and space to fold and iron, doing laundry could feel less harried and more organized in this room.
Two-Story Family Rooms
You may not have considered creating an extra room out of the open space that hangs over your family room. That's probably because you inherently think of it as part of the family room. However, it doesn't have to be.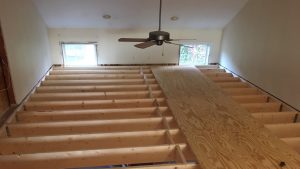 Project by COCOON
When a Glen Mills family needed an extra bedroom for their children, they looked up—to all of that extra space in their family room. With the design build team at COCOON, they transformed the airy space in the family room into an extra bedroom. They also were able to reconfigure existing upstairs space into an extra bathroom and a new laundry room. (Here's a video recap of this project. Contact COCOON to learn more.)
Why Waste Space?
Just because an architect once designated a room in your home as a dining room does not mean you have to use it that way. Just because a previous home owner built a soaring two-story ceiling in the family room does not mean you have to keep it that way. (It's expensive to keep cool, anyway.) Live in your home the way you choose. Use the space how you prefer.
Whether you would like shelves under the stairs or an expanded kitchen, COCOON can help you make the most of every inch of your home. A home remodel should reflect how you use the space. With an experienced architectural design and interior design team, we can create rooms that incorporate beautiful form and meaningful function. Contact COCOON to discover the many ways we can help you maximize your space. We have been working with homeowners in Chester County, Delaware Country, and Montgomery County for more than a decade. We'd love to work with you next!
This is an image round up post featuring work from various sources. If you do not want your work featured on our blog, please contact us at

[email protected]

. Thank you!