Though America declared independence in 1776, the American architecture styles that now cover our landscape can often be traced farther back in European history. Sometimes they are copies of European homes and other times they incorporate European influence. Much of what we see is actually an architectural revival. In other words, the classic architectural style is brought back in a modern context.
Of course, you don't have to be a student of history to appreciate the architecture of your home. (And don't worry, there's no quiz at the end of this post.) However, knowing a few common characteristics of your home's architectural style could help you remodel and redecorate in a way that suits both your style and the home's heritage. (Want to ensure that your home remodel coordinates with your home architecture? Check out these tips on remodeling older homes.) So what kind of home do you have? There's not just one American-style house, after all. Here are few home architecture styles that are common in Chester County and surrounding areas.
Cape Cod
The Cape Cod is a quintessentially northeastern home. They line the northeastern seaboard, some quaint, some quite large (think Hamptons estates). While the Cape Cod-style house is synonymous with the Atlantic coast, most regions of the United States have adapted it in some form as its modest size made building and buying one relatively easy. However, this home that seems so American to us, traces its foundation back to English cottages. This makes sense, considering the English settled here in large numbers here in the 17th century.
All Cape Cod homes can be distinguished by their steeply pitched roof and double-hung windows. Early Cape Cod homes had, and may still have if restored, a chimney in the center of the home and little to no ornamentation on the exterior. Cape Cod revival homes, popular from the 1930-1950s, often have chimneys on the side of the home.
Siding is traditionally either wood lap siding, shingles, or shakers, though brick and stone can be found newer Cape Cod homes. Cedar shingles tend to be a popular choice for beach-adjacent capes. The cedar stands up to drastic weather and wears to a beautiful gray. Cape Cod homes vary in size. Generally, they are quarter, half, three-quarter, or full.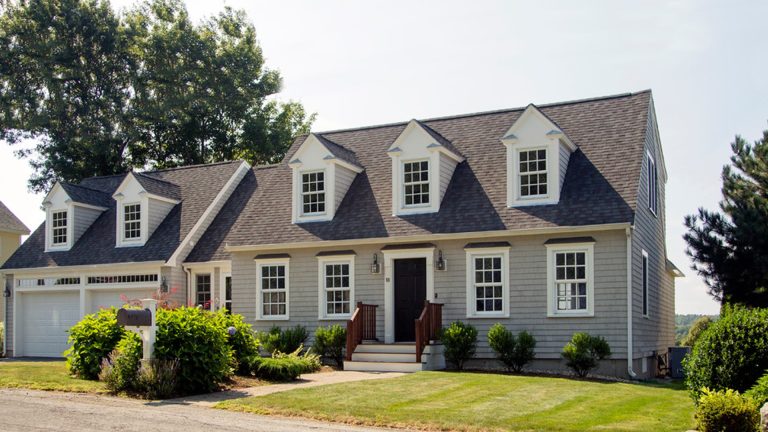 Project by Cummings Architects
A full Cape, as shown above, is symmetrical with two windows on each side of the front door. A three-quarter Cape has three windows: two on one side of the front door and one on the other side. A half Cape has two windows on one side of the front door, and a quarter Cape has just one window on one side of the front door. As you can imagine, a quarter Cape is quite cozy.
Over the years the basic style has been modified to suit builders' and homeowners' styles. One of the most obvious changes to the original Cape is the dormers on the second story. The dormers add light and air to dark and stuffy second stories. The style of the front entrance has also evolved since Colonial times. You can find entrances recessed into the home, porticos, and millwork that resembles Greek columns. These are just a few of the alternations made to this American classic.
Colonial
Like the Cape Cod, the Colonial-style house, or more specifically, the Georgian-style Colonial, has its roots in European history. With an emphasis on symmetry, this style of Colonial home can be traced back to Greek and Roman architecture—minus the soaring Doric or Corinthian columns suited for ancient temples. While there are many historic Colonial homes in the Chester County area, there are also Colonial revival homes, as well as new builds. It's a style that easily adapts to modern family life.
So what makes a home Colonial? First, as already mentioned, is symmetry. The front entrance is centered and flanked by an equal number of double-hung windows. On the second story, the same number of windows rests above those on the first story. The gable roof has shallow eaves, creating a nearly flat facade. Wood lap siding, shingles, brick, stone, or a combination covers the exterior of the home.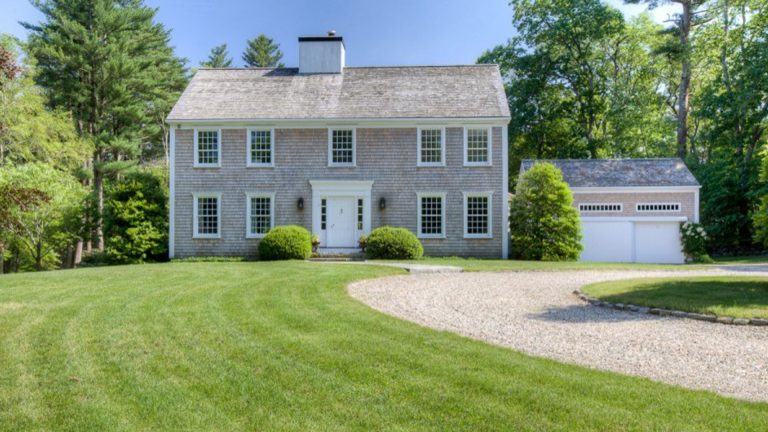 Project by JB Robbie Builders, Inc.
The architectural details within a Colonial home vary. In historic homes, exposed wood ceiling beams are common. Like Cape Cod homes, fireplaces are in the center of the home as well. In more recent homes, they are on one end of the home. Whether the home was built in 1700 or 2000, wood floors are a mainstay of Colonial homes. (Check out more historic renovations.)
Victorian
Prized for ornate details, homeowners have restored Victorian homes for decades. Their dramatic features even lend themselves to movies. Nothing is quite warm and nostalgic, such as the B&B in Groundhog Day, as an old Victorian-style house.
Broadly, Victorian refers to homes that were built during the reign of Queen Victoria of England. All Victorian homes have tall narrow windows and tend to have intricately carved woodwork, from arches to scrolls, on the facades and front porches. Exteriors are wood, stone, brick, or a combination. Crossed-gable roofs, where gables meet at right angles, are also common in Victorian homes.
Though Victorian homes share many similar characteristics, there are several types. They are Gothic revival, Italianate, Romanesque revival, Second Empire, Queen Anne, and Folk Victorian.
Gothic Revival
These homes can be characterized by their front-facing gable, with a dramatically pitched roof stretching high into the sky. The style often resembles medieval churches. Pointed arches are common, either at the tops of windows or above front porch railings.
Project by P. Shea Design
This Gothic revival home blends modern farmhouse aesthetics with Gothic features. The woodwork is pared down to simple lines, and the white paint is soft and crisp, but the Gothic influence peeks through the arched windows and steep, gable roof.
Italianate
Though decorative details are prominent in Italianate-style homes, their more subdued rooflines make them less dramatic than Gothic Revival homes. Sizable corbels under the eaves, classical columns on the porch, and large window moldings create a formidable facade.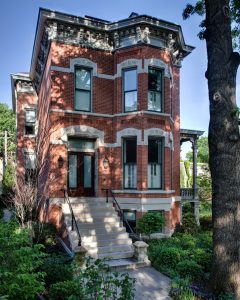 Project by Vinci | Hamp Architects
Narrow Italianate homes, like the one above, are commonly found in American cities and have a bay window opposite the front door. Larger styles often feature a fondness for symmetry, with a centered front door, reminiscent of classical architecture.
Romanesque Revival
Rounded arches epitomize Romanesque revival style as do their stalwart brick or stone exterior. Many urban row houses are Romanesque. Wider single-family homes may have one or two turrets, creating a castle-like look.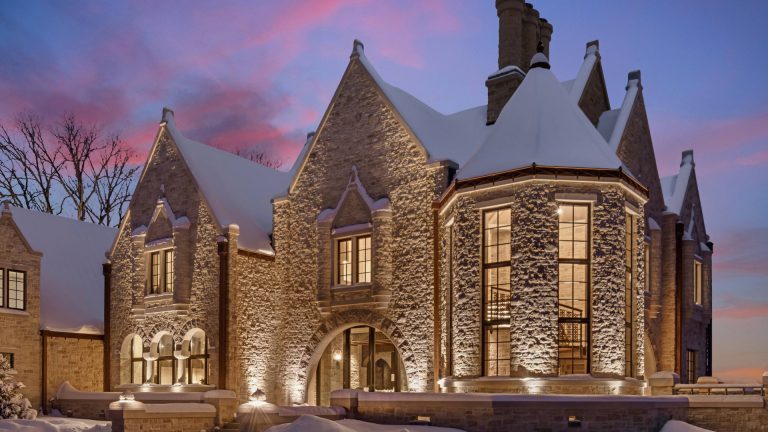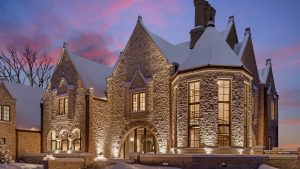 Project by James McNeal Architecture and Design
A stunning modern reimagining of Romanesque revival architecture, this stone home presents the classic arches in a new light.
Second Empire
These homes are inspired by French architecture and generally have a Mansard roof. It's as if the roof continues onto the side of the house. Second Empire homes also often have square towers rising above a center front entrance of the home.
Project by Peter LaBau, LLC
The neutral palette of this restored Second Empire home subtly reveals its its ornate craftsmanship.
Queen Anne
When you think Victorian, you probably think of the Queen Anne style. A combination of elaborate architectural details from the roof to the porch characterizes these homes.
In addition to the crossed gable roofs found in many Victorian homes, Queen Annes often have a turret. One of these cylindrical towers often stands guard at one or both sides of the home. While the Queen Anne's structure itself appears as imposing as a medieval castle, its exterior adornments, on the other hand, are almost fantastical.
Incorporating a range of textures, these homes often have various types of siding. Lap siding is common on the first floor and part of the second. On the second level half-timbering, the decorative flat boards common on Tudor-style homes might adorn the facade. On the attic level, fish scales or shingles can add another layer of adornment. Each of these features is sometimes painted its own color, creating a dynamically detailed exterior.
In addition to the multi-textured exterior, these homes often have deep front porches, which may wrap around the front of the home. They are adorned with meticulously cut spindles. In fastidiously restored Queen Annes, even these are painted more than one color. The home below features many classic characteristics of Queen Annes.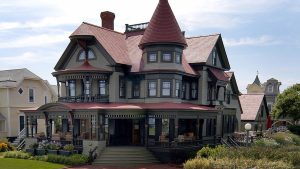 Project by Design Associates, Inc.
It's all in the details in this exquisite Queen Anne. Cream and dark green paint highlight the carved details on the spindles. Maroon shingles call attention to the multi-faceted roof and contrast the soft green siding.
The interiors of Queen Annes homes reveal hardwood floors, beautiful fireplaces as well as built-in cabinetry suited for a queen, no less. Stained glass windows that overlook stairwells or that accent entry doors are also common handicraft of these stunning homes.
Folk Victorian homes generally share the same characteristics of other Victorian homes but on a smaller scale.
Project by Avenue B Development
This quaint home showcases classic Victorian elements, such as tall windows, fish-scale siding, and ornate woodwork.
Craftsman
The Craftsman-style house was developed, in part, due to the Arts and Crafts movement of the late 19th century. As the Industrial Age mass-produced goods, the Arts and Crafts movement arose, emphasizing hand-crafted objects.
In homes, this translated to a more subdued roof pitch, structural supports that double as decor, and an interior that highlighted craftsmanship. On the outside of a Craftsman home, you'll find deep and welcoming front porches with battered columns, noted for their heavy base that tapers upward. Underneath that roofline are often exposed rafters, which are often decoratively cut at the end. Double-hung windows are also typical of these homes. The difference in Craftsman homes, however, is that the bottom pane is often plain, while the top is often divided in at least six panels.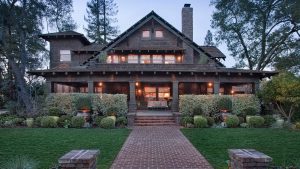 Project by NorthWall Builders, Inc.
In this particular Craftsman, however, homeowners chose diamonds on the upper pane. Note the rafters peeking out from the below the roofline.
The interior of these homes places as much emphasis on handicraft as the exterior. While it lacks elaborate woodwork, such as heavy corbels that might adorn a fireplace or round balusters of a Victorian home, it acknowledges a simpler style. For example, board-and-batten wainscoting, similar to Shaker style, can line the walls. Tray ceilings and fireplaces flanked by built-in shelves are also common. While many remodeled Craftsman homes feature white woodwork, traditionally, woodwork is stained. The rich stains show off the wood's natural characteristics. In addition to the extensive woodwork, hand-crafted tiles often surround the hearth.
The unfussy architectural details in Craftsman homes have recently made them a popular style for newly built homes as well. Many builders and new developments have rushed to recreate the substantial features of these warm and inviting homes.
Tudor
As with the Cape Cod home, the Tudor-style house experienced a revival in the 20th century. The original American Tudor revival occurred during the early 20th century; however, new Tudor-style homes popped up in American suburbs in the 80s and 90s as well.
Tudor refers to the reign of the House of Tudor in England from 1485 to 1603. Its most notable monarch was Queen Elizabeth I. That being said, the half-timbering characteristic of these homes is actually common to medieval (pre-Tudor) English buildings. Regardless of the historical inaccuracy, the name Tudor has stuck, so we'll stick with it here, too.
The half-timbering, the flat wood board decoration adhered to wood or stucco, makes these homes stand out. Traditionally, these homes feature a brown and white exterior, but many newer or renovated Tudor-style homes favor taupe and gray instead of brown. The half-timbering is often combined with stone or brick as well. Like Queen Anne homes, Tudor homes have crossed-gable roofs, and symmetry may or may not be a design priority. Windows may be double-hung or casement, and may hang in a series.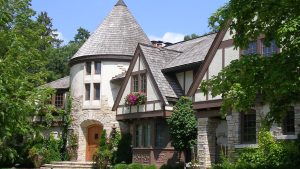 Project by Bruce Kading Interior Design
This home looks as though it is part of an English village. The combination of stone and half-timbering creates a classic Tudor look.
The wood detail inside a Tudor depends on the era in which it was built. Earlier Tudor revivals tend to have more. Once Tudor-style homes became available en masse, wood details dwindled.
Ranch
Suburban sprawl of the 50s and 60s dotted America with ranch-style homes. Larger home lots allowed for people to build across the land, rather than having to build up, as they did in more compressed urban settings. Despite the ability to stretch out a bit, ranches tend to be more modestly sized homes. Similar to the Cape Cod kit houses prevalent in the earlier half of the 20th century, ranch homes made great starter homes for young families.
Like Victorian and Tudor styles before it, ranch homes do not adhere to the symmetry of classical style homes, and some are L-shaped. On one side of the front entry are large picture windows or a series of windows, which allow light to flood the family room. On the other side, there are bedroom windows, a series of windows, or another large window.
While double-hung windows tended to be most popular earlier American homes, ranch homes were flexible with this feature. Casement, side-sliding, or double-hung windows are found in ranch homes. Siding also varies. Combinations of brick, stone, and wood enhance the exterior of ranch homes.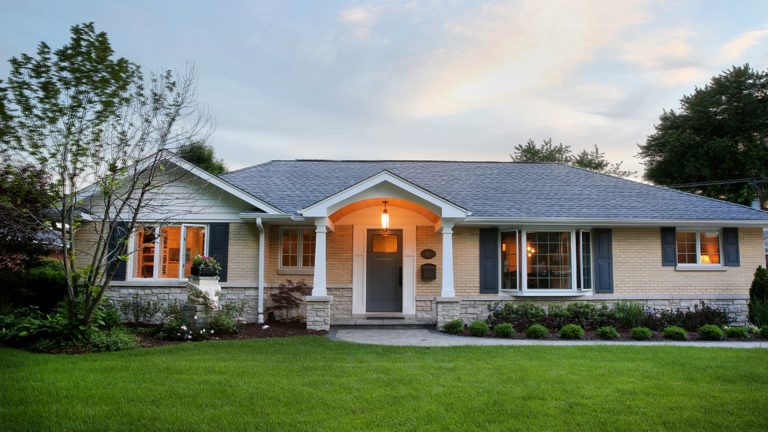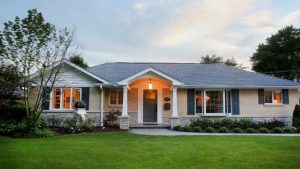 Project by Normandy Remodeling
Interior adornment in a ranch-style house is often minimal compared to Craftsman, Victorian, and even Colonial homes. As with many homes, fireplaces in a ranch are a focal point. If the living area has a vaulted ceiling, as larger ranches often do, soaring stone or brick fireplaces highlight the expansive height of the room. What ranch homes may lack in adornment, they make up for in floor plan. Floor plans of ranch homes have more open living and kitchen areas than homes of previous generations.
Mid-Century Modern
Mid-century modern, as the name implies was a design movement that began in the middle of the 20th century, shortly after WWII. It borrows features from Frank Lloyd Wright's Prairie School of Architecture, such as multiple large windows and flat roofs.
Along with the flat roofs, the mid-century modern-style house takes minimalist design a step further, creating the simplest of lines and little to no adornment. Bringing the outside in with large windows is a top priority. On the interior, the floor plan is open, and there is minimal detail. The expansive floor space and light from the large windows are the highlights. No excessive adornment necessary.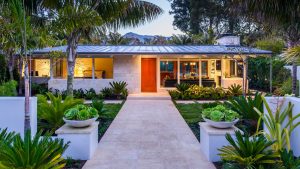 Project by Allen Construction
The large windows of this mid-century modern home create continuity between the inside and outside. It's as if you can walk through one to the other.
Home Style Mix and Match
Like all forms of art, it's difficult to create specific categories. Not all homes of a particular style have all of the same features. Architectural genres build on styles that came before and borrow features from one another. Every home is as unique as its owners.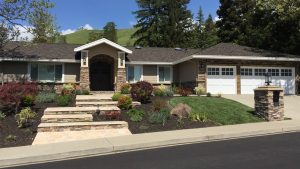 Project by Cal York Construction
This ranch illustrates the fluidity of architectural genres. Though it is clearly a ranch, the Shaker style garage door and front door are a clear nod to the Craftsman style.
When you embark on a home remodel, whether you have a decade-old home in Southern Chester County or a century-old home in Newtown Square, knowing the original home design can help you move in concert with that style. Or you can start fresh, combining the old and the new. Contact Cocoon today to figure out which home renovation journey, you'd like to start.
This is an image round up post featuring work from various sources. If you do not want your work featured on our blog, please contact us at

[email protected]

. Thank you!