Our expert team of designers has curated this list of 2021 home design trends specifically for you! But we don't want you to get the wrong idea… Trends come and go, but at COCOON we strive to create spaces you will enjoy for years to come. So yeah, check out this list and hopefully it will help inspire your next DIY project, home décor purchase, or full-scale renovation, but you should also remember that if you truly love something, it will never go out of style!
21. Mama Mia The 70's Are Back!
Project by @kate_rose_morgan
Cue ABBA, because the 70's are back and fully influencing design trends in 2021. Embracing this 1970's love affair can mean adding more fringe accents to your home and incorporating bold wall papers and paint colors such as mustard yellow, dusty rose, and hunter green. If you're looking for more depth and contrast in a room, incorporating dark wood is another nod to this classic yet retro design trend.
20. Full Slab Fab
Project by @marieflaniganinteriors
Tired of scrubbing what seems like a million grout lines? Well say goodbye to grout, and say hello to full slab showers and backsplashes! From natural stone slabs to marble and granite, designers are incorporating this clean and sleek look into more homes. At COCOON we have been loving using large tiles like these in shower walls or even in kitchen backsplashes. Just make a note that this can be a more difficult tile to install so be sure to find someone who is qualified and experienced.
19. #shelfiemoment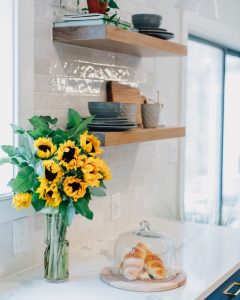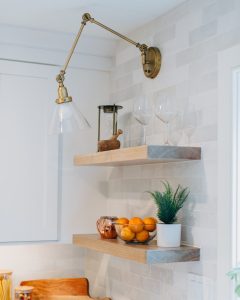 Project by COCOON
Do you love looking through the shelfie hashtag on Instagram? Well maybe it's time to create your own #shelfie moment with a wealth of different styling possibilities! Shelving materials can include wood, glass, or metal and always leave a space feeling open and airy. Whether you choose to do many smaller open shelving units or just one large one, your space will be #shelfie ready in no time.
18. Less Is More
Project By @minimalistics.designs
The saying "less is more" is the guiding principle of this 2021 design trend. This design is all about choosing items for your home only if they have meaning, functionality and enhance your well-being. Essentially, living a minimalist life means doing away with unnecessary clutter and meaningless items in your space. This design trend often includes clean geometric lines, natural materials that promote sustainability, and subtle accents such as forest greens, light pastels, and black.
17. A Sanitized Sanctuary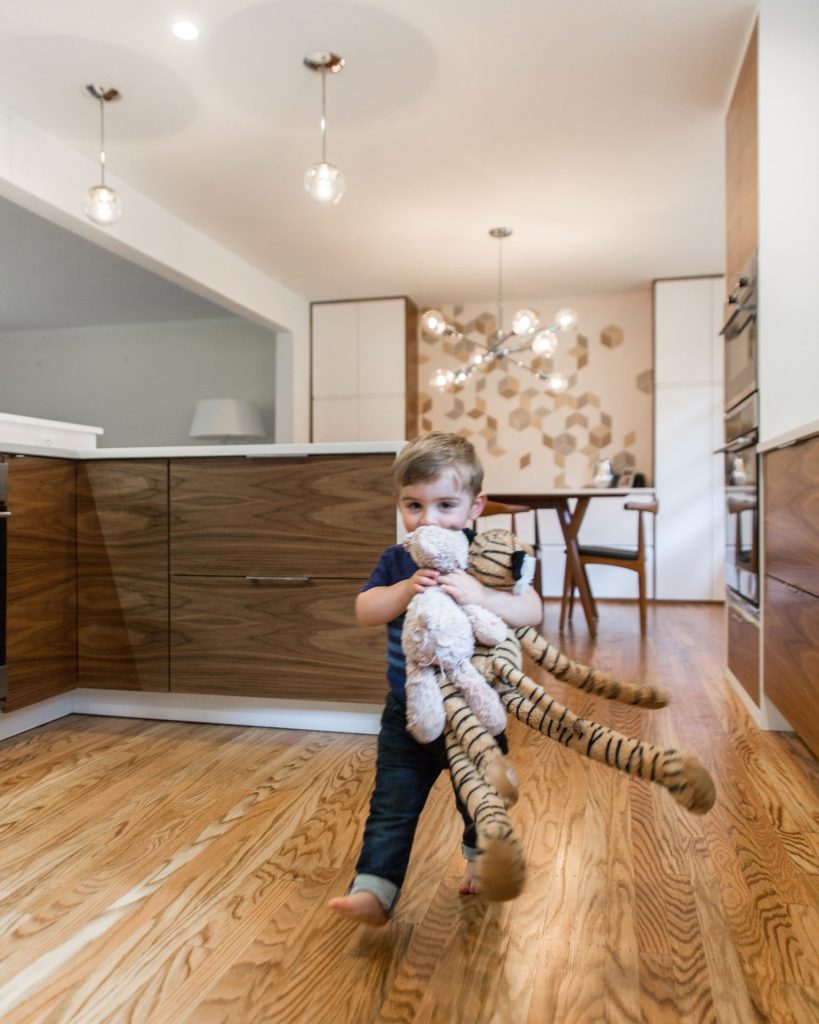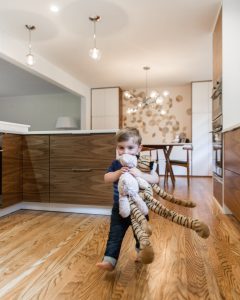 Project by COCOON
Working with families who are often busy, and have kids, or even just love to entertain, COCOON knows the importance of using materials in our home remodels that are easy to clean, and difficult to damage. Since 2020 put a major emphasis on clean and sanitized spaces, this trend is on point. Easy-to-clean materials and finishes for countertops in your home can include porcelain, stainless steel, laminates, and quartz. For paint, try ones that are specifically formulated to be scrubbable in a matte sheen for easy removal of any unwanted marks. Although hardwood floors seems like such a classic option its also extremely kid-friendly when it comes to care and cleaning. However if you're wanting to go a different direction laminate, vinyl, engineered wood, and bamboo, are other great choices for flooring with some being scratch resistant and waterproof. This quick cleanup trend can be incorporated in any space of your home but is most commonly implemented in the kitchen. If you're looking for even more ideas on how to make your home not only clean but kid friendly check out this blog post by COCOON: Kid Friendly Design.
16. Behind Closed Doors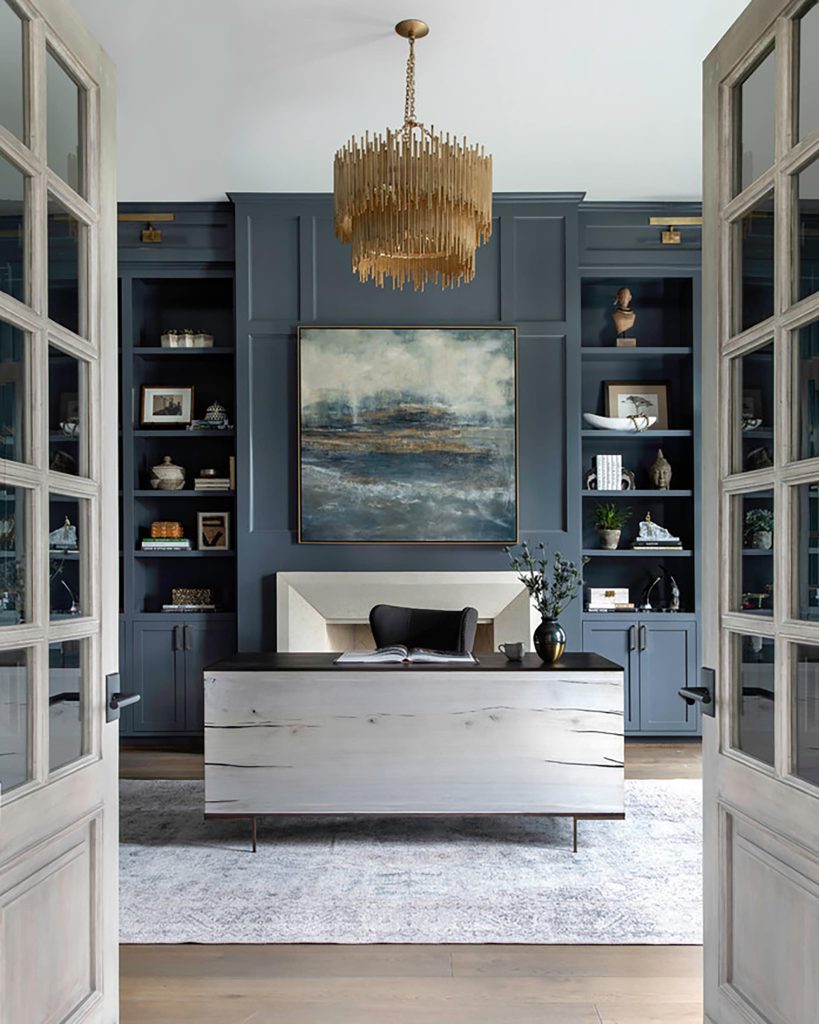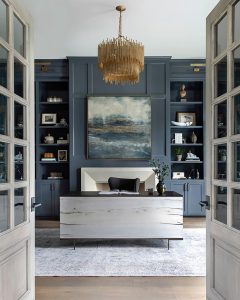 Project by Frankel Building Group
Living, working, teaching, and eating from our homes in 2020 has given a whole new meaning to the word "space." For the past couple years there has been a widespread adoption of an open floor plan in homes. However, with the changing of our lifestyles, the need for privacy and multipurpose rooms has become even more of a necessity. Cue: closed floor plans! Although an open floor plan may work for kitchen and living space, a closed floor plan makes sense for an office space, playroom, or den!
15. A Pocket Door Paradise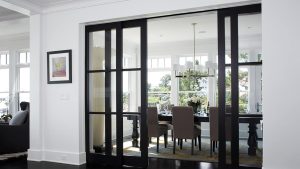 Project by LDa Architecture & Interiors
In 2021 we are going to see more pocket doors and less barn doors, making them a trend of the past. At COCOON we have been seeing pocket doors as a way for our customers to close off spaces when they want to maintain a clean sleek looking room but provide the ability to open up your space as well. If you have a narrow hallway that doesn't allow for a standard door to swing open, then a pocket door is the perfect solution for you. These days, who doesn't love being able to create privacy at the slide of a door!
14. Polished Not Brushed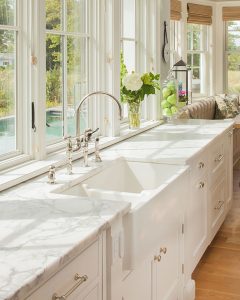 Project by Connecticut Stone
While we have been enjoying darker hardware finishes such as matte black and oil rubbed bronze, the popularity of polished nickel is on the horizon. With its warm silvery tone, it provides a high end and sophisticated look to any space, no matter what the design style is. This polished nickel hardware can come in the form of pulls, knobs, bars, or anything that sparks your interest!
13. Bidet All The Way
Project by @entering_easthampton
Did you know that the average American will flush about 57 toilet paper sheets down the drain each day totaling to more than three million tons of toilet paper every year? Well, it's true! If this is concerning to you, then you might be interested in 2021's most environmentally friendly trend, the bidet. Not only are Bidets inexpensive but they can come in the form of a specialty toilet seat attachment, or as its own entity if you are ready to fully implement this fun trend into your home. So, whether you're looking to reduce your household waste or just want to try out a new trend, the bidet is it!
12. For The Indoorsy Type
Project by COCOON
With increased time inside our homes, having space that showcases nature and lets light shine through, has proven to be a necessity for some. With natural light, and a direct view of your outdoor space, sunrooms and porches can subdue your craving for spending time outside, even in the coldest of seasons. These spaces can be as lavish or as minimal as you'd like when it comes to the design and the elements you choose for the space. At COCOON we have enjoyed designing and executing spaces like enclosed porches with stone fireplaces, and lounge area with room to watch Sunday night football, all while enjoying time "outside."
11. Work Hard, Play Hard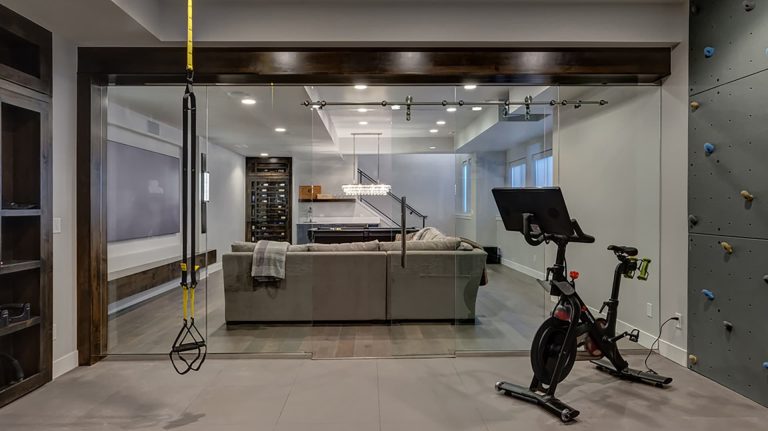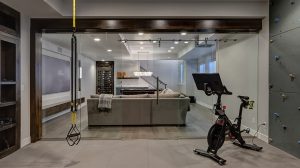 Projects by FBC Remodels and The Suite Shoppe Interiors
With public gyms closing and workout classes turning virtual, the idea of a home gym has become a priority for many. Not only are people delegating more space for home gyms, they are paying more attention to their design and allotting a larger budget. Now if working out isn't your thing and you're wondering what to do with your unfinished basement, a wet bar could be perfect for you. At COCOON we believe that the best part about a basement bar is that you can really make it your own and add fun design elements like an interesting countertop, fun patterned tile, or classy and sleek floating shelving to display all of your best liquors
10. The Year Of Working From Home
Project by @em_henderson
If we were to take a guess, your couch or bed becoming your home office is probably getting old by now. With working from home becoming the new normal in our society, a home office is what needed. This well-designed space should be a reflection of who you are, inspire creativity, and be a space where you can clear your mind. Whether you have an entire room to dedicate to a home office or just a corner in your home, you can still make the most of your space. Check out more home office inspiration from COCOON here!
9. Rattan Everything!
Project by @katemarkerinteriors
In 2021 natural and organic designs are in. We're not only filling our homes with live plants but all things Rattan. This hit from the 70's is back and trending in this new decade. Rattan elements in your home can vary depending on your style. Maybe a natural Rattan pendant ceiling light in your dining room is your vibe, or a beautiful rattan breakfast bar stool? In the bedroom we're seeing rattan accent making a statement in headboards, hanging chairs, and in baskets for storing pillows, blankets, and sometimes even plants.
8. Eco-friendly Appliances
Project by Kitchen Visions
Maybe your new year's resolution is to become more sustainable in the kitchen this year. If so you're on trend to be eco-friendly in 2021. One way to accomplish this resolution is to incorporate more sustainable appliances into your space. An induction range is a great way to do so. This type of burner uses electromagnetic fields to cause your pan or pot to heat up, while your appliances remain cool. This method of cooking can be seen as faster, easier to clean, safer, and of course more environmentally conscious!
7. Say Goodbye to Countertop Clutter
Project by @aga_cookers
Don't want to be limited to just one way of cooking in your home but refuse to buy all of the different countertop appliances that would allow you to do so? A multifunctional oven is the perfect solution. Multifunctional ovens have multiple heating elements and methods that allow you to pick and choose the various ways you'd like your food to be cooked. With this all-in-one oven you can grill, reheat leftovers, bake cookies, cook a meal from the top or bottom, or even defrost. This type of oven comes in versions that are for everyday use and some that are more high end for specialized cooking. Whether you're just looking for less countertop clutter, or you have a deep passion for cooking, a multifunctional oven is a must in 2021.
6. Make It Bold!
Project by @jeanstofferdesign
Let's just say, colorful, patterned, and geometric tiles as a trend in bathrooms, is not going anywhere! These kinds of colorful bathroom floor tiles allow homeowners to be creative and bold in their home. In particular, hexagonal tiles are being used in all sized, colors, and textures. At COCOON our customers love to explore with bold designs in their bathrooms because it's a room that you don't see all the time, so why not go crazy! New year, bold tile!
5. Greige Is The New White
Project by @rejuvenation
This may come as a relief to some, but all white kitchens are out in 2021. The new kitchen color trends include greige, beige, navy, green, black, and natural wood tones. What exactly does greige mean? Basically, we are seeing lots of warm, taupe colors that have grey undertones, equaling what we like to call greige! If you're not into a neutral tone like this, you may lean more towards navy or forest green cabinetry, or an island in this color. A pop of color never hurt anyone and with the new year approaching it could be just the thing your kitchen needs for a fresh new start
4. The Perfect Pendant
Project by COCOON
Making a statement in lighting is and will continue to be a big deal in 2021.If you're looking for something with a "wow" factor that isn't just the normal glass, or stainless steel pendant lighting, then you may want to look into milk glass! With its opaque white color, this type of glass emits a cozy and warm atmosphere, providing the most elegant look in any room of your home. While some worry about the type of bulb that can be used when picking out pendant lighting, milk glass allows for this choice to be simpler due to being non-transparent. While on the topic of upkeep, milk glass also minimizes smudging and fingerprints, not requiring frequent cleaning as stainless steel or transparent glass would. In summary, milk glass is a statement and design trend that will be front and center in 2021.
3. Liven Up Your Living Space
Project by @la_sidhu
Hanging from your ceiling, potted on your windowsill or in a basket next to your couch, 2021 is the year of indoor plants! Whether its live plants or a fake fiddle leaf fig, adding greenery to your home can make your space feel light and airy. At COCOON we love plants so much that we have incorporated them into our own design studio! With all the time spent inside these days, why not bring nature to you and liven up your living space.
2. Antique Treasures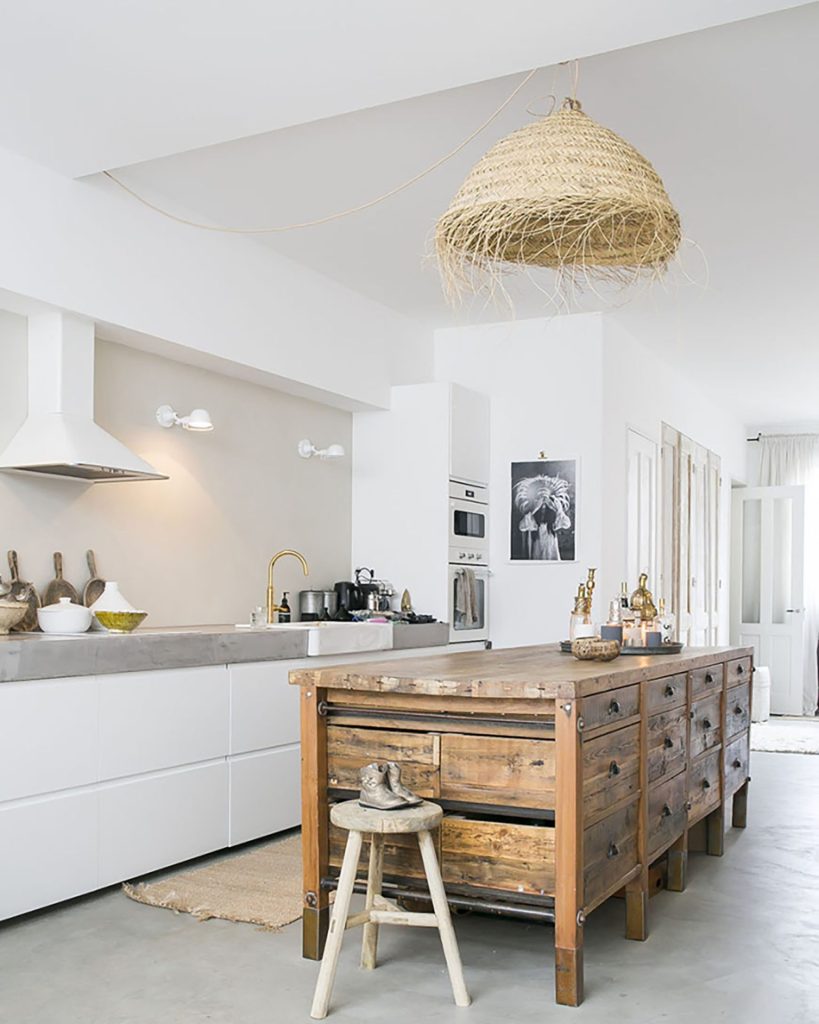 Project by Interior Junkie
Although design trends can seem like they are always new and glamorous, they can also pay homage to the past. The design trend of antique, repurposed, and salvaged items does just that. Gathering vintage items for your home can inspire and influence what color you paint the space, whether it has a theme or not, and even sometimes how you want to display any vintage pieces, artwork, or collectables. With the pieces that you love or have meaning, you can easily find clever and aesthetic ways to incorporate them in with the new aspects of your remodeled home.
1. Whatever You Love Is In!
At COCOON, we truly want to help you make your home an expression of yourself and your family. To us design means how your space looks but also how it functions for your day to day. After all if 2020 taught us one thing it's how important home is.
At the start of every home remodel is inspiration and at COCOON we love bringing our customers visions to life and being there every step of the way for them. Contact us to find out how we can take you from looking at trending spaces to living in one.
This is an image round up post featuring work from various sources. If you do not want your work featured on our blog, please contact us at [email protected]. Thank you!