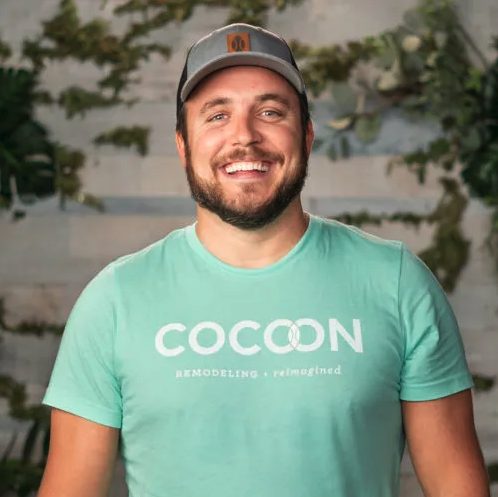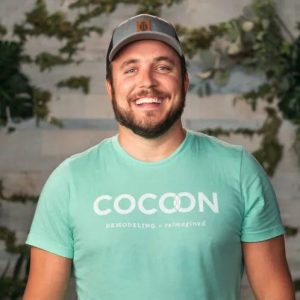 Jon has been working in the construction industry since college and he loves making sure his customers are happy and their expectations are met. When Jon isn't managing construction projects for us, he enjoys spending time with his wife and fishing with his buddies.
How did you arrive at COCOON, what path brought you here?
Jim Ray and I go back to about 2006 when we worked together at Gardiner Fox Associates and we have been friends ever since. I first met Chris Payson at Jim Ray's wedding and we sat at the same table. When he found out that I had construction experience we decided to meet up for coffee and discuss the possibility of me joining the team. At the time, I decided to go in a different direction. Jim Ray and I have been in contact ever since and about four years later, Jim called me and said that there was a Project Manager position available at COCOON and here I am!
Who have you worked with in the past? And what have you done for them?
Gardner/Fox Associates
I started as a Purchasing Manager. I would perform cost detail analysis on the jobs we had running and create documents for the Project Managers. After that, I was promoted to Project Manager Assistant. My duties included framing, installing trim, doing warranty follow-ups, and other fieldwork.
Aiken Woodworking
During my time at Aiken Woodworking, I honed my skills as a carpenter. We made custom pieces and I developed my empirical thinking skills.
JEM Capentry LLC
During the downturn in 2008, I broke out on my own and started my own company. We did mostly custom kitchens, custom bathrooms, and high-end painting. I was a turnkey operation which is extremely hard to find in these more recent times. We did everything from demolition, rough plumbing, rough electric, rough HVAC, framing, insulation, drywall, trim, tile, cabinetry, siding, window installation, you name it, we did it.
Toll Brothers
I also worked as a Site Superintendent for Toll Brothers. I managed production schedules, subcontractors, and warranties for 53 homes. I am proud to say that during my time here I earned the highest customer satisfaction rating for the last year we were there. I definitely learned what "fast-paced" means during my time here!
How long have you been doing what you do?
18 years – I started doing demo my freshman year of college for my roommates' father who owned a construction company.
What are you known for professionally, what do you have a knack for?
I believe that my 15+ years of experience in the construction industry have armed me with a number of skills that make me who I am as a professional. Most importantly, my ability to problem solve, communicate, and adapt to challenges make me strong in what I do.
What's the one problem you are best at solving for your clients? What do your ideal clients say about you?
I always try to find out exactly what the customers' needs are, that way I can meet their expectations and make sure that everyone is happy in the end. My ideal customers become my friends because over time we build positive personal relationships.
What are you most passionate about professionally? What most excites you about your work & the contribution you can make?
Nothing excites me more than seeing a smile on a homeowner's face. I am always trying to keep them happy during the process and keep their project on budget. I have found that if you stay under budget and on time generally everyone is happy in the end.
What are you passionate about personally? What do you really enjoy? What can't you stop talking about?
When I was 2 years old, I went fishing and I loved it – my family couldn't keep me away from the pond even if I was catching the same fish over and over again. Now I am a competitive fisherman and I mostly fish out of Belmar, NJ, and Point Pleasant, NJ. We won 1st place at the Fluke Elks Tournament in 2019 on the Liberty Express. Definitely, a day that I will never forget!
Where can we find you when you're not working? What's your favorite way to spend a weekend or a Sunday afternoon?
Most weekends consist of time spent with my wife Kayla at our home or at my sister's house with her kids. My favorite weekends are fishing with my fishing crew, watching the Eagles play with my family and friends, or camping in the great outdoors.
Where did you grow up and why aren't you there now?
I grew up in Paoli and Radnor and attended Conestoga High School. After college, I moved back to the area and now live in Devon with my wife.
In the end, how do you want to be remembered?
I want to be remembered as a loving and caring husband and uncle – and hopefully someday a father.
Any volunteer activities you're crazy about?
Habitat for Humanity! I also help the Church next door to my home with their yardwork.
Any awards or medals, or even medallions? Personal okay, too.
First Place – Elks Fluke Tournament
What would be impossible for you to give up?
My wife, fishing, and my cat, Zanzibar. Also Charlie, Jack and Molly my nephews and niece.
What is your favorite Movie?
Forest Gump
What is your favorite TV Show or Series?
Wicked Tuna
What is a personal favorite quote?
Waste not, want not.
What is your favorite restaurant?
Texas Roadhouse
What is your favorite vacation spot?
Cabo, because that is where I got engaged, and Antigua, because that is where we honeymooned.