Interior design for a bathroom remodel starts out exciting. You have a budget in mind, a contractor chosen. And now the fun begins. It's time to make selections for your dream bathroom. You go to a tile store in Chester County and begin looking around. 
You knew you wanted white tiles, but you didn't know there were so many white tiles in so many shades, shapes, sizes, and even materials. You look around again, and around again. Now, you're dizzy, indecisive and need a Dramamine. Tiles have spun you right round, baby. And you still have to choose a vanity, fixtures, and lighting. Decisions, decisions.
Order of Selections
Here's an easier way to get started on this bathroom remodel. Remember the order of operations from math class? Well, if you don't, don't worry. No one's doing advanced algebra here. The order of operations is a collection of rules for solving extended equations. The rules tell you to do them in a certain order.  Obviously, design rules aren't as hard and fast as mathematics, so there's room for rearranging this order.  That being said, having a general "order of selections" to start out with can help you narrow your focus, speed your decisions, and finish that beautiful bathroom remodel faster.
Here's a general order to follow: vanity (which may or may not include a countertop, sink, or fixtures), tile, plumbing fixtures, lighting, and a tub and/or shower. Each category offers an array of options and styles, as you'll soon see, so going down the list makes it a bit easier.  But before you go to the store to make selections, do this first: find inspiration.
Inspiration
Choices are great—when they're not overwhelming. To help you keep it simple, make an inspiration board with magazine clippings or start a Pinterest page to get an idea of your style. Are you traditional, modern, or maybe even a bit eclectic? You'll start to see some trends in the bathrooms you choose. Then you can start to tailor your selections based on your style and budget. The first pick for your bathroom remodel should be the piece that you use most in the bathroom: the vanity.
Vanity
As the most-used, and sometimes the most visible piece, the vanity helps set the tone for the bathroom, whether that's pretty and practical, or cool and calm. Often the only wood in a bathroom, a vanity can either match the tile or complement it.
In this West Chester master bathroom, the floating walnut vanity warms up the cool grays and whites.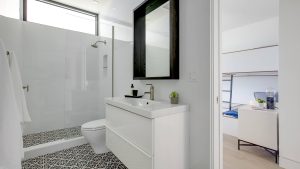 Project by Dwell Interiors
The white vanity in this bathroom blends with the walls, stepping aside to let the black and white floor steal the show.
Besides the color of the vanity, another characteristic to consider is the base of the vanity. Vanities may have a toe-kick or legs, or it may "float" off of the floor.  A toe-kick is a piece of wood or composite that runs the width of the cabinet and rests on the floor. It's a more standard look for a vanity, but it's also easy on the budget. You may even have this in your Chester County bathroom right now. 
Vanities with legs, on the other hand, offer a more custom look. Floating vanities, like the ones above, are mounted to the wall and open up floor space underneath. Floating vanities are particularly trendy right now due to their modern aesthetic and their ability to make even the smallest of bathrooms feel larger. (See our tricks-of-the-trade post on making small bathrooms feel larger.)
If your vanity comes with a sink and/or countertop, you have fewer selections to make. You just saved yourself some time. If you opted for a more custom look, you also have to select a countertop and/or a sink.
Countertop
Countertops can be stone, tile, wood, metal, or another man-made material, such as acrylic. Typically, a countertop matches or coordinates with the vanity or tile. More on how the countertops work with the tiles and vanities is in the tile section below.
Sink
Sinks are made in a variety of materials: ceramic, porcelain, stainless steel, cast iron, glass, concrete, natural stone, composites, and even wood.  In terms of installation and shape, bathroom sinks are pretty straightforward. They are usually over mount (with the lip over the counter), under mount (under the counter), or vessel (sitting on top of the counter), and can be square, rectangle, oval, or round.
Though shape and installation may be easy decisions, the choice of sink material can be overwhelming. If you don't want to put too much thought into this selection, a ceramic sink is a no-brainer. They are a classic choice. Easy on the budget, the eyes and to care for. 
That being said, sinks can be a bold accent in a bathroom.  Whether the material, color, or shape makes it stand out, a sink can add drama to a sometimes utilitarian room.
Project by Ann Stillman O'Leary
The copper sink, and matching copper mirror, add authentic rustic touches to this country-style bathroom.
Vanities often act as the style anchor of the bathroom.  Whether it's elaborately carved mahogany or subdued white, a vanity succinctly reflects the homeowner's style.  Once you've picked your vanity, you can move on to another big selection: tile.
Tile
Tile is one of the most important selections that you make in a bathroom remodel. It covers your floor, walls, and sometimes shower floors. It can be decorative and must be functional.  Do you want to be bold or subtle, or maybe you want to be subtle with some bold accents?  Tiles on the floor don't necessarily have to be the same as the tiles on the walls of the tub or shower. You may choose accent tiles as well. There are thousands of options. (For more on tile styles, cost, durability, and care, check out our tile guide.)
Tile is made from ceramic, porcelain, natural stones, glass, cement, or metal and comes in a range of sizes and shapes. Ceramic tile, which can be used for both floors and walls, is durable, low-maintenance and can suit just about any budget and style. From wood-look to faux stone to classic white subway tiles, this tile is tough and timeless.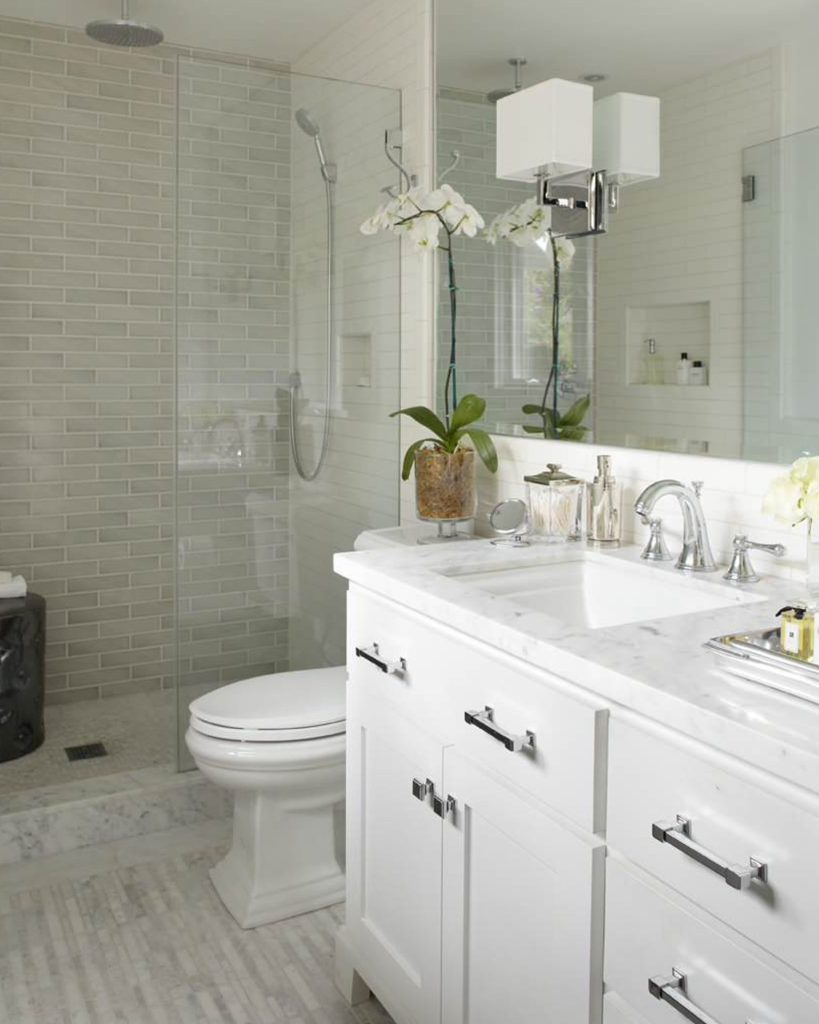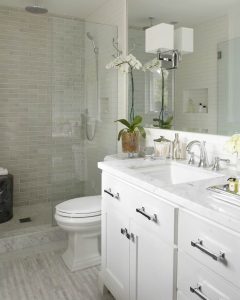 Project by Urrutia Design
The marble-look, ceramic subway tile in the shower blends seamlessly with the Carrera marble on the vanity.  Keeping a coordinated look makes countertop and tile selection easier. What's more, mixing tile and countertop materials is a great way to get the look you want without busting your budget. 
Porcelain is a type of ceramic tile and is particularly wear-resistant and almost completely water-proof, making it a great choice for bathrooms. Price, of course, is reflected in this quality, so porcelain takes a larger chunk out of bathroom renovation budgets.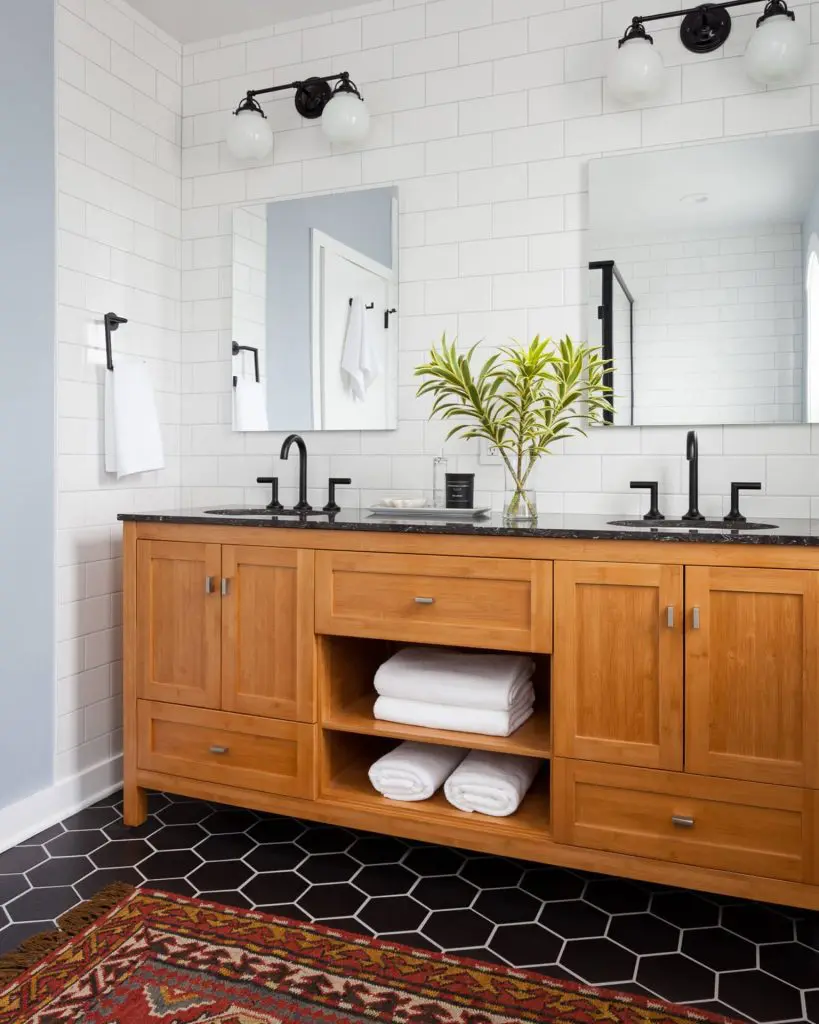 Project by Kirk Riley Design
These porcelain floor tiles in matte black are sure to stand up to every-day use.  Notice again, the countertop matches the floor tile. Matching, or coordinating, makes the selections process easy.
Natural stone tiles include granite, marble, travertine, and more. Like ceramics, they can be used for both walls and floors. Though the beauty of these organic materials is striking, they generally require more upkeep. Because they are porous, they can stain, absorb water, and require regular sealing. You also have to follow cleaning instructions to a tee. You don't want to scratch or discolor these unique tiles.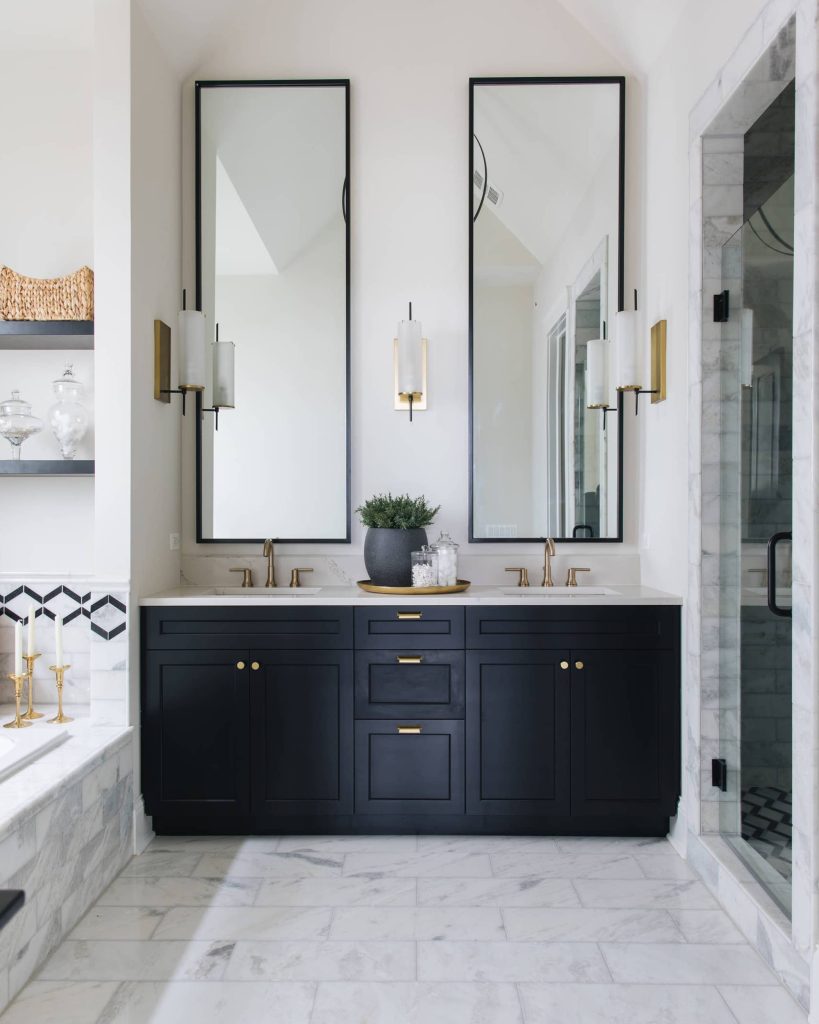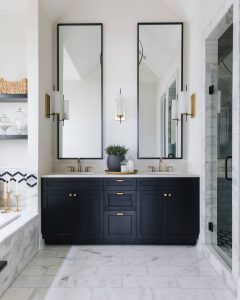 Project by Timber Trails Development Company
The oversized honed marble tile floor sets the tone in this regal bathroom.
Glass tile is a beautiful alternative or complement to stone and ceramic tiles. Like ceramic, glass tiles don't stain and are easy to clean. They do, however, scratch. Keep that in mind when choosing where to put these gleaming tiles.
Project by Rinaldi Interior Design
Green glass tiles glow on this bathroom floor and burst with color in this otherwise white bathroom.
Metal tiles, like stainless steel and copper, are yet another option to consider. They add an unexpected industrial quality to a bathroom, and like glass, they reflect light around the room.
Project by Iba Design Associates
The stainless-steel penny tiles sparkle like sequins in this spacious bathroom.
Fixtures and Finishes
Vanity chosen? Check. Tile picked out? Check. On to fixtures and finishes. Generally, you match your faucet to your shower or bath fixtures.  They may match your lighting and vanity hardware as well, but they don't have to. After all, mixing metals adds design diversity and makes the room unique to you.  
Materials for faucets include chrome, nickel, brass, oil-rubbed bronze, silver, gold, iron, pewter, and sometimes a ceramic mixed with a metal.  Among these metals, you can choose from polished, brushed or matte finishes. Ceramics can come in a variety of colors but are typically white.
Though faucets are usually mounted on the counter, they can also be wall-mounted, as in the bathroom above. You can also choose from levers, knobs, and handles. Regardless of your design preference, whether it's French country or mid-century modern, you can find fixtures to suit your space and your style.  You can choose something understated that works in concert with your other selections, such as the polished chrome fixtures in the bathroom by Urrutia Design above. Or you can choose something more elaborate such as a waterfall faucet.  Options abound.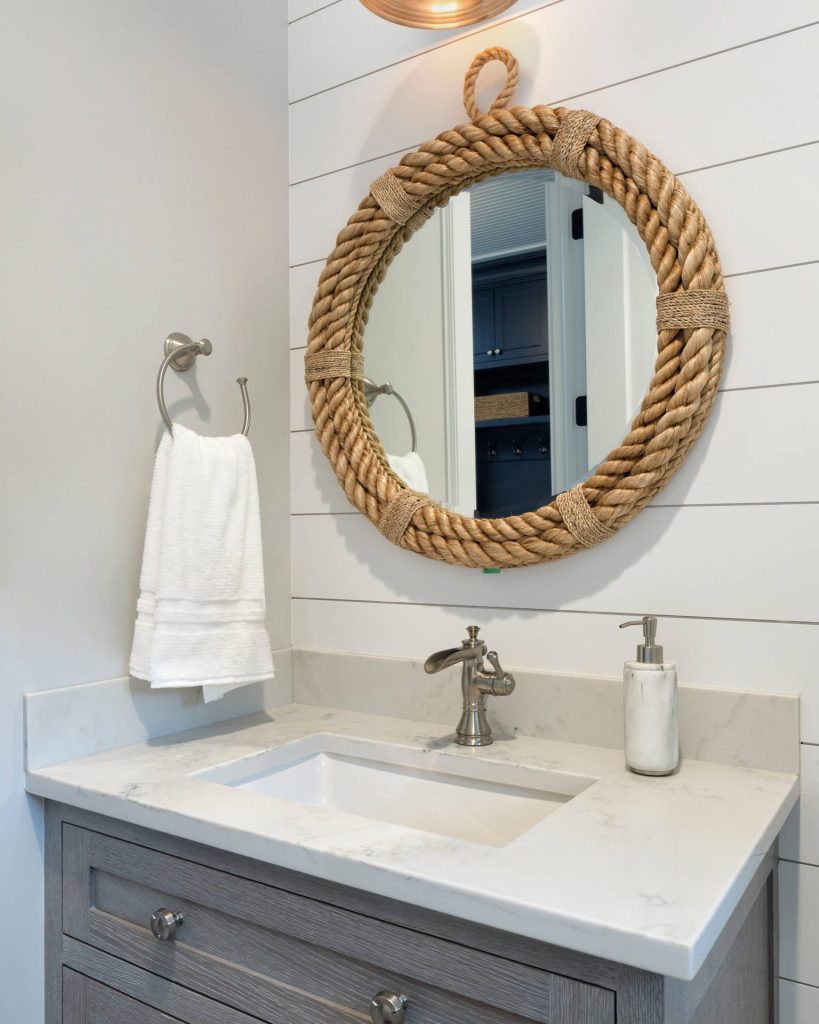 Project by Swan Architecture
This rustic take on a waterfall faucet, which resembles a water pump at a forest preserve, lends an unexpected twist to this lake house bathroom.
Bathtub v. Shower
For some homeowners, this can generate a great debate.  The wife loves, even needs, her baths for solitary solace. The husband prefers a decked-out shower, complete with body sprays and steam.  Of course, a large bathroom—along with a large water heater—can accommodate both.  Whether you can do both or you have to choose, here are some ideas on selections for each.
Bathtubs
There are three types of bathtubs: freestanding, drop-in and alcove. Freestanding is exactly as the name implies. It's a tub that stands alone on a floor. Freestanding styles include clawfoot—always a classic—slipper, or pedestal.  Because freestanding tubs tend to be a focal point, they may be chosen earlier in the selections process along with the vanity, for example. 
Clawfoot tubs have the traditional oval shape, while slipper and pedestal tubs may be oval, round, square, or rectangular.  Freestanding tubs, when combined with a chandelier, add elegance to any bathroom. Even if your bathroom is tight on space, you may be able to add a tub, as they come in a range of sizes.
Project by Breeze Giannasio Interiors
This cute clawfoot fits just right in this narrow bathroom in Washington D.C.
A drop-in tub is one that is "dropped in" to a tub deck. An alcove tub rests against three walls.  The latter tub is the one you most commonly see in homes and is often combined with a shower. A drop-in or alcove tub combined with a shower is a win-win combination for couples who really want the best of both worlds.[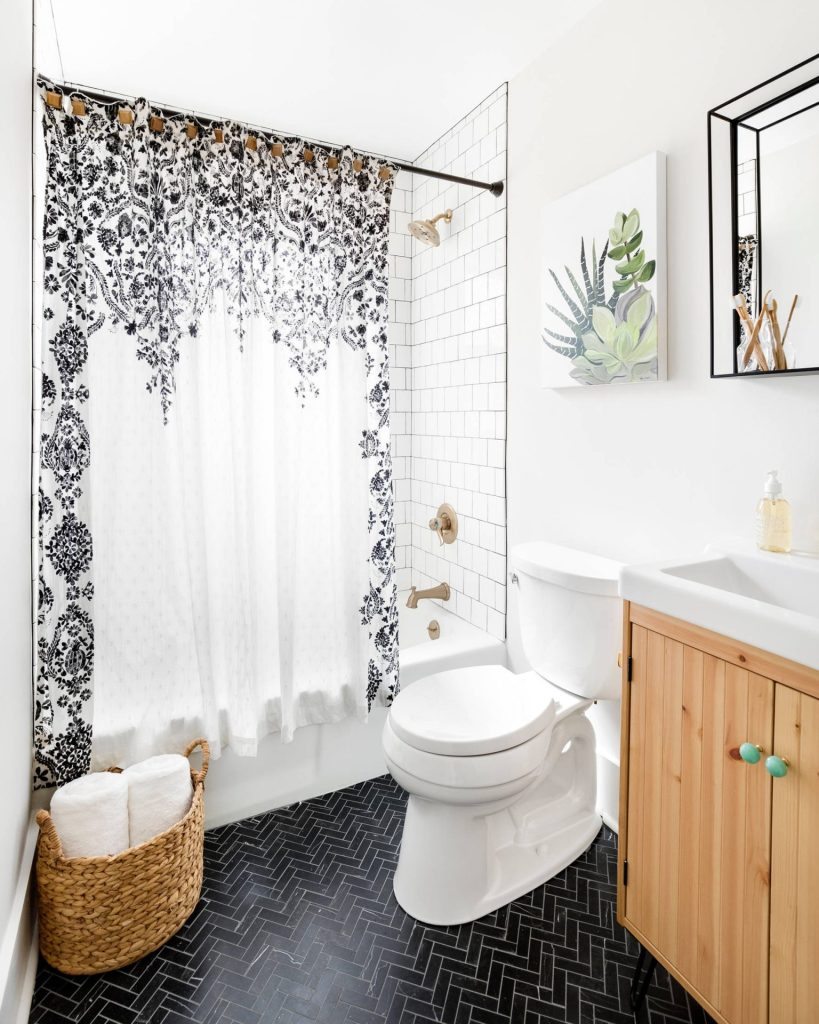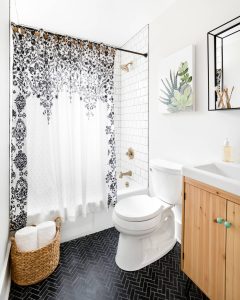 Project by Delphinium Design
Nested among this playful bathroom's many features is its super-practical, alcove tub. With its apron on the front, no tiled tub deck is required.
Project by Frances Herrera Interior Design
Here, the apron-less drop-in is supported by completely by tiled walls.
Showers
Whether you only have room for a stand-up shower, or just prefer the look of a larger shower—minus the tub— you have lots of choices. Obviously, shower walls are tiled, so you pick those earlier in the selections process. But your shower floor may or may not be tiled. While a tiled shower floor can add texture and contrast, shower pans are also an option. Typically in white or variations of black and gray, shower pans are an easy-to-clean alternative to tile.
Project by Interior Therapy
Even with this simple shower pan, no style is lost in this bathroom. The white shower pan actually helps balance out the extensive dark, gray tile in this transitional bathroom.
Lighting
At this point, you may be tempted to just pick a vanity light and be done with your list. Don't. If you have the space to accommodate additional lighting, go for it. In bathrooms, the brighter, the better, especially in smaller bathrooms. (Discover more design tips and tricks for smaller bathrooms in this post.)  When making selections, you have to choose, at the very least, vanity lighting. 
Vanity lighting typically hangs above your mirror, but if you have space, sconces on either side of the mirror create more flattering light. They illuminate your face, rather casting light down on it. And let's face it, that down-light can create some not-so-pretty shadows. If sconces are not an option, try recessed lights to create a more balanced glow.
If you have a large bathroom, you may also select a chandelier or pendant in the center of the room or above the bathtub.  You can find chandeliers or pendants as a part of a line of lighting, which makes the selection process a bit easier. If not, you can always narrow down your search by finish, number of lights, and style.
As with all of your other selections, lighting will come a dizzying variety of styles and finishes. From polished chrome to oil-rubbed bronze, you have a lot to choose with lighting. To keep it super simple, you can match your lighting style and finish with your faucet and shower fixtures.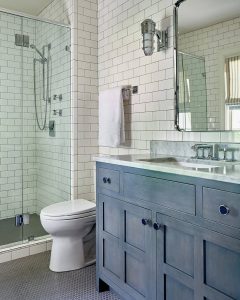 Project by Manello Construction, LLC
The polished chrome fixtures and lighting add shine among the muted blue vanity and floor in this bathroom. Even the vanity knobs, though mostly blue, are outlined in chrome.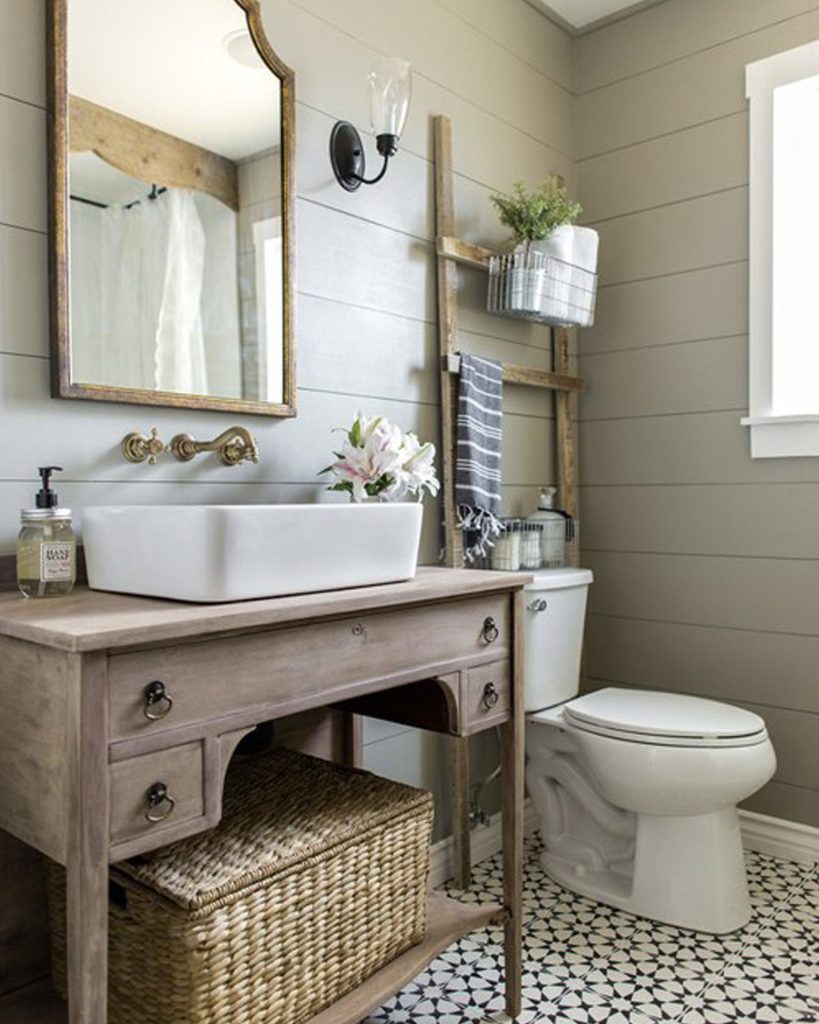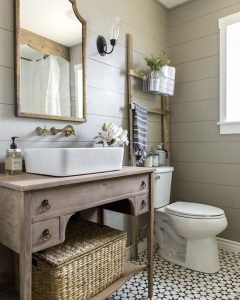 Project by Jenna Sue Design Co.
If you'd like to mix it up, find lighting finishes that complement the faucet finishes but don't match exactly, like the fixtures above.  Notice the soft brass sink hardware complements the black light fixtures. Also, as you can see, the sconces are a nice alternative to traditional vanity lighting.
Though it's last on the list, lighting shouldn't be an afterthought.
Cross It Off the List
Big projects seem a little easier when they're broken down into smaller tasks. To that end, making five different selections is a bit easier to cross off your list than redesigning a whole bathroom.
Still overwhelmed? Whether you're in King of Prussia, Hockessin, or any of the surrounding areas, you can contact our COCOON designers to help you streamline the entire process. Together with our architectural designer, they can give you a head start on your bathroom remodel. They know how to find complementary countertops and tiles, where to use accents, and which vanities go with everything you have in mind. Instead of narrowing down dozens of tile choices on your own, they can narrow it down to a handful. Using the Buildertrend app, you can accept or reject selections that they offer from the convenience of your phone.
Once you have picked everything, it gets even better. The designers can show you, through virtual reality, a 3D model of your bathroom. (Check out this video to see one of our 3D models.) You don't have to just imagine what your selections look like, you can see them. And even change them, if need be.
Working with COCOON designers allows you to have all of the fun of making selections, without the dizzying visits to the store, or the need for Dramamine.  Contact us today to learn more about our unique design build approach to every home remodel we do.
This is an image round up post featuring work from various sources. If you do not want your work featured on our blog, please contact us at [email protected]. Thank you!