If you live in a large city, an older home, or a starter home, you probably have a small bathroom. Whether it's a Cape Cod close to downtown West Chester, a stone cottage in Glen Mills, or a ranch in Downingtown, you may dread using your small bathroom. But you don't have to.
There's no need to fear, COCOON is here!
Not that we're superheroes, but we do have more than a decade of experience in interior design and bathroom remodeling in Chester County and beyond. Needless to say, we've learned a thing or two about saving space in style. 
A small bathroom remodel should save space, add storage, and create an open feel. Whether your bathroom is too cramped, has inefficient storage, or is just plain dingy, a bathroom renovation could help revive your home.
Space-Saving in Style
When remodeling a small bathroom, you need to make the most of the space you do have by choosing pieces that fit the space. Of course, this is not to say that you have skimp on style. As you'll see, the bathrooms pictured below may be small in size, but they're mighty in style.
Wall-Hanging Toilets
To be perfectly honest, without knocking down walls, there are few ways to add actual floor space to a small bathroom. However, there is at least one way: wall-hanging toilets, sometimes called tankless toilets. These little design marvels can add several inches of space to a narrow bathroom. So where exactly does the tank go? It goes in the wall, while the flushing mechanism is mounted to the wall or the back of the bowl.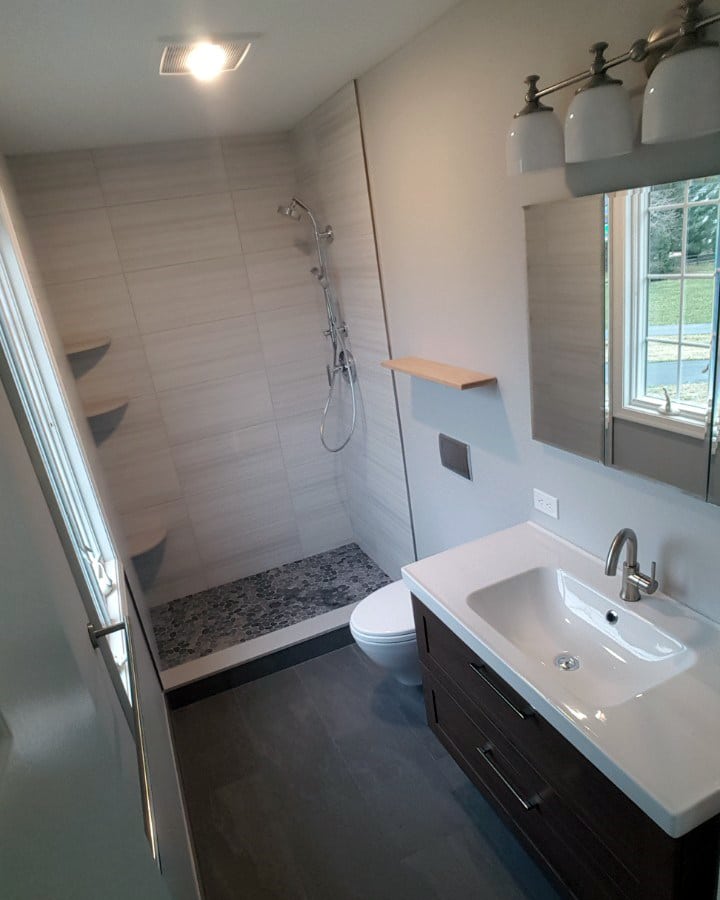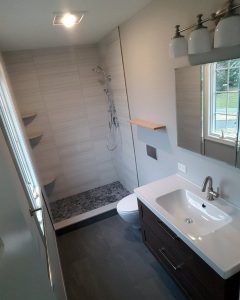 Project by COCOON
Homeowners of this narrow master bathroom in West Chester used to feel cramped. With the wall-hanging toilet, they now have more room to move. Cocoon designers used a 3D model to help the homeowners better visualize the new bathroom and ensure the new design met their expectations. It's virtual reality for home remodeling! To get the whole story on this bathroom makeover, check out this video.
Vanity and Sink Size
Proper scale is essential to functional interior design. You have to consider the size of the room before you add furniture, lamps, or any other pieces. During a bathroom remodel, you have to think about the size of your vanity and sink. While the size of your shower or tub may be set, you may be able to select a vanity more suitable to your small bathroom. A hulking vanity, though it may offer considerable counter space and an ample storage cabinet, could pose problems. It could obstruct your entryway and even make your bathroom feel smaller. That's the opposite of what you're going for. 
Space and storage can often be accommodated with just the right size of vanity. Standard size vanities can be as small as 24 inches wide by 20 inches deep and still have a small cabinet. Many vanities also offer open shelves to help you create the illusion of even more space. Floating vanities comprise the best of both worlds, creating openness and offering storage. In the West Chester bathroom pictured above, the floating vanity creates the illusion of a more expansive floor, and thus a larger room.
In particularly small bathrooms, pedestal sinks, like floating vanities, can help create a more open feel by expanding the view of the floor.  The only downside of a pedestal sink is that it doesn't offer storage. But, what they lack in storage, they make up for in their timeless charm. If a pedestal sink is still too large, micro-size vanities can easily squeeze into any bathroom, just like the one below. They can be a minuscule 18 inches wide by 11 inches deep and still include a small cabinet.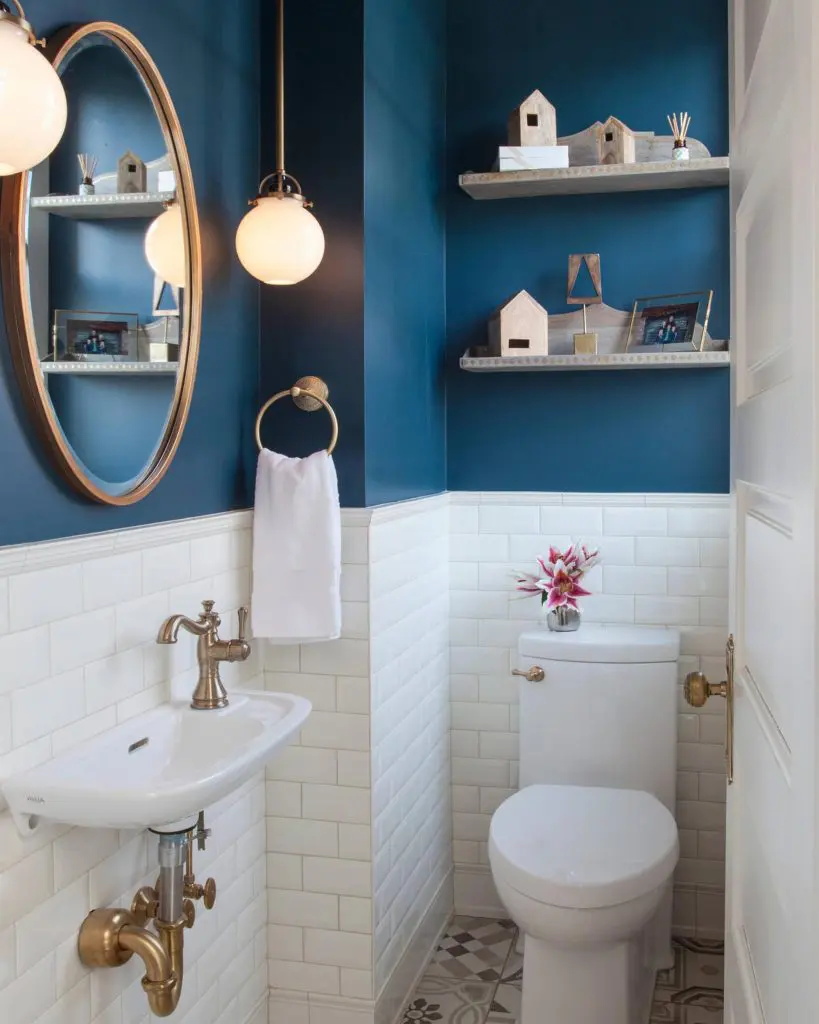 Project by TreHus Architects + Interior Designers + Builders
Sinks don't get much smaller than this one, but it's still got style.
More to Store
Nothing makes a space feel smaller than clutter. Medicine bottles, toothbrushes, hairbrushes. The toiletry list can go on and on. Proper storage can put the mess to rest. With a bathroom remodel, Cocoon can protect your counter from clutter.  
Medicine Cabinets
Creating more floor space with a wall-mounted toilet isn't the only reason to go inside a wall during a bathroom reno. Another reason to go inside the wall? Storage. Adding a medicine cabinet above the sink frees up counters, drawers, and cabinets for much larger items such as brushes, hair dryers, and hair clippers. If you have a higher ceiling or a bit of counter space, you can opt for a wider or higher medicine cabinet. Can't go in the wall? Medicine cabinets can also be mounted directly to the wall if necessary.  At only a few inches deep, even wall-mounted medicine cabinets are fairly unobtrusive, even in a small bathroom. 
Although medicine cabinets skew toward a standard, a flat rectangular mirror, they do have a bit more shape and style occasionally as well. Some mirrors are beveled or arched, while others are framed to match a vanity.  In a small bathroom, creating space and adding storage should be the first priority, but style is always a very close second.
Floating Shelves or Cabinets
When you've run out of room on the floor, look up for storage solutions. Adding a cabinet above the commode is an easy way to create storage.  Of course, cabinets and shelves look great anywhere in a bathroom, but you don't want storage to interfere with areas where you stand.  For this reason, the areas behind the vanity and where you step out of the shower are out.  In a small bathroom, where does that leave the shelves or cabinet? Above the toilet.
If you lean on the tidy side, opt for open shelves to give your small bathroom the airiness it needs. Containers and linens that coordinate with your tiles and fixtures are an obvious complement.  Small succulent plants can add texture, while pictures can add a personal touch.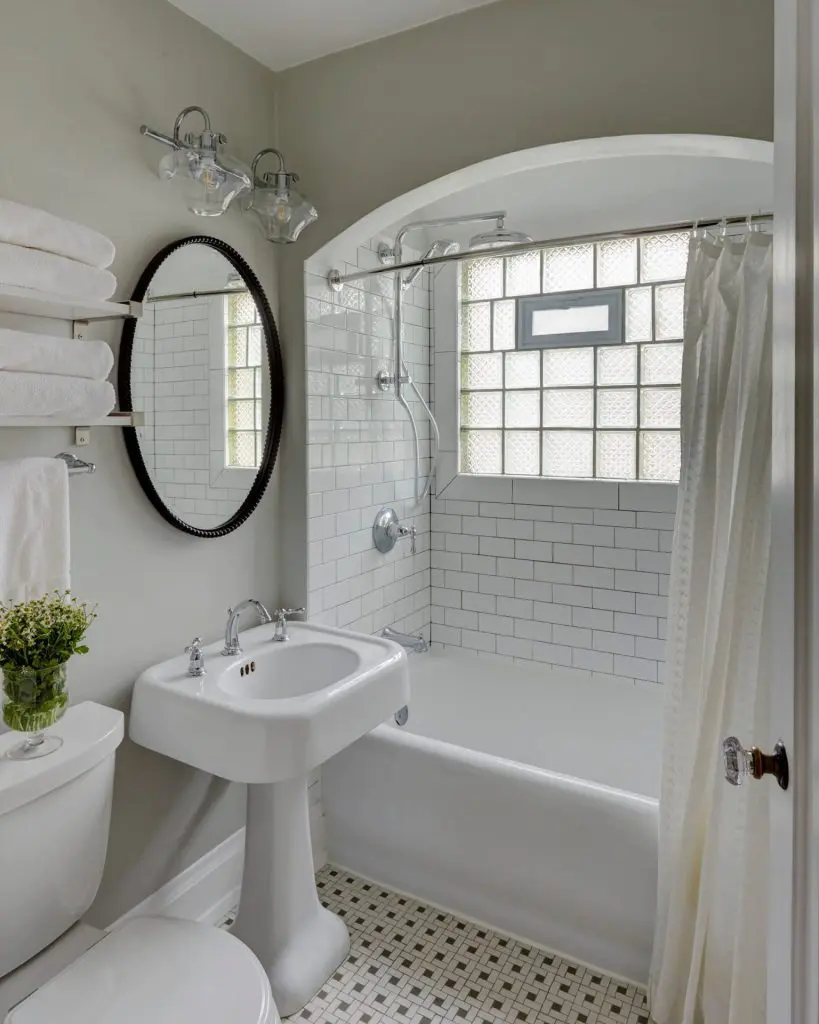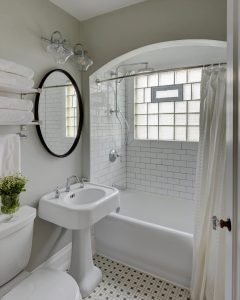 Project by Story Hill Renovations LLC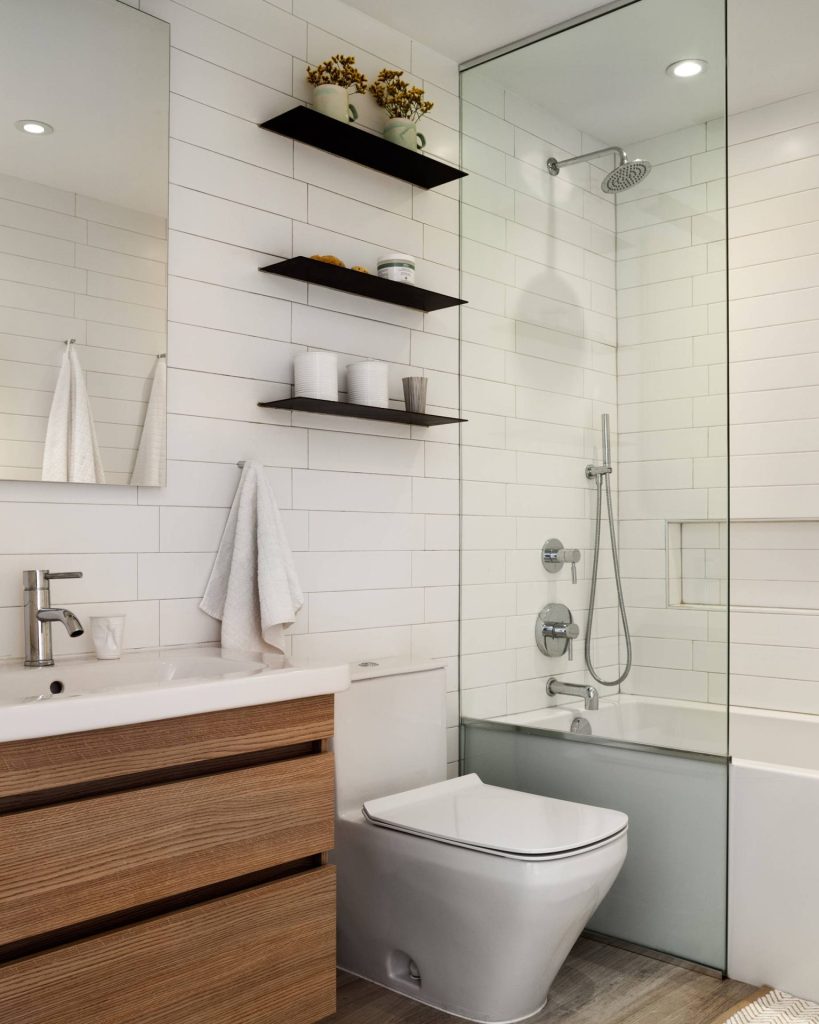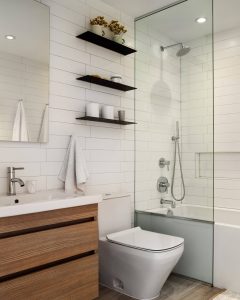 Project by Gradient Architecture PLLC
Open shelves in the vintage bathroom on the left provide easy linen storage, while the shelves in the modern bathroom offer toiletry storage and green decor.
Decorating a functional, eye-pleasing shelf isn't always easy, especially in a busy bathroom.  If bringing different decorative elements and toiletries together sounds like more trouble than it's worth, there's no shame in hanging a cabinet. Let the cabinet itself add a decorative touch to your bathroom.  Meanwhile, you can stash whatever you'd like, however you'd like, behind those doors.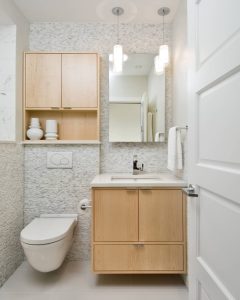 Project by sO Interiors
This contemporary bathroom incorporates several space-saving design elements, including storage above the tankless toilet and a floating vanity.
Tricks of the Trade
There are several ways designers create the illusion of space without adding square footage.  These tricks make a home remodel easy on the eye and easy on the budget.
Use Large-Scale Design Elements
In a bathroom, this can mean using large-scale tiles, particularly on a shower wall. Large-scale tiles create a broader visual plane. Your eyes do not have to stop, so to speak, at every break in the grout.  The effect is enhanced when tiles are used on the bathroom walls as well. If using them across the walls is not in the budget or you simply don't like that look, you can achieve a similar look by using a matching paint on the walls.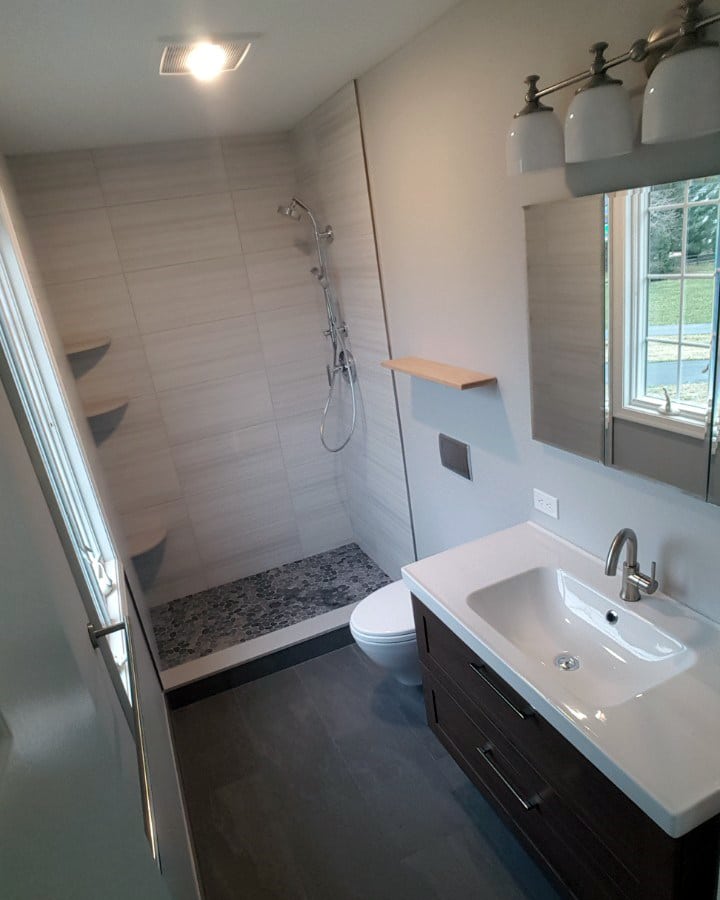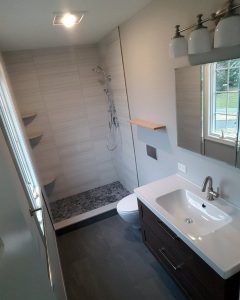 Project by COCOON
In remodeling the West Chester bathroom above, Cocoon and the homeowners used Buildertrend software to coordinate design selections, including the large-scale tile. For more on making selections for a bathroom remodel check out this blog post.
Of course, using large-scale design elements only works if they don't take up extra square footage. In other words, you can't put a massive vanity in a compact bathroom. However, you could potentially put a tall mirror above the sink. Just as the continuous color between tiles and walls draws your eye around the room, a tall mirror draws your eye higher, giving the illusion of a higher ceiling, and thus more space. The same can be said for a mirror that extends across the width of the bathroom.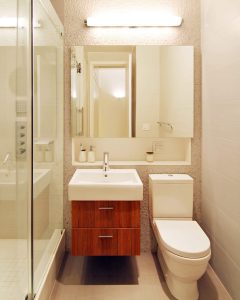 Project by KIMOY Studios
This expansive mirror stretches across the vanity and the toilet, helping this narrow bathroom feel a bit wider.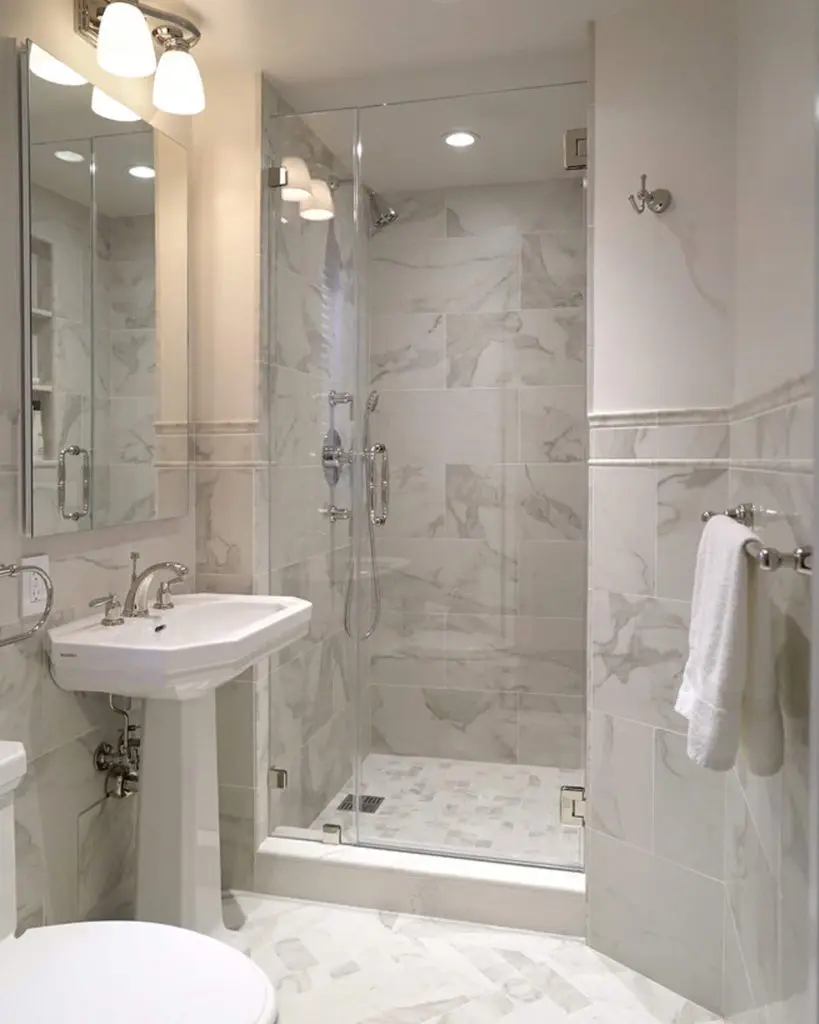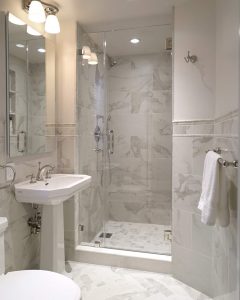 Project by Paula McDonald Design Build & Interiors
This mirror rises nearly to the soaring ceiling, reflecting as much light as possible in this 3/4 bath.
Use Glass Shower Doors
As pretty as curtains are, they actually break up the space in a bathroom.  Think about it. If you walk into a bathroom and you look ahead to a curtain, you don't see about a quarter of the space that is actually in the room. Picture the same bathroom and envision a glass door. In this case, your eyes continue past the shower and to the wall. This simple change can make the bathroom feel about 25 percent larger than it did before. That's exactly why Cocoon did it in the West Chester bath, and many other designers do it too.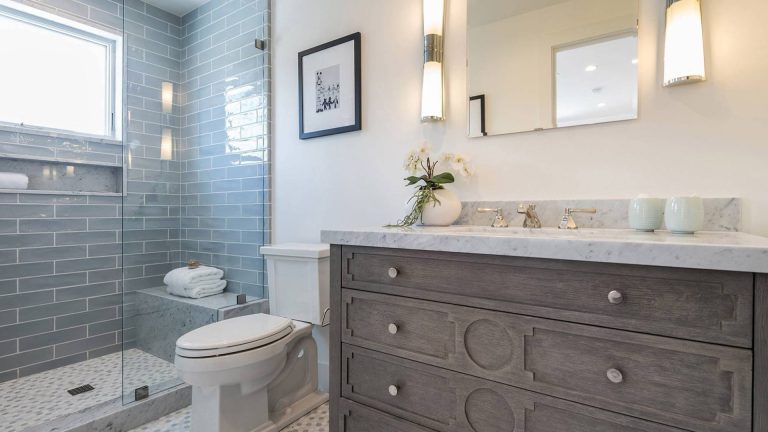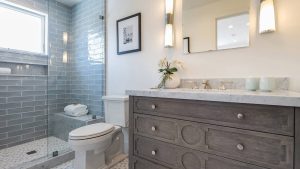 Project by Laney LA, Inc.
Not only does this glass shower door expand the feel of the room, but it also helps showcase the beachy, blue, glass tiles and lets in natural light from the window. And speaking of light…
Add More Light
Most bathrooms have vanity lighting above the mirror and maybe a small light in the fan or above the shower. This spotted lighting can create dark pockets even in a small bathroom, resulting in a more cave-like feel than spa-like feel. Recessed lighting, on the other hand, radiates throughout a bathroom.  While you may have considered recessed lighting in your kitchen to create continuous light, you can do it in the bathroom as well, as we did in the West Chester master bathroom.
If possible, you can even let the sunshine in by adding a window or expanding an existing one.  Not only does it add extra light, but it also lends a natural airiness to the room. A tall window, in particular, just like a tall vanity mirror, creates the illusion of higher ceilings. Of course, the extra ventilation doesn't hurt either.
Recessed lighting and sunlight aren't the only way to keep a bathroom bright. The easiest and cheapest way is simply to use light, bright colors, such as whites and light grays. This color combination is popular in many bathrooms as it creates that light, bright spa-like feel so many homeowners desire. For more bright bathroom inspirations, check out "25 Small, but Stunning Bathrooms."
Small Bathrooms, Big Style
With functional style, a small bathroom can be as much of a retreat as a large one.  A bathroom remodel should expand your floor space, create an open feel and make the most of your space. And that's what we do at Cocoon. As design build specialists in Chester County, we can rescue you from that small, outdated bathroom.  At Cocoon, we see big possibilities, even in the smallest of spaces.  Contact us today to discuss your next home remodeling project.
This is an image round up post featuring work from various sources. If you do not want your work featured on our blog, please contact us at [email protected]. Thank you!