Electrical plans, including lighting, can sometimes be an afterthought in a renovation. You think about the walls, floors, and selections, so lighting is last on the list. As long as you have the obvious electrical necessities, a few outlets, and a light switch or two, you probably don't think much about it.
When it comes to this part of the design process, however, you should be thinking, "It's electric! Boogie, woogie, woogie!" That's because electrical supply and lighting can determine how functional, and even beautiful, your newly renovated room becomes. For rooms other than a kitchen or bath, a light switch that controls an outlet may be considered enough—even by your city's building code. But what if you need more and didn't realize it until your home remodel was done? Well, you're probably going to need a lot of lamps and extension cords.
Let's hope you are working with a remodeling team who wouldn't let that happen, of course. A good team works with you to discover what you need and how you will use the space. Before you meet with your remodeling team for a renovation, you should consider your electric needs. There are some things you need to think about for every room, such as natural light and color, and some things that depend on the room itself, whether it's a living area, kitchen, bath, office, or a deck or patio.
Natural Light
For lighting, the first thing you should consider is how much natural light you have in that room. You may have large windows, but perhaps you have even larger trees just outside those windows. While the constant shade keeps your house cool in the summer, it may make for a dark room, no matter how bright it is outside. North-facing rooms also tend to get less light than south-facing rooms. And if your room faces due east or west, your room is dark in the afternoon and evening or in the morning and early afternoon. Your electrical lighting needs to fill in when the natural light is lacking.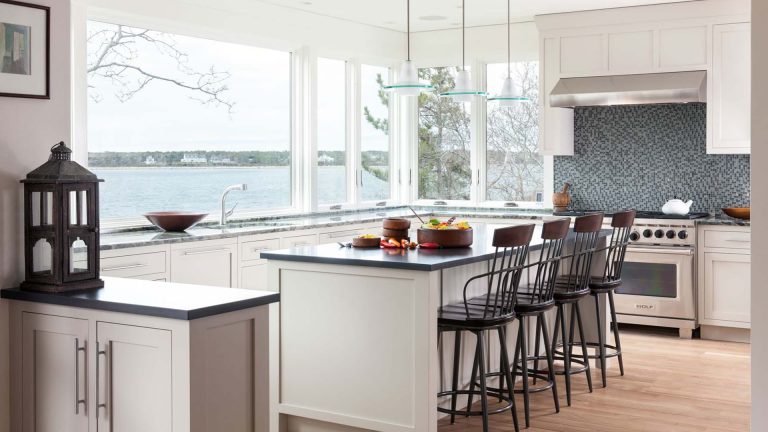 Project by Cataldo Custom Builders, Inc.
The wall of windows in this kitchen ensures natural light much of the time. When the sun sets, a few can lights around the perimeter and small pendant lights above the island provide more than enough light at night.
Color
Second, again with regard to lighting, consider the color scheme in your room. If your room is already awash in soft neutrals, natural and artificial light are reflected around the room. It already feels bright. If your room has a deep palette that envelopes you every time you walk in, or it is filled with rich cherry cabinets, you may want to add more lighting to brighten up the space and show off those intense tones.
Project by Kyle Hunt & Partners, Inc.
An island chandelier, recessed lights, under-cabinet lights, and light counters brighten the rich cabinets in this French country kitchen.
Function
Third, think about the purpose of the room. This is important for lighting and electrical outlets. Are you relaxing or working? Do you want to elicit calm or focus? Your electrical needs in the kitchen are very different from your needs in a living room. To this end, it's also important to be aware of the electrical code for your municipality. Building codes exist, not only for the function of a home but also for safety. Of course, you don't need to think about the maximum number of conductors in metallic tubing—leave that up to the licensed professionals.
On the other hand, it can help to know how many outlets you should have in a room and what kind of lighting is required. This knowledge, along with your considerations of natural light and color, might help you decide what you need and where to place it. The electrical code presented here is from the International Residential Code, which bases its electrical standards on the National Electric Code (NEC). While many municipalities follow this code, yours may have additional requirements, so check with your local building inspector for requirements.
Kitchens
To accommodate code and your needs, kitchens often require quite a bit of electrical work during a remodel. You may have already guessed that GFCI receptacles, colloquially known as the outlets with the buttons, are required in your kitchen. GFCI stands for ground fault circuit interrupter.
These outlets protect you from shock. When the electrical current flows anywhere other than the ground circuit, the current is "interrupted" or stops. For example, if you drop a hand mixer in a sink filled with water, the electrical current begins to flow into the water. That triggers a stop in the flow of electricity, and the reset button pops up.
Adding new lights and outlets as a part of your kitchen remodel? You will also need to add AFCI protection to avoid fires as well, if your home doesn't already have it. AFCI stands for arc fault circuit interrupter. You can add AFCI protection in your kitchen with either dual GFCI/AFCI outlets or with an AFCI breaker.
Like a GFCI outlet, an AFCI outlet or breaker detects changes in the flow of current. Arc faults occur when there is a surge of electricity, often caused by faulty wiring or damaged wiring. That surge can turn into heat, igniting a fire. If you're just replacing old outlets and light switches, not adding anything new, you do not have to add the AFCI protection, but they do have to be tamper-resistant. That being said, replacing GFCI outlets with combo GFCI/AFCI outlets is still a wise idea.
Between the large and small appliances, kitchens require a lot of electricity. For both safety and function, residential building codes outline specific outlet and lighting requirements for kitchens. According to code, these are general placement specifications for outlets and lighting in kitchens:
Any wall 1 foot or wider must have an outlet.
Outlets must be no greater than 4 feet apart. In other words, at any point along a counter wall, an outlet should be no more than 2 feet away.
Outlets must not be more than 20 inches above the counter.
Outlets must be tamper-resistant.
If an appliance or sink divides your counter space, each side is considered its own wall and outlets must be placed accordingly.
An island of at least 2 feet x 1 foot must have its own outlet, no more than 12 inches below the counter.
A switch for a lighting outlet must be installed at the entrance.
While there is ample electrical supply in kitchens, as required by code, there is not much with regard to lighting. One light and one wall switch. Doesn't seem like much, does it? Especially for a room with a lot going on.
Between the cooking, cleaning, and conversing, kitchens actually need a lot of light. Most remodeled kitchens include under-cabinet lighting, recessed lighting, island lighting and a pendant over the table. All this lighting stands to reason. The walls are often covered with cabinets, not large windows, so kitchens sometimes don't get enough natural light. (Looking for cabinet ideas? Check out our Wellborn Cabinet Guide.)
Under-cabinet lighting, in particular, has become a must-have in kitchens over the last couple of decades. How did we live without it for so long before that? Not only is it functional when we are prepping and cleaning, but when all of the work is done, it becomes a soft ambient light. It's perfect for when we wind down at night or wake up on dark, winter mornings from Ardmore to West Chester.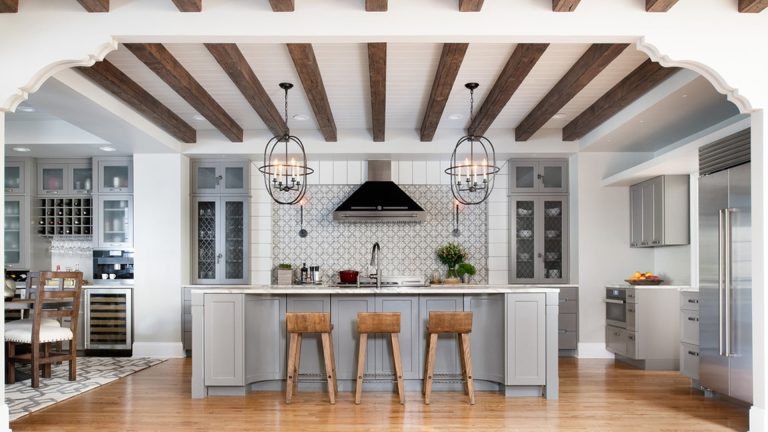 Project by Rothman + Rothman Design
With no windows along these kitchen's walls, the designer compensated with light cabinetry, two large pendants, sconces, and recessed lights.
Bathrooms
Like kitchens, bathrooms have long-been required to have GFCI outlets to protect you from shock. Again, if you are adding lights or outlets, AFCI protection is also required. However, even if you are not, you may want to consider upgrading to dual GFCI/AFCI outlets. Beyond that, here are the code requirements for outlets and lights in bathrooms:
Outlets must be placed within 3 feet of each sink.
Outlets must be tamper-resistant.
There must also be a lighting outlet, and a wall switch for that outlet must be at the entrance.
While one outlet next to each sink may be adequate, one vanity light may not be. Though vanity lights are often bright, they brighten only a portion of the room. Not to mention, they are a little hard on the eyes in the morning.
For a bathroom remodel, you may want to consider more diffused lighting, such as recessed lights. They are popular in the kitchen, but just as functional in other rooms as well. They provide a soft, even light that illuminates any space and makes even the smallest of spaces feel larger. (For more design tips for small bathrooms, check out our blog on space-saving style.)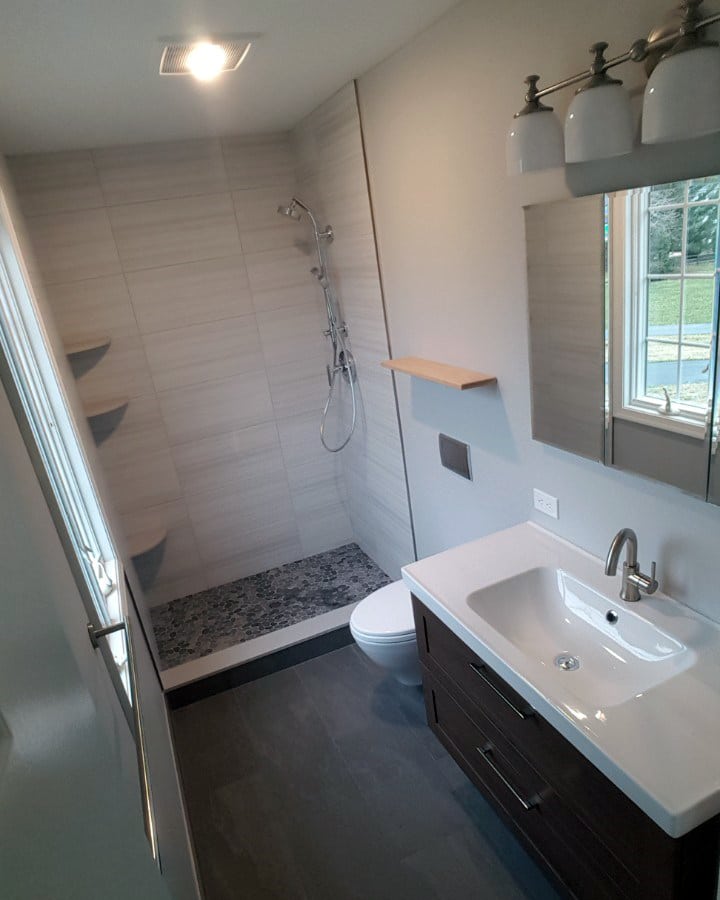 Project by COCOON
COCOON incorporated recessed lighting in this Chester County master bath to brighten the space and make it feel larger. For a look at this project, check out this video.
Living Areas
Code for living areas, such as living rooms, family rooms, and bedrooms is less stringent than it is for kitchens and bathrooms. It makes sense, of course. Several appliances are generally not running at the same time, and there's no water to worry about. Here are the general electrical code standards for living areas:
Any wall more than 2 feet must have an outlet.
Outlets must not be more than 12 feet apart.
Outlets must be tamper-resistant.
There must be one wall-switch-controlled lighting outlet or outlet in every room.
Of course, if you are adding outlets or lights, you need to add AFCI protection as well. Not adding more lights or outlets? You don't have to add the AFCI protection, but you may want to anyway, just for good measure. Keep in mind that an AFCI outlet only protects that one outlet. If you want to be extra cautious, consider having your electrician replace old circuit breakers with AFCI circuit breakers.
As with kitchens and baths, lighting required by code is minimal. In living areas, no lighting outlet is even required, only a wall-switch-controlled outlet. That means no ceiling light is required. If there is an outlet for a lamp and a wall switch that controls that lamp's outlet, that's considered enough by code.
If you're lounging in a living room, family room, or bedroom, 60-watt, soft-white bulbs in a couple of lamps may do the trick. However, the location of that wall-switch-controlled outlet may not always suit the layout of the room. Those outlets tend to be close to the entrance of the room, which makes sense.
However, that location is not always a good place for a lamp. Perhaps that wall is better suited to a couch or dresser. Or if you place a lamp there, it stands there on its own, totally out of place. In these cases, it is worth it to add a chandelier, a ceiling fan with lights, or again, the ever-popular recessed lights.
In addition to creating a comfortable design for lighting, you should ensure that the number of outlets is sufficient and that they are adequately placed. Consider the layout of your living area. If it's a bedroom, are there outlets for bedside table lamps? Are they near your nightstands? In a family room, are the outlets near your TV? These may seem like minor issues during a home remodel, but don't overlook them. Exposed cords don't make an attractive accessory in a newly remodeled room.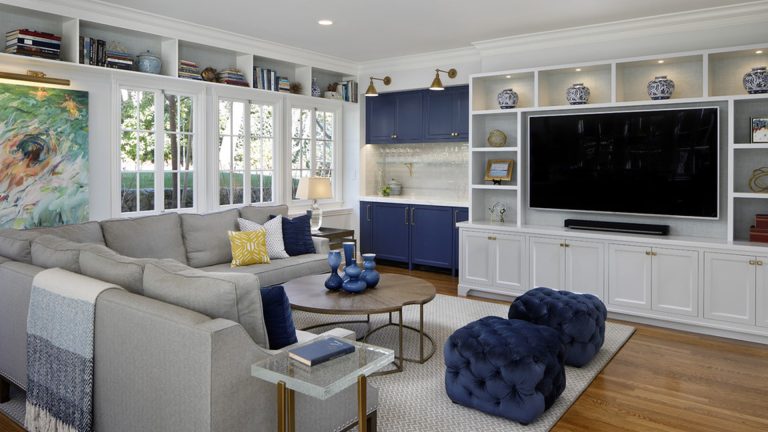 Project by TRG Architecture + Interior Design
The ample built-in lighting, recessed and cabinetry lighting, in this transitional family room reduced the need for lamps, and cords, down to just one.
Office
While the code for an office is the same as it is for other living areas, in an office, you have to be more strategic with outlet and light placement. (Light from your computer screen doesn't count as lighting, by the way.) In an office, you need outlets for your computer, printer, lamps and potentially phone chargers. The placement of those outlets should accommodate the layout of the room. You don't want to have to cover wires on the floor or wrangle with a bevy of extension cords.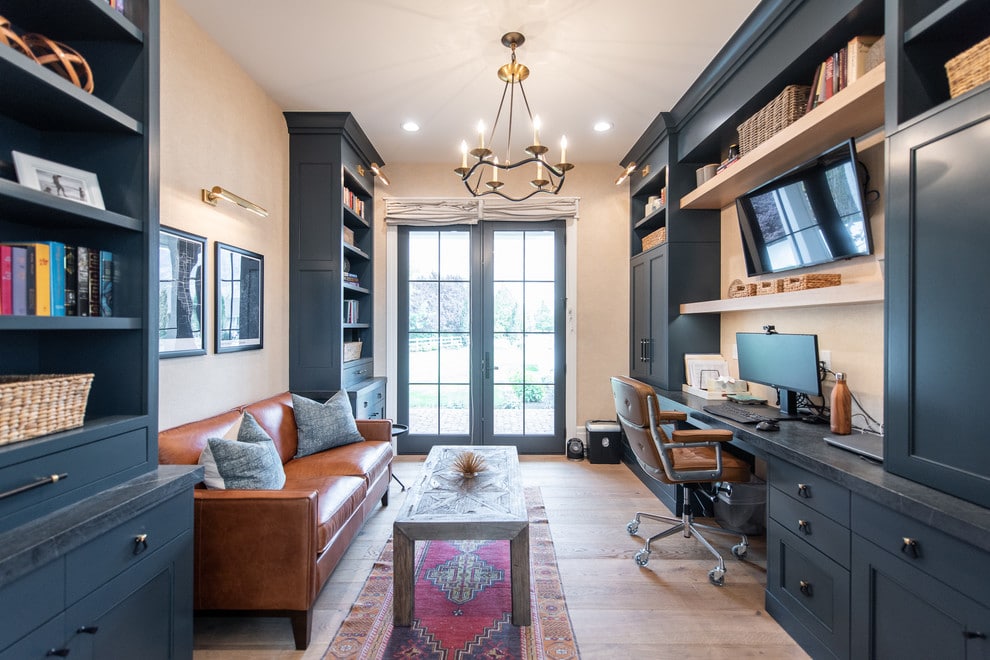 Project by Raykon Construction
Multiple sources of light ensconced within the built-ins, as well as a chandelier and recessed lights, illuminate this office space. Computer wires are also tucked strategically behind the cabinetry.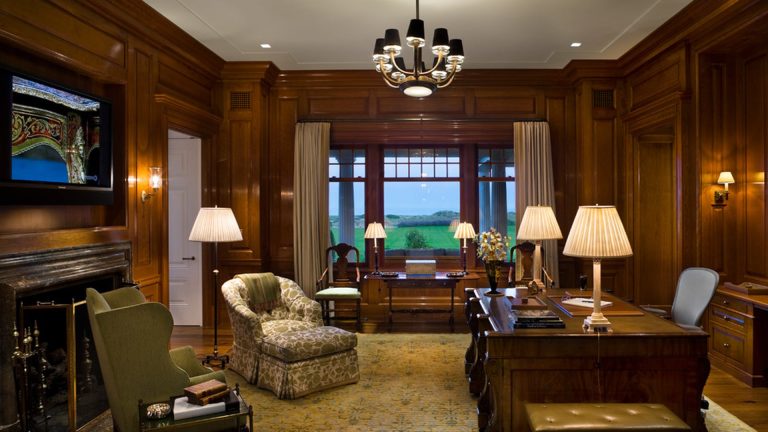 Project by Merritt
As you can probably tell by the number of lamps in this stately office, this room has multiple electrical sources, yet wires are virtually invisible.
Outdoors
Building code for outlets and lighting outside cover just the essentials. Here they are:
A home should have at least one GFCI outlet in front and back.
All exterior outlets must be tamper-resistant and GFCI.
That outlet cannot be more than 6 feet 6 inches above grade or balcony, porch, or deck.
Exterior doors should have one wall-switched-controlled lighting outlet.
These basic guidelines may not be sufficient for your needs. If you entertain outdoors often, you may need more than one outlet near your deck. Likewise, you would certainly need more than one light by your back door.
Outdoor string lights may provide the light and ambiance you're looking for or if your deck or patio is covered, integrated can lights may be the way to go. Provided your electrical system can accommodate it, lighting and electrical options are virtually endless.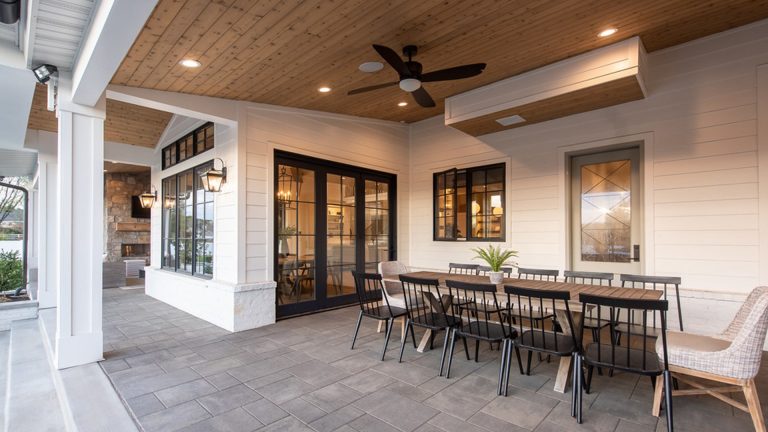 Project by Raykon Construction
This patio brings the comforts of indoors outside. Even at night, the homeowners are never without light thanks to the sconces, recessed lights, and fan light.
Let There Be Light…and Strategic Electrical Supply
Your electrical layout should be just as much a part of the design of your remodel as the tiles you choose in your kitchen or the built-in entertainment system for your family room. Its design certainly should be functional and better yet if it's beautiful too. When you are working with your design build team on your next home remodel, keep these tips in mind:
It's hard to have too much light.
Be strategic in where you place outlets.
Follow building code for safety.
Remember the code guidelines here are by no means exhaustive. There are always exceptions to the rule and sometimes more extensive rules, depending on the use of the space. Along with a licensed electric, your design build team can ensure that your remodel meets code and passes an electrical inspection.
Contact COCOON to begin your next home remodel today. From layout to lighting, we can help you plan the room you've always wanted.
This is an image round up post featuring work from various sources. If you do not want your work featured on our blog, please contact us at

[email protected]

. Thank you!