Kids and messes go together like peanut butter and jelly. You've seen countless commercials of cherub-faced children behaving badly. With the William Tell Overture playing in the background, they're spilling grape juice, throwing spaghetti, streaking permanent marker across walls, and stomping muddy boots on carpet. Kids know how to make a mess.
While messes are not always preventable, they can be cleaned up. Sometimes, over and over. With that in mind, you should make kid-friendly design choices when remodeling your home. You should make selections that stand up to stains, wear and tear, and, of course, repeated cleaning.
Whether you're remodeling your kitchen or finishing your basement, look for family-friendly product descriptions. These can include stain-resistant, scratch-resistant, waterproof, water-resistant, performance, and easy care, just to name a few. From floor to ceiling, your choices should be durable, washable, and affordable.
Kid-Friendly Floors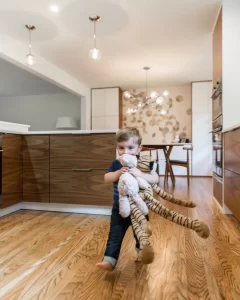 No matter how many times you tell your children to take their shoes off or stop running, they are bound to do it anyway. You need a floor that resists the constant pitter patter of their busy feet, and whatever organic matter their shoes carry inside–hopefully nothing the dog left in the backyard. Whether you prefer wood, carpet, or tile, each type of floor can be kid-friendly.
Wood and Wood-Look
Used in American homes for hundreds of years, wood floors are not only a classic choice, but a kid-friendly one. Solid hardwood comes in a variety of wood species, stains, finishes, and plank sizes. On the downside, it tends to be more expensive than similar alternatives and can scratch easily.
However, with regular maintenance, it can last a lifetime, or as many of Pennsylvania's historic homes prove, many lifetimes. It can also be updated, repaired, and fixed with sanding and staining. New planks can often be feathered in if old planks become too worn. It's certainly a more eco-friendly and perhaps even budget-friendly option than replacing an entire floor.
Solid wood is just one option. Laminate, vinyl, engineered wood, and bamboo also offer the durability and washability most parents need and want. Both laminate and vinyl plank flooring can offer scratch-resistance and water-resistance that make them a great flooring choice throughout your home. Some vinyl plank flooring is even waterproof, so you don't have to worry about cracking or warping, even if the spilled apple juice sits on the floor longer than you realized. They both come in a variety of colors and plank sizes. You can even get a textured style for a more true-to-wood look.
Engineered wood mimics the look of solid wood with a wood veneer pressed over a wood composite. Its price tends to fall in between solid wood and laminates. Engineered woods can offer scratch- and water-resistance comparable to laminate and vinyl floors.
A kid-friendly and eco-friendly option, bamboo flooring is another great alternative to hardwood for families. It also offers some of the same scratch- and water-resistance as other wood and wood-look options at a moderate price.
Carpet
If you have boys who like to wrestle (and what brothers don't wrestle?) or wobbly toddlers, carpet may be a preferable choice over hardwood or tile. Carpet cushions falls and is basically slip-resistant. Each carpet manufacturer has its own vocabulary for what they deem durable. Some specifically say that they are kid-friendly, while others might say that they are stain-resistant and good for high-traffic areas.
Regardless of brand or style, you should look for carpet with certain characteristics. For greater longevity, The Carpet and Rug Institute recommends that you choose a carpet that has dense construction and a shorter pile. To show less wear for cut-pile carpets, The Institute recommends that the twists in the yarn are as tight as possible. (Be sure to read our Flooring Guide for info on carpets.)
Tile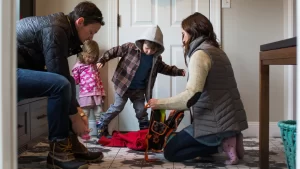 Tile ticks all the boxes for being kid-friendly. Affordable: Yep. Durable: You got it. Washable: Absolutely. While you can put tile throughout your home, here in Chester County, cold winters make tile an unlikely option in any room except bathrooms, kitchens, and mud rooms. When it comes to cleaning, tile is less finicky than wood or carpet. Most tiles are stain-, scratch-, and water-resistant. (Check out our Tile Guide for more details.)
They also come in a variety of colors, patterns, sizes, and materials. Man-made tiles, such as porcelain, ceramic, and cement, are ideal for flooring. Natural stone tiles also work for floors as long as they are sealed regularly. Wherever you decide to lay tile, be aware that the smaller the tiles, the more grout you have to clean. With kids, larger scale floor tiles may be a better bet.
Color Considerations
While the material of the floor may be the first thing you think about when changing your floor, the second thing you should think about is color. For wood floors medium tones tend to hide the most flaws. Light wood floors may show dirt and stains, while dark wood floors show nicks.
Dark carpet hides a variety of dirt and spills but can make a room feel heavy and outdated. If the carpet is too light, it shows every accident. As with medium-toned woods, medium-toned neutral carpets are the most forgiving of mishaps. If you're going for a light and bright look in your room, however, multi-tonal light carpets also hide little accidents.
With probably the greatest durability and washability of all your flooring options, tile can be just about any color you choose. For grout color on flooring you should probably choose something in a medium to dark shade. Grout shows dirt quickly and easily, so the more you can mask it the better.
Countertops
With meals, crafts, coloring, painting, homework, and cooking, your kids give kitchen countertops a workout. Make sure you choose a surface that can multitask. Not only do you have a variety of colors to choose from, you also have a variety of countertop-types to choose from. From natural options such as stone and wood to laminate, solid surface, and stainless steel, countertops spoil you for choice. (Learn everything about countertops from materials to care in our Countertop Guide.)
Natural Stones
Many natural stones have kid-friendly characteristics, but you have to know which stone will work best for your family. Soapstone and marble, though beautiful and timeless, are softer tend to show more wear. Soapstone can scratch quite easily but can often be fixed with oil and sandpaper. That being said, sanding your countertop is probably not what you want to do on the weekend. Likewise, marble and kids probably shouldn't mix. Prone to etching, staining, and scratching, marble is not the most family-friendly countertop.
Granite, on the other hand, is very hard, and when properly sealed is virutally immune spills and easy to clean. Its variety of colors and price points make it a go-to choice for a home remodel. Quartz and quartzite rank high on the hardness scale, making them incredibly durable. These unique countertops also push budget boundaries more than granite, so they may not be a suitable option for every family.
Man-made Surfaces
If you don't want to worry about sealing stone regularly, laminate and solid surface countertops are a great alternative. They are very budget-friendly, durable, and come in just about any color or style you can imagine, including natural-stone looks. Both laminates and solid surface countertops can scratch and discolor, so gentle cleaning and limited utensil-banging are recommended.
Other Surfaces
Wood, stainless steel, and even concrete have gained popularity for adding a textural twist to kitchens. If you have little ones, however, you may want to steer clear of wood and stainless steel. Not known for water-proof resilience, wood does not seem like an obvious choice for kitchen countertops. Butcher block countertops are prone to scratches and dents. Other wood countertops appear more like furniture, glazed with a topcoat to impart heat-, water-, and scratch-resistance. While this topcoat may make them more appealing, a topcoat can't protect against dents. Dents, of course, are a real possibility with kids.
Similarly, stainless steel countertops, like appliances can suffer from dents and scratches. Still like the industrial look of stainless steel? You might want to save that countertop for when the kids are older.
Kid-Friendly Cabinets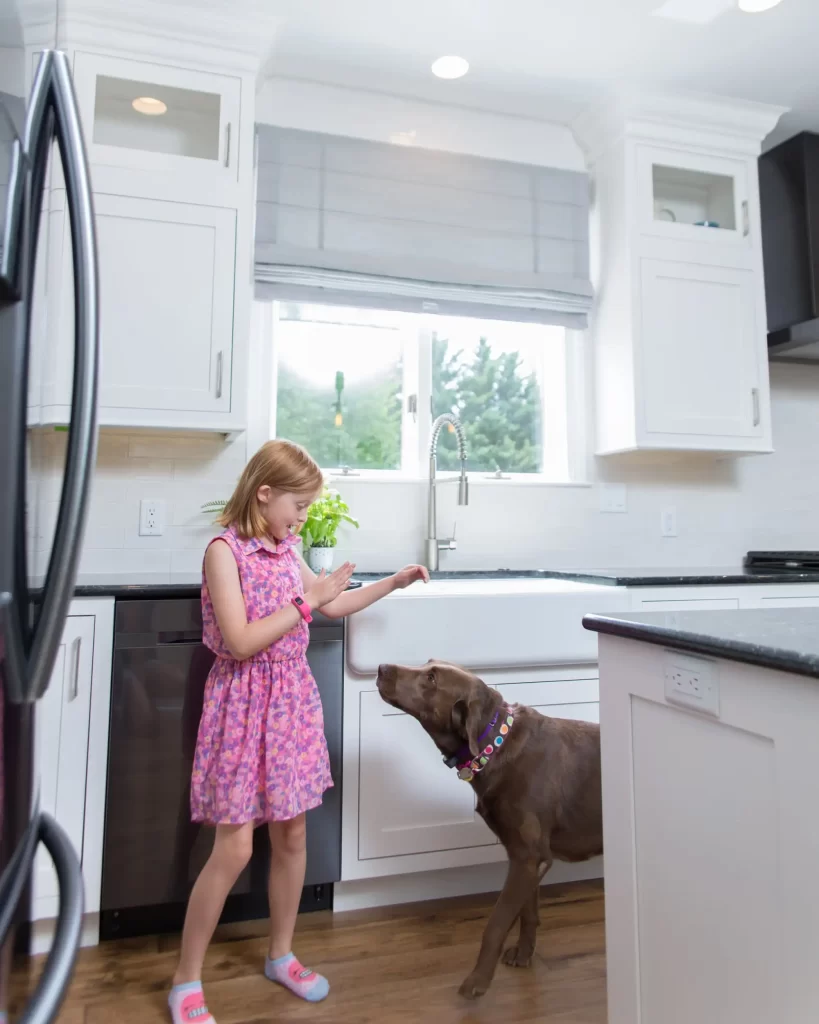 Though children won't be using cabinets and drawers as much when they're little, they still spend a lot of time near them. When they get older, they most certainly will help themselves to cups, utensils, dishes, and food inside them. With all that it mind, it makes sense to select cabinets that can grow with your family.
When choosing cabinets, you should make sure that they have a thorough finishing and sealing process. Properly finished and sealed cabinets stand up to everyday use and regular wipe-downs. They also resist nicks—a major benefit when little ones are racing cars around your kitchen island.
Wellborn, a favorite cabinet manufacturer of Cocoon, uses a 24-step finishing process that extends the lifetime of its cabinets. While no finish is completely toy-proof, a good one can resist some nicks. Also, keep in mind that nicks show a bit more on a darker finish than a lighter one. Lighter finishes, on the other hand, may show more dirt and stains.
In addition to a great finish, you may also want to consider soft-close drawers. Easy to close and slam-proof, this feature keeps your kitchen a little quieter. As a parent, you probably need all the quiet you can get.
Finally, and this may seem obvious, but don't forget to add pulls or knobs to your cabinets and drawers. If you bought your home with bare cabinet doors and drawers, don't leave them this way. Oil and dirt from your hands can stick to the face of your cabinets, and it's much harder to clean off a door or drawer than a handle.
Wear-Resistant Walls
While they may not have to endure as much as floors, walls in your living room, your kids' bedrooms, and maybe even your dining room have to withstand wild imaginations and gregarious play.
Paint
Most of the walls in your home are covered in paint. Kids sometimes see your painted walls as their canvas, spreading their creativity with everything from marinara to markers. Of course, you probably prefer a clean "canvas," so the paint you choose has to endure multiple cleanings, but not all paints are created equal.
Each brand of paint has its own lines of washable paints, and you should choose one of those. Regardless of brand, however, the paint finish also affects washability. Flat paints, or paints that reflect little to no light, generally don't clean quite as easily as paints with more of a sheen. Gloss and semi-gloss paints reflect the most light and tend to be the easiest to clean. That's why they're typically applied to baseboards, crown molding, wainscoting, and doors. In between flat and gloss, you might find finishes called satin or eggshell. The specific name depends on the brand, but this in-between sheen covers the walls of most homes and is also quite washable.
While washability is important, so is color. Having kids shouldn't deter you from the colors that you like best. Just know the effects of the color you choose. Lighter colors show more dirt and potential stains. Darker colors may fade in the spots that you wash. While warm water is always recommended for all cleaning, a gentle soap is the next best option. A cleaning eraser does get rid of grease and marker, but it also takes a little paint with it.
Tile
As mentioned before, tile is tough enough for kids. It's hard to break and easy to clean. Plus, it comes in a wide variety of price points, so it works for every family. In a kitchen, you may want to consider a backsplash above the countertops. Ceramic subway tile, a classic style staple, resists stains and is easy to clean. It's a design no-brainer. These characteristics also make it perfect for remodeling bathrooms as well. You may even consider extending tile to the walls of the bathroom, not only for a trendy look, but to create another durable surface.
If you're going for a more natural look, consider stone-look ceramic tiles or stone tiles. Ceramic tiles that mimic the look of natural stone can be easier on the budget and easier to maintain as they do not require sealing. If you're set on stone, however, you can find the look you're after with the ease of maintenance. Just be sure that your stone is well-sealed. Again, as with stone tile floors and stone countertops, steer clear of softer stones.
Glass and metal tile reflect light and can sparkle to any room. While this makes them a great accent to tile wall, they do show fingerprints and can scratch, so you probably don't want to cover a large wall with these types of tiles.
Finishing Touches
Once you have your larger design selections taken care of, you can start thinking about the details. These include window treatments, furniture, lighting, and, if you're in the kitchen, appliances.
Window Coverings
The most straightforward and often the most budget-friendly way to cover your windows is with curtains. If you have little ones, be prepared to play defense. Some little ones like to wrap themselves in curtains, or worse, pull on them. Not wanting to play a little D? Consider cordless or continuous cord loop shades and blinds. They tend to cost more, but they are much safer than corded shades or blinds.
Furniture
Leather and faux leather sofas and chairs are the easiest to clean. If your children happen to spill something, you can easily wipe it away. No special sprays or gentle dabbing are necessary. If you don't love leather, look for furniture with easy-clean fabrics. They may be called performance or even labeled as family-friendly. Mishaps on these types of fabrics can often be wiped away with a wet cloth.
When considering wood consoles, end tables, coffee tables, and entertainment units, refer to some of the same characteristics of cabinets listed above.
Lighting
Adding light in living areas with lamps is generally a necessity, but heavy, breakable, or shiny lamp bases are not. Heavy bases can be a hazard if your little one decides to lean on it. Glass or ceramic bases are easily broken. Shiny lamps, while not a potential hazard, do show fingerprints. Lamp bases made of matte metal, wood, or composite material are reasonable design choices with little ones in the house.
Appliances
Speaking of fingerprints, look for fingerprint-resistant appliances. There are enough dishes to clean every day. You don't need to worry about wiping down your refrigerator every day, too.
A Home for Your Whole Family
Kid-friendly design goes beyond bumper pads on coffee tables and baby gates at the stairs. It's about family-friendly interior design that is practical enough to handle your daily activities, but stylish enough that you will want to keep it around long after the days of finger-painting. Your design should be a style that is not only durable but endures. Better still if it's in budget!
As a family-owned company, COCOON understands that you want your home to grow with you and your family. Contact us today to find out how we can transform your home into a haven for your family.