If you'd rather work at the office than work at home, your home office or work space may be in need of a makeover. Creating a work space that is just right is tricky, but it's so important. A desk and a chair are only the minimum requirements. A well-designed home office can be the difference between you working efficiently and you just barely making it work. Check out these tips for creating an office space that makes you want to work.
1. Let There Be Light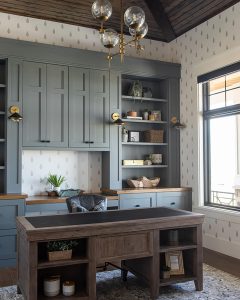 Project by JCD Custom Homes
Ambient and task lighting are essential to an effective workspace. When you're working a screen, ambient lighting softens the intensity of a computer monitor. Task lighting offers illumination exactly where you need it. In this work retreat, multiple sources of light ensconced within the built-ins, as well as a chandelier and recessed lights, illuminate this office space.
2. Be Different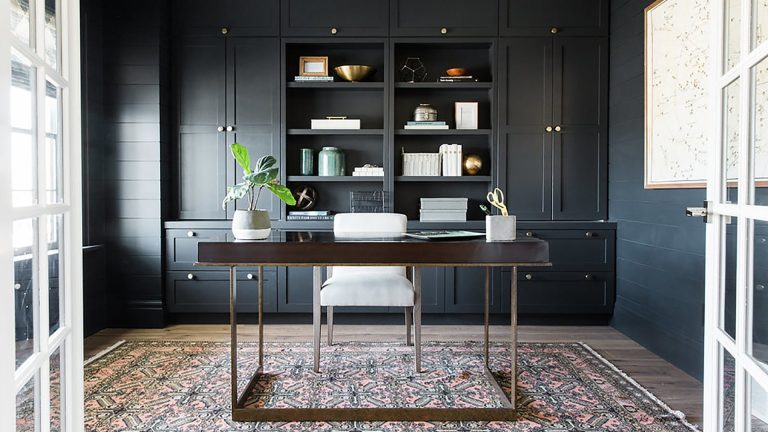 Project by Studio McGee
If the rest of your house is awash in calm neutrals, maybe you can add some drama to your office. This striking space takes some cues from trendy, farmhouse style. Shiplapped walls and Shaker cabinets get an industrial makeover with charcoal paint. Sand-colored wood floors and strategically placed white artwork bounce light around this room and keep it from being gloomy.
3. Enjoy the View
Project by James McNeal Architecture and Design
This corner office may not have a skyline view, but a serene woodland is not too shabby, either. If your home's layout permits, orient your desk to face a window. A nice view can boost your mood and keep you from feeling overwhelmed by work.
4. Made for Multitasking
Project by Blackbox Design Studios
This office nook could have been a pantry or kitchen cabinets in a previous life. Situated between the living area and the kitchen, this office is made for multitasking. Whether you're paying bills or planning meetings, you can keep an eye on dinner or the kids, too. Filing cabinets provide essential storage, and the under-mount task lighting keeps this den lit after sunset. Clean lines emphasize an uncluttered feel, while the charcoal cabinets and shelves, and sandy backsplash contrast the cool white walls that surround this small office.
5. Enliven the Area with Color
Project by Pittsburgh Paints
Though just a nook, this office offers the perfect place for a pop of color. While the deep green combines with black and white to lend an art deco feel to this work space, the simple silhouettes of the desk and cabinetry are distinctly modern. The punch of pink provides a playful accent. It's an invigorating work space.
6. Add Texture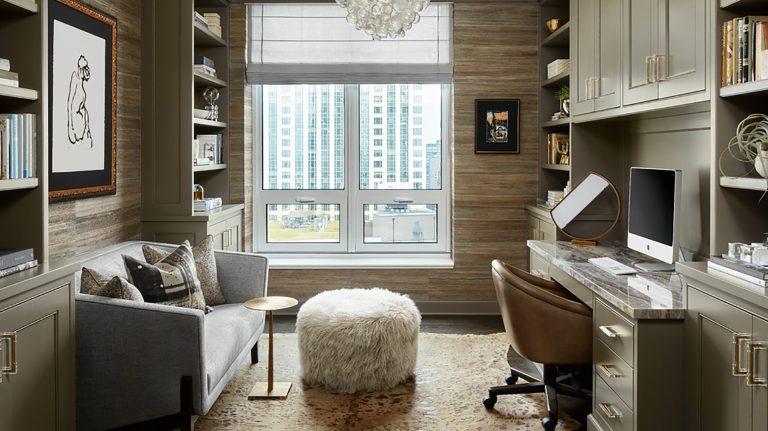 Project by Laurie Demetrio Interiors
The monochromatic office sets the tone for a calm work environment. The textured accessories—the shaggy pouf ottoman, the banana bark wallpaper, and the bubble cluster chandelier—keep the space interesting.
7. Maximize Storage and Privacy
Project by Orren Pickell Building Group
At just 6 feet by 6 feet, this small office seems sizable. Homeowners made the most of the compact office with built-ins for ample storage and pocket doors for privacy. They can get a lot of work done in a small amount of space.
8. Act Natural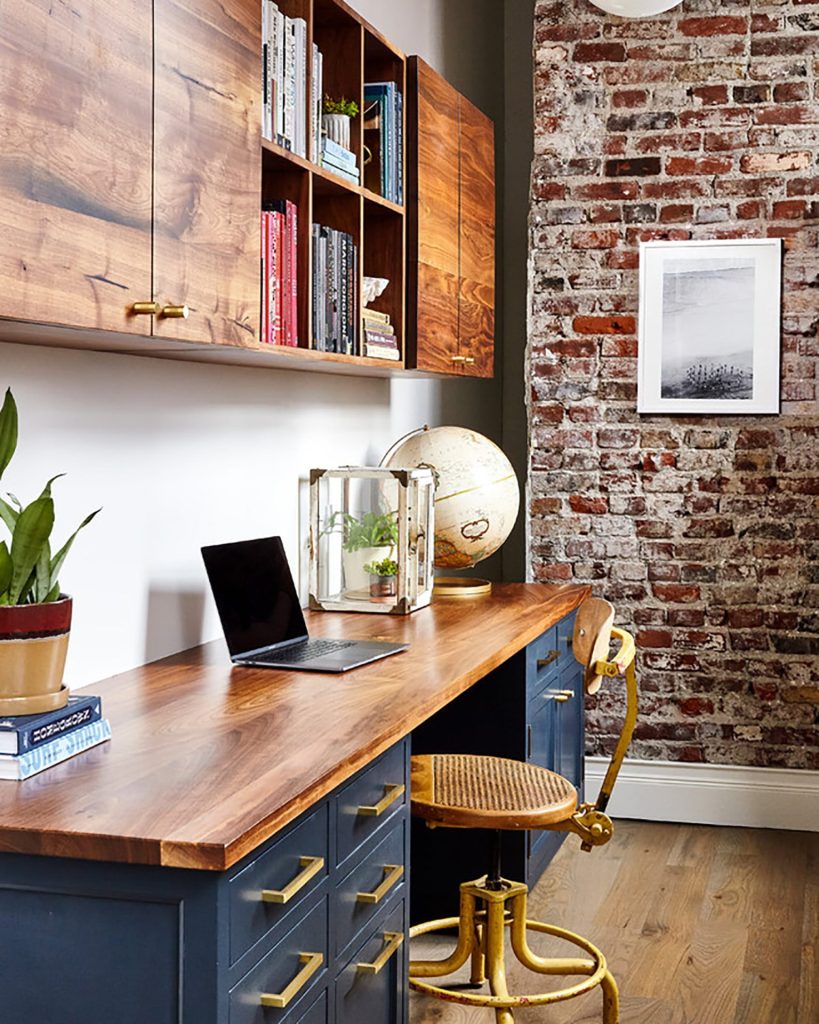 Project by Osborne Construction
Even if you're not on your own acreage, you can still bring the outdoors in. This loft office in Philadelphia combines modern lines with some natural colors and accents for an enviable office space. Slab-front cabinet doors show off the wood grain, and the medium wood stain warms up the room. A couple of potted plants lend some organic shape and color to this home office.
9. Think Outside the Box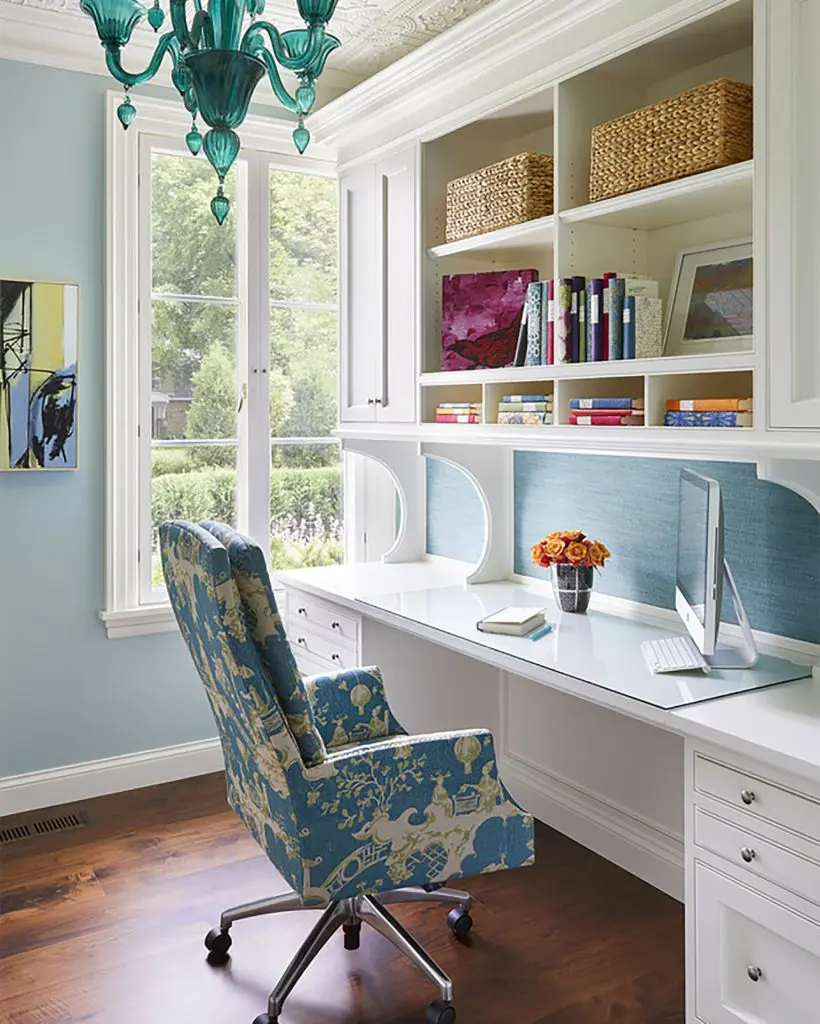 Project by John Kraemer & Sons
When you're working from home, you're no longer in a cubicle, so your office doesn't need to look like one. There's a lot to look at in this modestly sized office. With a mix of French country blue and white, a few colorful accents—most notably the teal chandelier—this home office mixes serenity with a dose of whimsy. The medium-toned wood floor adds warmth to the otherwise cool colors, and the tiled ceiling adds unexpected texture.
10. Share a Table for Two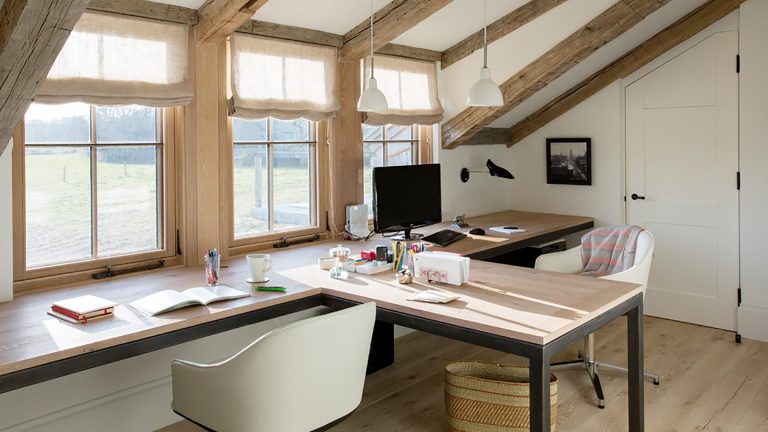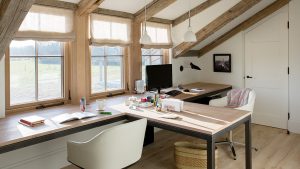 Project by Holmes Hole Builders
You may not be the only one who needs to work from home. In those cases, make your office work for two. Here, a T-shaped desks expands across the long wall, while the peninsula in the middle provides more room to spread out.
11. Add Architectural Detail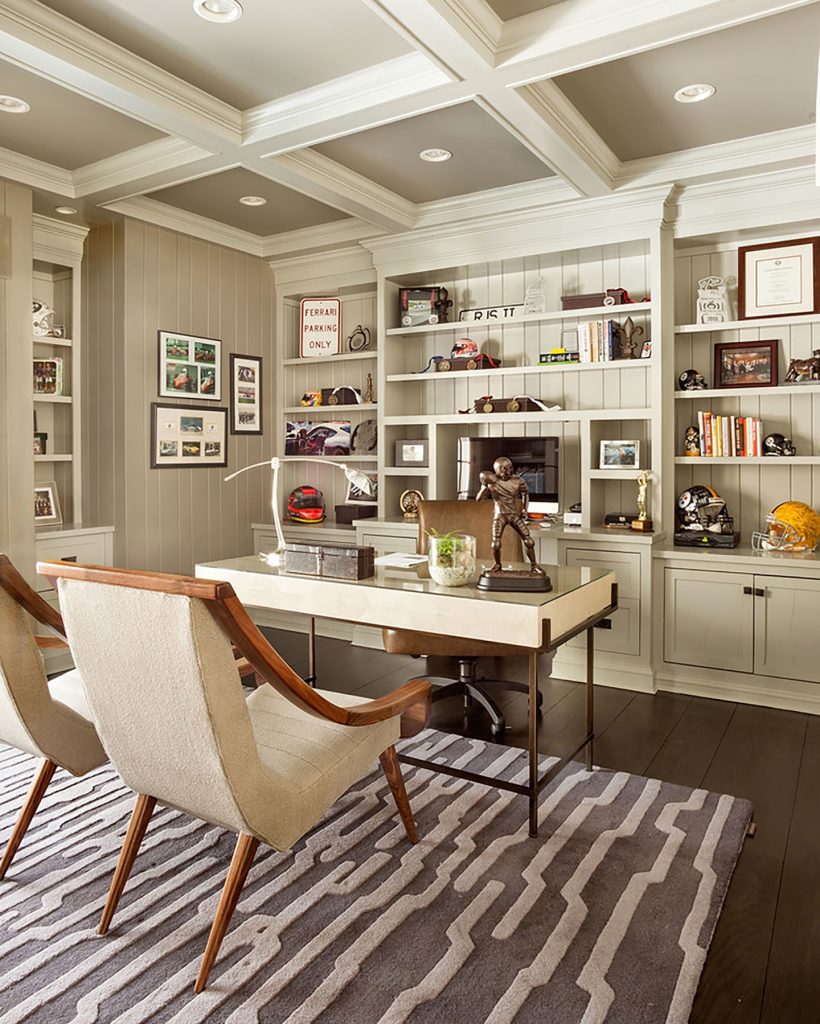 Project by Garrison Hullinger Interior Design Inc.
From the coiffured ceiling to the paneled walls and built-ins, this office is anchored by beautiful millwork. Without these architectural details, this sizable office might feel cavernous instead of comfortable.
12. Keep It Simple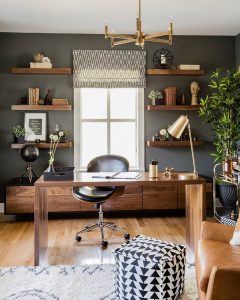 Project by Angela Ballard
This office defines minimalist. Adorned with a few choice accessories, slab shelves flank the window, and a floating filing cabinet creates unobtrusive storage. The open desk also allows for a full view of the room, creating an airy vibe.
13. Make It Multifunctional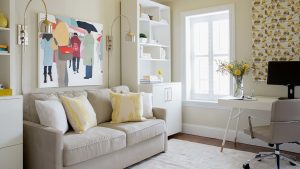 Project by Justine Sterling
If you don't have a designated home office, you may have to make your room multitask. A compact desk and slim bookcases provide storage and work space in this office, while the sofa bed lends friends and family a free place to stay.
14. Light and Bright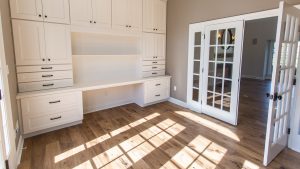 Project by COCOON
This office space provides the perfect place to make some phone calls and check emails all while staying organized with floor to ceiling cabinetry. The bright white cabinets and light hickory floors keep this office light and bright. With the addition of these beautiful double french doors, light is sure to travel through to the next room.
15. Make It Yours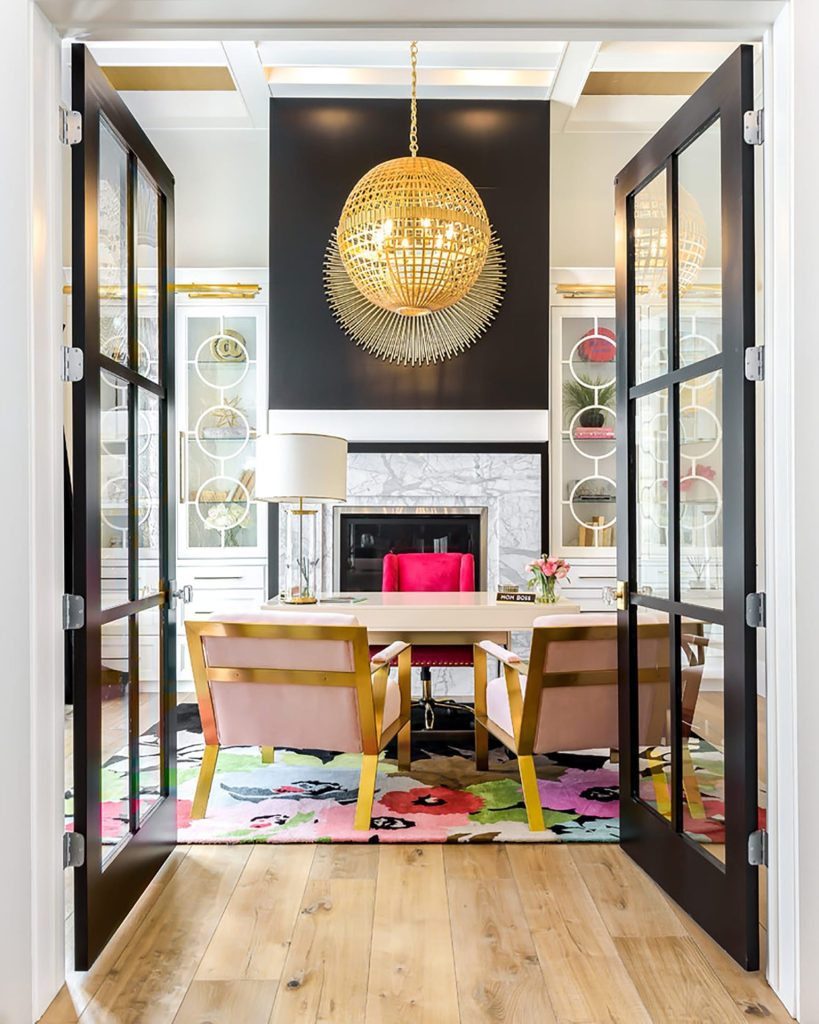 Project by Osmond Designs
Whether you prefer simple and streamlined or bold and colorful, your office should reflect you. Choose colors you love and accessories that inspire. It should be a place that makes you want to work and, above all, makes you happy.
Work It
Whether you have a separate office, a work space, or you still need to find right place, you can designate and design a space that works for you when you work from home. With sensible organization, proper lighting, and an all-around comfortable space you can get any job done.
Bringing all of these elements together can be tricky. Let COCOON help! With more than a decade of experience in creating functional, beautiful spaces, we can help you design an office that inspires your work. Contact us today!
This is an image round up post featuring work from various sources. If you do not want your work featured on our blog, please contact us at [email protected]. Thank you!