Peaches. The most beloved stone fruit in my opinion. I literally don't know a single person who doesn't like peaches. Seriously. If you don't, comment on this post – I want to hear from you! Peaches are good in smoothies, tea, cake, muffins, and… pie. Peaches are even good fresh off the tree. And that is what brings us here today – peach trees.
Some time ago, scrolling through Facebook, we came across this map of West Chester. It was a really cool, beautifully hand-drawn map of our historic hometown. But, there was something that really stuck out to us – see for yourself:
Map of West Chester, PA by Jessie Husband Designs
Did you spot it? I'll give you a hint: it's below the peaches. This local artist, Jessie Husband, brought this quirky and interesting fact to light; "In 1898, West Chester was the largest producer of peaches in the U.S." We thought this was incredibly cool and decided to do some research of our own.
So, we googled it and found this article. Apparently back in the day the Hoopes brothers (yes, Hoopes like the park) owned 600 acres of land just northeast of the West Chester borough. On the property, they grew and sold a variety of trees, shrubbery, fruit, and flowers, but their #1 seller was the peach tree.
For some reason, we felt warmed by this idea. West Chester is full of history but this fact was just so unique. Peach trees grown right here in our backyard were traveling throughout the U.S. in 1898, before the airplane was even invented. Eventually, those peaches ended up in the homes of families, probably canned or baked into a pie – but eventually shared as a sweet summer treat.
Where the Peaches Grow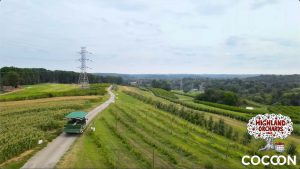 Once we learned that, we thought "how fun would it be to go to a local West Chester Orchard, bring back some locally grown peaches, and make our favorite summer dessert – peach pie!" Angela Payson and her daughter, Juliette, were so excited to connect with history in such a delicious way, and when we thought of a local orchard to pick some peaches, of course, we thought of Highland Orchards.
Highland Orchards has been a staple of the West Chester community since 1941. They have a variety of seasonal pick-your-own fruits and vegetables, but right now (you might've guessed it) is peach picking season! Peach picking is available at Highland Orchards throughout Labor Day weekend. But don't worry if you miss it! The fall is coming and they will have apples and pumpkins to satisfy all your fall fantasies. Definitely stop in to grab some of their infamous Apple Cider Donuts! Click here to visit their website.