You're ready to transform your kitchen, bath, or basement to suit your lifestyle and your sense of style. Before the crew can start your project, however, you probably need to clear the space. After all, they can't demo a kitchen full of dishes, utensils, and small appliances. They can't frame the unfinished walls of your basement with a bevy of boxes all over the floor.
In all of the planning for your home remodel—finding the right design build company, choosing the right style— did you consider how you would prepare your home for the project? Just like you dust, vacuum, and wipe down every surface before company comes, you need to prep your home for your design build team. It's a great time to clear out and clean-up because you have a motivating deadline: the day the crew comes. There's another great reason to do this before a home remodel. Who better to help you out with organization and storage solutions than your design build team? (Contact COCOON to get more organized.)
These 5 steps guide you through pre-remodel prep for any room in your home. Going through these steps will give a better sense of how you want to organize your space and create a home storage plan just for you.
STEP 1: Schedule It
The first step to organizing is quite simple. Schedule a time to do it. Book an appointment for yourself on your calendar. Take stock of how long you think the project will take. Consider the space you are reorganizing and each of the following steps. Obviously, a kitchen takes longer than a small closet. You may want to pad this appointment with some extra time, too, just to be on the safe side. If you think the project will take several hours, you can book the next 4 steps on different days. Setting a schedule for the project will help you kickstart it.
STEP 2: Purge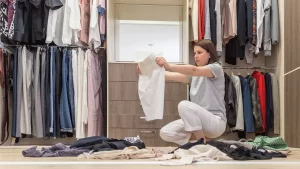 This step is hard. You may feel like you're wasting clothes or giving up memories. Purging is not about throwing everything out, it's about letting go of things you don't need. If you still feel like you need everything you have, give each item this litmus test. Don't worry, it's not too hard. If you have not used an item in a year, put it in the discard pile. (If you're tidying your office, please keep your tax returns. The IRS recommends you to keep those sentimental faves for 7 years.)
For items that you deem sentimental, consider whether you actually have the space for them. You may have to put them in a separate pile and review them separately. If you follow Marie Kondo, think about if the item in question sparks joy for you. No spark? No need to keep it.
STEP 3: Sort, Part 1
Once you have your discard pile, determine which items can be given away, donated, recycled, or thrown out. Donation centers, such as Goodwill, encourage patrons to try to give items to family, friends, and neighbors before donating. Thrifty moms are always on the lookout for free and reasonably priced clothes, especially for preschool and early elementary-aged children. (Pants tend to develop holes in the knees real fast at that age.) Apps such as NextDoor are quick way to see if a neighbor might need something you already have. Many homeowners' associations also have Facebook pages dedicated to neighborly interaction.
For donations, make sure that items such as electronics or kitchen appliances still work and that clothes and shoes can be reworn. Even if clothes do not sell, some centers make every effort to recycle those before they are discarded. Take heart, most of your items will go to a good place.
If you can't donate an item, look into recycling. In West Chester, electronics including personal computers, laptops, computer monitors, mice, keyboards, speakers, printers, copiers, and all TVs must be recycled. They cannot be thrown out with your regular garbage. The Public Works department in West Chester recycles these products for a fee of $5. Best Buy also accepts many electronics for recycling and sometimes offers coupons to help you replace the recycled item. Bonus!
If you can't recycle it or donate it, trash it, provided it's not considered household hazardous waste. These can include items such as oil based-paints, rechargeable batteries, and pesticides. Delaware County, Chester County, and Montgomery County each have household hazardous waste events each year, and their websites have a complete list of accepted materials. Each county website has additional information on recycling electronics as well.
STEP 4: Clean As Needed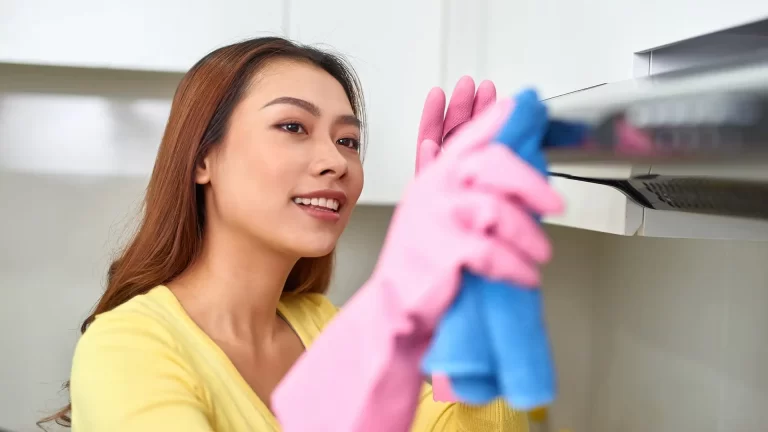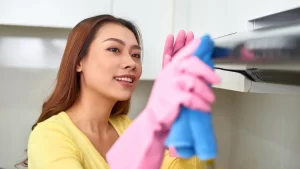 Now that you have cleared the area you wish to organize, it's time to clean it. You might be surprised how dirty things can get. Shelves collect dust. Floors can collect dirt, dust, and anything else, particularly in corners. Even the bottoms of drawers can take on a bit of dust or lint from clothes. Crumbs somehow find their way into cabinets and drawers, too.
At this point, you have done a lot. Enlist some help, if you haven't already. Children can be surprisingly enthusiastic about cleaning. Who doesn't love a feather duster?
If you're cleaning wood or stone floors, or wood shelves, be sure to use gentle soaps, if you use soap at all. Once floors, shelves, drawers, and cabinets are dusted and wiped up, wipe down the items that you're keeping, if necessary.
Of course, you can limit what you clean based on what you are keeping. For example, if you are remodeling your kitchen, you should wipe down the counters for as long as you use them. You can skip wiping down the inside of the cabinets, however, if you are replacing them. Whatever you choose to clean, it's best to start a home remodel with a clean slate.
STEP 5: Sort, Part 2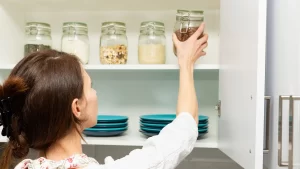 Now that you've rid yourself of items you no longer use or need, you can take stock of what you have. Think about items you use most and where they should go in your new space. Those items should be most accessible to you. Place the things you use most toward the front of a shelf, or near the area where you use them. Here are some examples.
Kitchen
Store plates and silverware in a cabinet and drawer close to the kitchen table. Put plates on the bottom shelf, bowls on the middle shelf, and larger platters and bowls on the top shelf.
Garage
Hang commonly used items on strategically placed hooks, such as rakes, brooms, and snow shovels. This clears floor space and prevents them from falling on your car.
Linen Closet
Place bath towels, hand towels, and wash clothes on the middle shelves. Make sure there is space in between items, so nothing falls when you grab a towel. Guest towels and beach towels can go on the top shelves. Bed linens can rest on the lower middle shelves.
Toy Closet
Put toys that require supervision on the top shelves. Larger toys that don't fit on shelves can go on the floor. Smaller toys, such as dolls or cars, can go in baskets and should be easy enough for either you or your child to grab, and just as importantly, put away.
Of course, these are just suggestions. If you change sheets more quickly than you change towels, make those more accessible. If you use bowls more than plates, put those on the more accessible shelf. You get the idea.
You can also brainstorm with your designer on storage systems that work best for you. In a kitchen, these may include cabinet options such as a sliding shelf or pantry options such as wire bins for fresh produce. Drawers can include a cutlery or knife organizer. Your designer can even help you choose shelving for your pantry or your garage. There are loads of options.
From Decluttering to Designing
Finally, you can cross some decluttering and cleaning off your to-do list. Perhaps you no longer have to worry about an avalanche of knick-knacks, clothes, or old electronics descending on you when you open the door to a dreaded closet. Maybe that junk drawer that barely opened, stuffed with Target receipts, writing utensils, and old telephone chargers, now opens.
Whatever space you have decluttered, once you have done it, you can design a storage and organization system that's easy to maintain.
Home organization is not just about finding cute containers for every little thing in your home. Think about what makes your life easier, not just what looks good. For example, open shelving, complete with complementary accessories, adds visual interest to a flat wall, but if you don't dust often, the shelving may not look good for long. Cupboards may be a better option for you.
Whatever your preferences, the design team at COCOON can offer organizing ideas that will not only look good but help you keep your home tidy. Contact COCOON today!