According to the 2015 U.S. Census, 47.8 million Americans are 65 and older. They account for nearly 15 percent of the U.S. population. If you are entering that age bracket, you may have considered a home remodel to suit you as you age. If your parents are in that age bracket, you may have considered building an in-law suite. (For more on what to consider when building an in-law suite, check out this post.) Will your Chester County home allow you or your parents to age in place?
Add Accessibility
Project by One Week Bath
There's no way around it. Most of us move a little slower as we age. But that doesn't have to be a problem if your home can accommodate you in your golden years or your aging parents, if they are moving in with you. Adding accessibility simply means making your home ready for you even as certain abilities, such as seeing or walking, become limited. It can mean modest changes, like swapping out cabinet knobs for pulls, which are easier to use. Similarly, you can replace door knobs with door levers. In both cases, knobs require more fine motor dexterity, commonly lost to any number of ailments, such as carpal tunnel syndrome or arthritis.
While small changes can make a big difference in the comfort of your home as you age, remodeling can ensure greater comfort for a longer period of time. Renovations to the busiest rooms in the house, bathrooms and kitchens, can create easy accessibility, no matter your ability. Plus, if your home is stuck in the style of a different decade, a home remodel can give it a much-needed update. A better-looking, more comfortable home is always a win-win.
Set a Standard
How can you design around changing physical abilities? Of course, you can't predict what you, or your parents, will be capable of at 75, 85 or older. However, your health and the health of your parents can act as a guideline for how you remodel your home for aging in place. For example, if you or your parents have poor vision, you might want to ensure that every space is well lit and that lights can be turned on immediately upon entering a room.
You also have to consider how long you want to live in your home or how long your parents want to live in their in-law suite. The older you are, the more limited your mobility generally becomes. You may even want to consider wheelchair accessibility in the design of your home remodel.
With these general ideas in mind, you can explain your remodeling needs to your contractor. Your contractor will likely use design standards set forth in the American with Disabilities Act (ADA). Signed into law in 1990, the ADA was passed to ensure equal access to jobs, housing, and businesses for those with disabilities.
In construction, it has set building standards for government and commercial facilities. Because your home is private, you are not required to follow ADA standards, but these standards lay a solid groundwork for remodeling a home for aging in place or to create a universal design. A universal design is a design that creates accessibility needed for those with limited mobility.
Nowhere in the home is universal design more important than kitchen and bathrooms. They are the most functional rooms in the home and need to accommodate multiple activities. As such, there are several ways to make a handicap accessible bathroom and handicap accessible kitchen.
What Makes a Bathroom Accessible?
Project by Libertas Design Solutions, LLC
The answer to the above question is, it depends…on your current needs and anticipated future needs. To ensure the greatest accessibility, you would do a bathroom remodel for wheelchair access and general limited mobility. This type of bathroom remodel requires a few changes that won't hinder your use, regardless of ability. But don't worry, these changes, as you can see from the above picture, do not force style to the sidelines. Your home can be both accessibility-conscious and style-conscious.
To accommodate a wheelchair, width and height considerations are key. First, the doorway must be at least 32 inches. Most likely, that's five inches wider than your current doorway. Similarly, countertops would have to be shorter, approximately, 34 inches compared to the standard 36 inches. Of course, these changes may seem inconsequential if you get around with a healthy ease now. But, should the time come that you or your spouse need wheelchair, or even a walker, that extra room will make a world of difference.
Wheelchairs also require a clear floor and at least a 5-foot radius to turn around. For wheelchair access to the sink, the space underneath should also be clear. For increased ease of use, water faucets should also be equipped with levers, instead of knobs, or even an on-off sensor.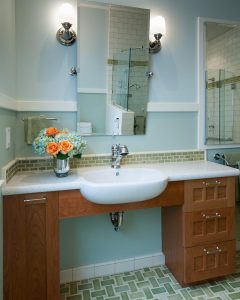 Project by Design Set Match
To accommodate the additional floor space and sink access, an ADA approved bathroom often has unique storage. A standard vanity with bulky drawers or big cabinets won't work here. Instead, storage may be found in a single, slim drawer just beneath the sink or stacked drawers that flank one or both sides of the clear space under the sink. Drawers, as previously mentioned, should be accessed with pulls instead of knobs, as in the photo above. Also, if space allows, open shelves in lieu of a traditional closet could add extra storage without a cumbersome door.
Project by COCOON
To provide the ultimate comfort and ease, an accessible bathroom should have a curbless shower. A curbless floor provides a smooth transition into the shower in this handicap accessible master bathroom in Chester County, pictured above. (See this project from beginning to end, in this video.) No curb, no tripping hazard. Again, it's an easy change to make in a remodel that ensures ease of use for years to come.
"But won't the water spill into the floor of the bathroom," you ask. Nope. For a curbless shower, your contractor designs the floor to slope at just the right angle, so the water naturally flows toward the shower drain. There's no sense in getting rid of a tripping hazard only to create a slipping hazard, right? An adjustable shower-head, lever handle for water and temperature adjustment, and bench also help to make a shower as comfortable as possible.
Finally, to offer greater stability in the shower and the rest of the bathroom, you can also install grab bars. These make it much easier for you to sit down, stand up, and just steady yourself if you need to. If the look of grab bars is a bit off-putting to you, don't worry. You can have your contractor install necessary supports into the wall for future use. Should you need them in the future, you can purchase grab bars that don't have that "hospital look."
Project by Barbara Grushow Designs, Inc.
Some manufacturers have even added small details and offer various finishes to give these functional features some style. The polished grab bars in the above photo fit perfectly with the style of bathroom without detracting from it.
What Makes a Kitchen Accessible?
It's often said that the kitchen is the busiest room in the house. Even if you're not cooking in it, you're cleaning it. If you're not cleaning it, you're probably gathering in it, for a meal, a coffee with your morning news, or even for a board game or cards. Because of this, there are many ways to make a kitchen more accessible. Again, you can start with the simple changes, such as swapping out knobs for pulls. You can add under-cabinet lighting to brighten up your countertops and make everything easier to see.
For a major accessibility upgrade, you can even mount lifts inside your cabinets that will lower and raise them so you can reach the contents easily. Lifts can also be used for small kitchen appliances, such as stand mixers.
Project by Signature Design Interiors
Ample space under the sink and lift-operated cabinets make this universal design kitchen anyone's dream.
If lifts aren't in the budget or you don't expect to need them, there are other ways to make your cabinets' contents more accessible. For example, you can install drawers instead of lower cabinets or install pull-out shelves inside lower cabinets. This way you don't have to dig through the cabinet and yank that skillet from the back; you can just simply lift it from a drawer. (For information on Wellborn cabinets offered by Cocoon, check out this guide.)
How you remodel your kitchen will depend on your anticipated future needs and how long you want to stay in your home. If you are remodeling to potentially accommodate a wheelchair, you have to design your kitchen with enough space to maneuver and to ensure accessibility to cabinets, appliances and the sink. To that end, you have the same space requirements as a bathroom.
Appliances also have specific ADA requirements with regard to access of controls, amount of force required to use those controls, and easy accessibility to those controls, or reach requirements. A handicap accessible stove, for example, might have French doors or two smaller pull-down doors. The smaller doors take up less space than a conventional pull-down door. However, if you prefer a traditional oven, you can find ADA-compliant ovens with a standard pull-down door.
What Makes a Home Accessible?
As much as you may have loved your home's front porch, the older you get the less you enjoy the stairs that lead to it. Sometimes you can't tell if it's the stairs creaking or your knees. Either way, stairs pose more of a challenge to us as we age. Stairs notwithstanding, maybe you still want to stay in your home, or welcome your parents to your home for their golden years. An accessible kitchen and bathroom are great, but if you or your parents can't get in the front door, those thoughtful designs don't matter.
A ramp makes it much easier for anyone with a wheelchair or limited mobility to get into the house. To be considered ADA accessible, ramps must have handrails at each side and have a slope no larger than 1 inch per 12 inches of run. While ramps can look like an afterthought, as if someone set plywood on the front stoop stairs of a bungalow, they don't have to.
Project by SAGA Construction and Development
The wheelchair ramp entering this tropical home is simple and suits the home's existing style. With the square white spindles on the railing, the ramp even resembles the look of a front porch.
Project by ADABT
Although the ramp into this home lacks the railing to be considered officially ADA accessible, it's still more accessible-friendly than stairs. Its subtle slope also integrates into the architecture of the home, creating a cohesive look.
Style Once and for All Abilities
Whether it's a ramp leading to your front door or a curbless shower, many home improvements can offer you or your parents the accessibility needed for years to come. As you think about remodeling your own home, considering the following changes for greater accessibility:
Make everything within reach, regardless of whether you are standing or sitting. This refers to everything from light switches to towels on a bathroom rod.
Make everything easy to open, close, turn on and turn off. Think in terms of a simple touch, rather than a twist, or a forceful pull or push.
Use materials that require minimal upkeep. In other words, you may not want to install an Italian marble island in the kitchen. It stains and requires regular sealing.
Make sure you have little to no barriers to enter your home or the rooms you use most.
Make sure there is plenty of room to move, through doors, around the kitchen, and all over the house.
Make sure that you have enough light. Add task lighting where necessary and place light switches next to the entrance of every room.
Of course, you may not want or need to incorporate all of these tips. In determining what you should do, consider the physical challenges you or your parents currently face and how those challenges will change over the next several years. With that in mind, you can decide what stays the same and what needs an update.
Whether you know exactly what you want or need help deciding, COCOON can help you design a beautifully accessible home. Contact us today!
This is an image round up post featuring work from various sources. If you do not want your work featured on our blog, please contact us at

[email protected]

. Thank you!