Your family is finally settled. You have lived in the same home for at least a few years. You share spare keys and cookouts with the neighbors. Your commute is short, so you have more time to spend with family and friends or to enjoy your hobbies. You don't have to waste precious free time in traffic. Your kids have developed close-knit groups of friends. Maybe they celebrate wins with the same soccer or Little League team. Or maybe they explore the outdoors with their scout troops. Everyone has taken root.
With growing kids and busy schedules, your home may not live up to your family's expanding needs. Still, you'd rather not transplant yourselves elsewhere. Besides, trying to find a house that suits your family can be just as challenging. A more custom fit may be just what your family needs. Here are some common upgrade requests and creative ways to incorporate them.
Open Up My Floor Plan
Historic homes pepper the suburban Philadelphia landscape. From Phoenixville to Hockessin, Pennsylvanians take pride in the character inherent in these old homes. While the structure of these homes has stood the test of time, they sometimes lack modern function, particularly when it comes to floor plans. Most homeowners prefer an open concept layout where they can see their children play as they cook, and guests can talk freely from kitchen to family room.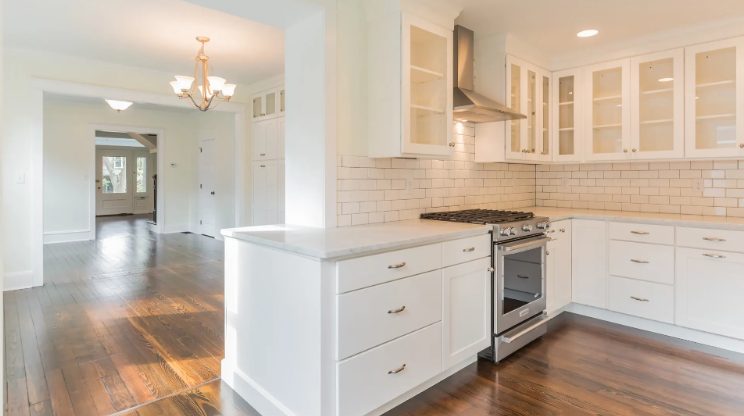 Project by COCOON
This once dingy brick townhome, built in the 1920s, has become light and bright. Expanding the entryways from room to room allows homeowners to see from the front door all the way back to the bright, white kitchen. Where there used to be a three-foot entrance to the family room, the foyer is now completely open to the family room. (Contact COCOON to discover how we can create a new floor plan design for your home.)
More Bathrooms, Please
When your family has to leave at the same time each morning and you have only one bathroom, it may as well have a revolving door, with each family member clocking in at a designated time. While a carefully planned schedule can help when you have one bathroom, you know that schedules don't always stick, particularly with kids.
Someone wakes up late, takes too long to eat breakfast, does homework at the last minute, or like Ralphie in A Christmas Story, decides to solve an Ovaltine puzzle while a sibling pounds on the door. Just a few minutes can throw the routine out of whack. Getting your kids to get with the program can be tricky. A bathroom remodel can fix your frenzied mornings.
These reimaginings of existing spaces show how to make use of what you have. Underused spaces, whether closets or small bedrooms, can be transformed into a much-needed bathroom. Project by N Sabella Inc.
If your master bathroom has two walk-in closets, one could be converted into a bathroom, such as this one. The white walls, expansive mirror, and floating vanity create the illusion of more space in this efficiency-sized master bathroom.
Project by John Rogers Renovations, Inc.
What once was a closet is now a modern, rustic powder room. Even though it's not a full bath, this bathroom still offers the family plenty of extra space to get ready.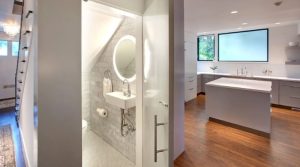 Project by Hugh Jefferson Randolph Architects
With insufficient ceiling height for a light, a dual-purpose vanity mirror illuminates this powder room. The small-but-proportionate sink leaves space to freely move in and out of this clever use of space.
How About Something Just for the Kids?
Just because you love your family doesn't mean you don't need your own space. The same goes for your kids. The littlest ones in your family often have the most stuff. From adoring grandparents to doting aunts and uncles, everyone makes sure your tots have everything they could want on birthdays and holidays. While you are happy for the extended family love, you may not be thrilled with all of the stuff. Where do you put it?
Meanwhile, tweens and teens want space to hang out with friends, to watch TV, play video games, or even play ping pong. For parents, it's nice to be able to give them that space and to have a home your children and their friends feel comfortable in. Project by Prudhomme Design & Interiors
What child wouldn't love to be tucked into these cozy nooks? This sprawling attic is both playroom and bedroom. The built-in storage leaves room for more toys and more room to play.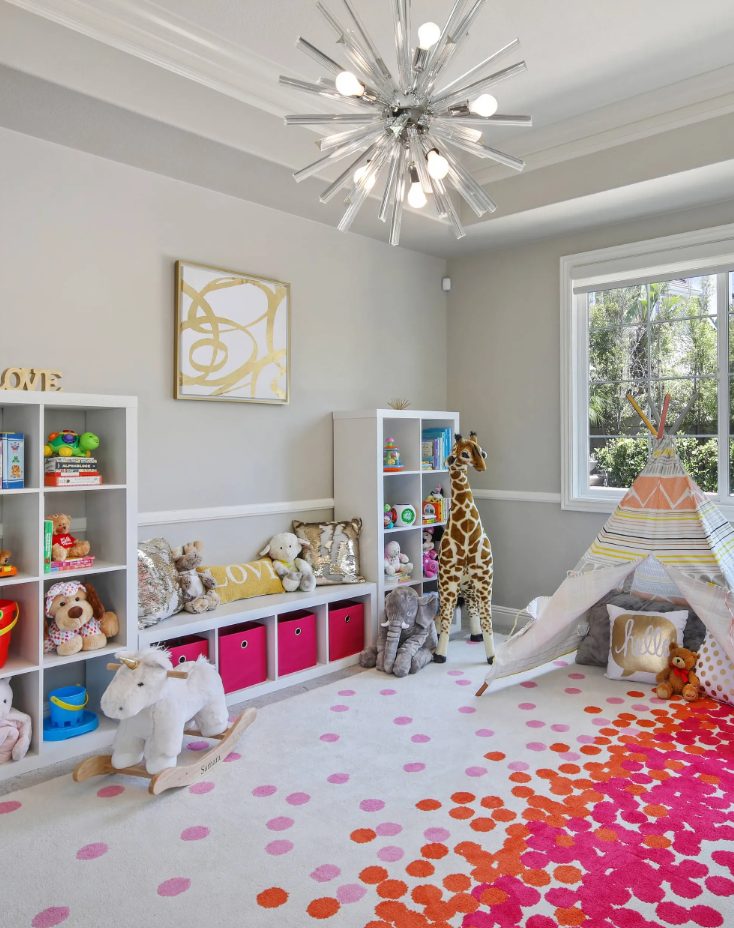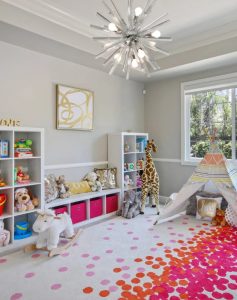 Project by Built-In Style
With some pops of color and practical storage, a formal living room can transform into a lively playroom.
Now That's Entertaining!
If you would rather host a party than always be the guest, you may want to add a renovation to your to-do list. The most functional places to add space for entertaining are the kitchen and basement.
Kitchens
Whether you're hosting a book club or doing some holiday entertaining with family, everyone seems to hunker down in the kitchen. Of course, you can't blame them. It's where the food is. But maybe you wish you had a bit more space for everyone to spread out. That's where a kitchen remodel comes in. Project by Main Street Design Build
With the removal of a wall and the construction of a small addition, this eat-in kitchen opens up to include ample island seating and plenty of storage.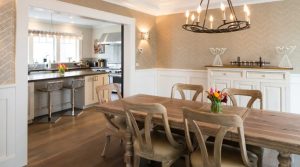 Project by Atrium Design Group
Wide entryways give homeowners an ideal vantage point in the kitchen. Window nook seating provides a casual space for breakfasts and lunches, while the sizable dining room engages guests for more formal affairs.
Basements
If you've ever wanted to host a neighborhood poker night or invite your buddies over for the big game without leaving your home, add entertaining space. Crowding everyone into a kitchen for a poker game that goes late into the night is probably not ideal. Noise travels fast from kitchens to bedrooms.
Game days in the family room get cramped as well. The room that works for your family feels claustrophobic for 10 adults. Plus, there are never enough chairs. You cluster folding chairs and kitchen chairs next to couches and loveseats, but you always feel bad for the people stuck in those chairs.
Basements offer ample space, often unused, for just this purpose. A basement remodel is a no brainer to add entertaining space. Basements are the perfect place for watching games or playing them, even for adults.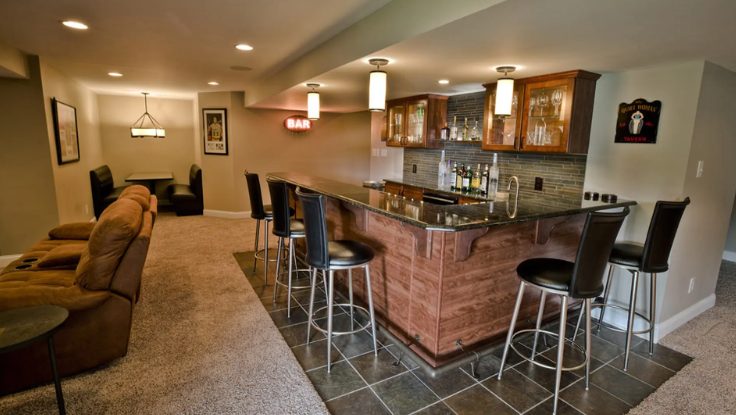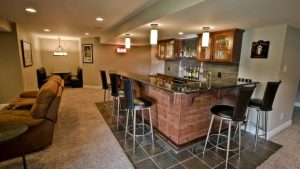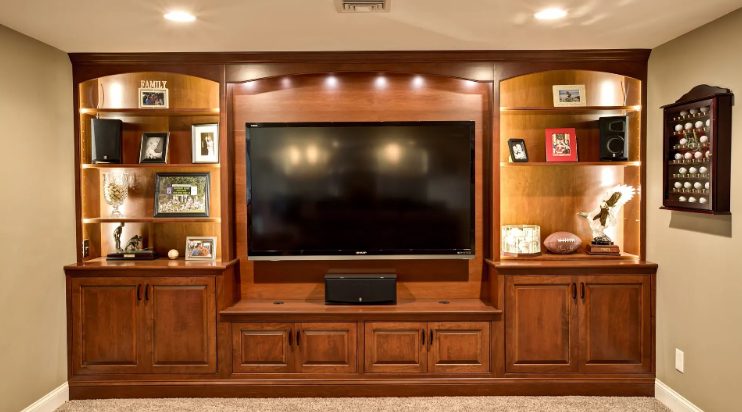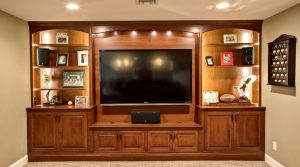 Project by COCOON
With plenty of seating at the bar or the couch, this basement sports bar in West Chester welcomes all your friends on game day. A mini fridge and wet bar enable homeowners to stay with their guests and the action, rather than hustle upstairs to the kitchen for extra food and drink. Its warm palette makes for a cozy movie night as well. Project by Knight Construction Design, Inc.
Whether your guests sit at the couch or the card table, they'll have a great view in a basement like this. The combination of dark woods and light walls balances the design and keeps the basement from feeling too cave-like.
Oh So Suite
Do you want your sister in California to visit more often? Would you prefer to have your parents to live with you rather than on their own? Adding a guest suite or even a guest bedroom to your home is a practical solution. There are so many ways to do it. A finished basement can add both entertaining space and a guest suite. Space above your detached garage or an addition can provide independent living as well. (Learn how to plan the perfect in-law suite and find some inspiration for one, too.)
vertical-construction-group-design-build-remodel-family-home-cocoon-guest-suite-living-area
vertical-construction-group-design-build-remodel-family-home-cocoon-guest-suite-bedroom
vertical-construction-group-design-build-remodel-family-home-cocoon-guest-suite-bathroom
Project by Vertical Construction Group, LLC
Complete with recessed lights, a dry bar, and media storage, this basement offers extra living space, while the bedroom and bathroom round out the suite. Short-term guests might become long-term guests here.
coastal-signature-homes-group-design-build-remodel-family-home-cocoon-guest-suite-bedroom
coastal-signature-homes-design-build-remodel-family-home-cocoon-guest-suite-kitchen
coastal-signature-homes-design-build-remodel-family-home-cocoon-guest-suite-bathroom
Project by Coastal Signature Homes
This charming guest suite rests above a garage. (Check out more gorgeous garage renos.) A kitchenette, a small dine-in area, and a full bath provide complete privacy for visiting friends and family. The white board-and-batten walls and washed blue floors reflect the home's seaside location and infuse this suite with calm.
Home Goal #1: Love Your Home Again
When you first bought your home, you may have thought it was perfect, or near perfect at least. Any flaws were overlooked or fixed shortly after you moved in. You probably didn't imagine the life changes that would affect how you lived in your house.
That doesn't mean you can't still love your house. You upgrade your car and your TV. Why not your house? The design build team at Cocoon can help you reimagine the old space you loved into a new space you'll love even more. Contact us today to learn how we can transform your home.
This is an image round up post featuring work from various sources. If you do not want your work featured on our blog, please contact us at [email protected]. Thank you!