When you take the leap into home ownership you do it for many reasons. One of the main reasons is to have a space of your own. Your walls aren't borrowed from a landlord, so you can paint them, hang wood trim, and generally do whatever you choose. In a home, you no longer share your walls and floors with strangers. You can go to bed as late as you like or wake as early as you like without fear that your footsteps, music, or TV might disrupt your neighbors.
Your lifestyle typically changes over the years, however, and with it, how you use your house. New jobs, new family members, or returning family members such as aging parents, change schedules and alter priorities. Your house may not fit you or your family anymore. Whether your family is busting your home at the seams or you wonder if there's an echo in your home now that all the children are gone, you have the same question as The Clash, "should I stay or should I go?" Or more specifically, you wonder, "should I move or remodel?"
If you've been asking yourself the same question, you're not alone. It's a popular predicament. It's why TV shows chronicle homeowners in this exact situation. There are pros and cons to both moving and remodeling that are similar for everyone. It's how you weigh them against your personal preferences that makes all the difference.
Pros of Moving
Beginning Anew
You may want to wipe the slate clean. Moving is a fresh start, a chance to grow in a new space that is conducive to your current lifestyle.
Turning a Key
You can take your time finding a move-in-ready house. New or renovated houses often feature large open floor plans with new kitchens, new baths, and gleaming floors. Building and renovating are already done. You simply turn a key and move in.
Saving Money
Spending less on a mortgage or property taxes may motivate you to put up a for-sale sign. If you're downsizing, you could be downsizing your mortgage and property taxes. If you live in a downtown area close to shopping, parks, and restaurants, you're probably paying for it in property taxes. Moving to a quieter community could lower your property taxes.
Cons of Moving
Saying Goodbye
There goes your neighborhood! For many people, the thought of relocating to a new neighborhood, even for a better house, deters them from selling. Their neighborhood still suits them. Uprooting yourself and your family can require social flexibility and open-mindedness about a new community. It takes some time to get used to.
Spending More Money
Home buying costs a good chunk of change. In the short-term, you pay realtor fees of about 6 percent, closing costs, property taxes, and a down payment for another home. Unless you have a lot of strong friends and family, you can add movers' fees to the list as well. Finally, if you're upgrading to a larger home you may pay a heftier mortgage as well.
Settling for Someone Else's Home
It's a struggle to find a home that's everything you want. Home design is personal. Often, unless you build a custom home, you have to compromise. Even if you find a home with the perfect layout, it could have other less-perfect features. It could have a smaller yard, require a longer commute, or have an unfinished basement. What's more, you may still be stuck with someone else's style in the kitchen or bathrooms, a prospect that makes moving a bit less exciting. You could end up spending money on new home upgrades anyway.
Packing
You may not have to live in a construction zone, but you do have to live in a land of boxes for a while, both in your old home and new. Cooking becomes a challenge as the kitchen goods get wrapped up and stored for moving day. Unloading boxes is a slow process, which makes cooking those first few meals a tricky as well. You can get stuck hunting for a spatula when you just want to fix dinner.
Showing Your Home
Even if you're a clean freak, maintaining a show-ready home on a regular basis takes its toll. Beds must be made, counters cleaned, and furniture dusted. You may get two days' notice for a showing or two hours. As reluctant as you may be to take on the short-notice showings, you're probably even more reluctant to risk losing a sale. You're compelled to sell, so you say yes. To that end, you have to keep your on-the-market home spic-and-span.
Timing the Market
They say that timing is everything. When it comes to real estate, the saying holds true. If you have lived in your home for a few years, you probably hope to sell your house for more than what you paid for it. Unfortunately, your opinion does not guarantee a certain selling price. The real estate market determines your home's price and how easily you can sell your current home.
It may be a good time to move and it may not. Interest rates and the public's overall mood about the economy can affect home prices. Even if you keep your finger on the pulse of these broad indicators, be sure to get a local take on your market as well. Phoenixville and Media may trend differently than West Chester and Modena. A trend in the wrong direction could put a snag in your plans, forcing to postpone selling or sell at a price lower than you anticipated.
Pros of Remodeling
Staying Put
It's all about location, location, location! This is a no-brainer. You don't have to get used to a new neighborhood and new routines. Life is the same as it ever was.
Making It Custom
You can redesign your own home, specific to your style. Even big, beautiful homes may have some features that clash with your preferences. If you prefer a white kitchen, then stained cherry cabinets may dampen your excitement about a house. With a home remodel, you make all of the selections, creating a look that is custom for you. From flooring to finishes, you help bring your ideas to life. (Contact COCOON to find out how we can create a space unique to your family.)
Improving Home Value
Once your home remodel is complete, the value of your home increases. When you do decide to sell, that extra bump in price will help finance future endeavors.
Saving Money
Even though you may get sticker shock at seeing the price tag of a remodeling project, you should also consider the price tag of a new home. This rings true particularly if you want more space. While a larger home offers more room, it's not without extra cost, both in a down payment and a monthly mortgage. Remodeling costs may look better by comparison.
Cons of Remodeling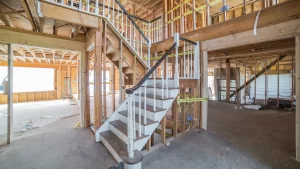 Living in a Construction Zone
There's no way around it. Living through construction can be hard, particularly if you work from home. The crews often work long, loud hours. You may have to avoid certain rooms during the process, which can alter your daily routine. This is particularly true if you're remodeling a kitchen or bathroom.
Waiting
Even the best architects and designers can't predict what's behind your walls. Surprises such as rotting wood or inferior wiring can push back the original timeline. Even when you know you will love the outcome, you just have to sigh when you hear that it's going to take longer than expected.
Upgrading Slowly
If you have more than one remodeling project you'd like to tackle, you may have a long road ahead. Not only is it difficult to afford more than one major project at a time, it's difficult to live in the house if more than one project is going on. You may have to pace yourself achieve all your home goals.
Your Personal Pros and Cons
The pros and cons above vary depending on your unique situation. If you are considering a move or remodel, you already know you want a change. You want your daily life to improve. You have to consider which changes you might welcome and those you would prefer to avoid. Changes affect your family, friends, and financials. Here are a few questions you can mull over to help you figure out what is most important to you.
Family
Do you plan on having children or inviting parents to live with you in the near future?
If your children are in school, how much do they enjoy their school? Are they open to a new school district?
How does your home's current design affect your life and your children's lives? What would you change about it?
What is your commute? Would it improve or worsen with a move?
Friends
How would a move or remodel impact your relationships with friends?
Would you have more friends over if you had more space?
Would you be farther or closer to friends if you moved?
Do you like your current neighbors?
Financials
How would you pay for remodeling? Would you use cash from savings, a home equity line of credit, or a combination?
Do you have enough money for a 20% down payment, or would you have to borrow more and pay mortgage insurance?
Should you save more over the next few years to pay for a move or remodel?
Moving Forward
Whether you decide to move or remodel, you are going to put a good sum of money on the line. You want to be sure that you've done everything possible to ensure that you made the right decision. By reviewing the pros and cons, and asking yourself and your family questions, you can weigh the costs and benefits of each scenario and decide what's right for you. Ultimately, the right decision will just resonate with you.
If you want to renovate the house you're in or think you'll need to make some updates to a house you've got your eye on, the design build team at COCOON can help you achieve your home goals. Contact us today to discover how we can transform your house into a home. From our first meeting to the final walk-through, our remodeling process keeps you informed, involved, and at ease.