You don't want your home to linger on the market. Not only will you have to decrease your price the longer it sits, the more potential homebuyers begin to wonder, "What's wrong with that house?"
If anyone makes this face inside or outside your home, it's probably time to remodel for resale.
Whether you plan on moving in the near future or it's not even on your radar, you should keep in mind that remodeling can increase the resale value. A home renovation can update your home, maintain your home, and even enlarge it. Your home becomes newer, better, and, sometimes, even bigger. And what homebuyer doesn't want a newer, better and bigger home?
From first impressions on the outside to what's on the inside, here are five areas to consider remodeling for resale: the master bathroom, the exterior (including siding, windows, doors, deck, and porch), the kitchen, the basement, and the floors.
1. Remodeling for Resale: Master Bath
Kitchens and baths sell homes, especially master baths. Master baths have gone from being functional, get-ready-in-the-morning spaces to full-on, in-home retreats. While homebuyers appreciate basics, they love—and pay for—luxury. Even if your space is clean and well-cared for, it won't wow buyers. It's worse if your bathroom is stuck in a dead decade. Still have carpet in your master bath? (Yes, that weird trend did exist.) It's time for a change.
In addition to removing odd flooring choices, you should ensure that your master bath remodel makes your room functional, open, and beautiful.
Add Function
For functionality, proper storage and good lighting are a must. Consider adding recessed lighting in addition to vanity lighting. Not only does it make the space feel bigger, it makes it easier to simply get ready. It's easier to find your aftershave or serum in your cabinet if your entire room is illuminated, not just your mirror.
Speaking of cabinets, proper storage is a must in a bathroom. Between medicine bottles, towels, and cotton balls, there is so much to store in a bathroom. Ample and well-organized storage keeps your counters clutter-free.
Open It Up
A clutter-free counter is also more conducive to an open feel, as are light colors, generous lighting, large-scale tiles, and glass shower doors. Light paint and tile colors reflect more light than darker colors, creating an airy feel. Likewise, abundant light offers a similar effect. Large-scale tiles, meanwhile, broaden the visual plane. Your eyes do not have to stop, so to speak, at every break in the grout. Finally, glass shower doors open up an entire bathroom. Your eyes would stop at a curtain, making the bathroom seem a bit smaller than it is; on the other hand, you see straight through the glass. You see more of the room, so it feels larger. (Be sure to check out these space-saving tips for small bathrooms.)
Create Beauty
Of course, function and space don't matter as much if the bathroom is not beautiful. Because beauty is subjective, a neutral bathroom renovation might be your best bet if you want top dollar at resale. That being said, neutral does not have to mean dull. White subway tile is neutral, but also trendy. It is a favorite design choice in many modern bathrooms, but it has been around for more than a hundred years. It can be modern or traditional, and acts as a canvas for bolder features in a bathroom. That's something even the finickiest of buyers appreciate.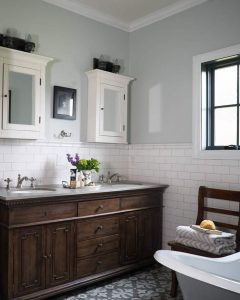 Project by Karr Bick Kitchen and Bath
Though this bathroom is color-neutral it's not style-neutral. The white subway tile in this bathroom provides a clean backdrop to the stately vanity and gray, patterned floor.
2. Remodeling for Resale: Curb Appeal
Maybe you shouldn't judge a book by its cover, but let's face it, buyers definitely judge a house by its "cover." Updating your siding, doors, windows, and exterior living spaces (deck, patio, and porch) ensures that your house will be judged positively.
Siding
Your siding is your home's wardrobe. If you have wood siding or vinyl siding, make sure it's clean, and that any worn materials are repaired or replaced. Fiber cement siding is a great alternative to vinyl and wood. It's less likely to warp and more resilient to surface damage, such as hail. It also comes in variety of options that mimic the look of real wood, such as cedar plank lap siding or even wood shingles.
Project by Ridge Creek Custom Homes
The shingles on this home are actually fiber cement board. They offer Craftsman style, without the high maintenance of wood.
Doors
Once your home's siding is in good shape, you can focus on the details, such as the front door. A fresh coat of paint in a classic black or a pop of color, like red, is an easy way to make your home stand out from its neighboring competition. It's also a good idea to replace flimsy or warped screen doors that have seen better days. Potential home buyers should be able to enter your home easily, without yanking doors or listening to squeaks.
Project by Tim Barber Architecture
A clean look is always in style, as shown in this classic black and white home. Note too, the impeccable care taken on the porch stairs and columns. This home makes a great first impression.
Windows
Windows are a high priority for anyone seeking maximum energy efficiency. The more energy-efficient your home, the lower your utility bills. According to the Department of Energy, heat gain and loss through windows accounts for 25-30 percent of home energy use. Windows, like appliances, have Energy Star ratings. Review them when shopping to get the most efficient windows for Chester County's cold winters and steamy summers. The Efficient Windows Collaborative offers a handy selection process for replacement windows. If replacing all your windows is too much for your budget to bear, you can still make them more efficient with new caulk and weatherstripping.
At the very least, your windows should be in good working order. Upper panes of double-hung windows shouldn't slide down when the bottom pane is open. Casement windows should swing open easily; cranking them open should not be a part of a strength-training routine. Wood sills should be clean and free of rot. Vinyl windows should not be warped. Investing in these more minor repairs will help yield stronger offers on your home.
Deck, Patio, and Porch
Your outdoor living areas are an extension of your indoor square footage. Make sure they are usable. As with siding, doors, and windows, outdoor areas require maintenance, particularly wood. Take a look at your deck. If you can't walk barefoot on it for fear of splinters, it's time for an update. Depending on the damage, you may have to replace some boards and reseal the whole deck, or tear it out entirely.
Either way, it's important. You want buyers to envision themselves having a barbecue on your deck, not calculating the amount of money they have to pour into a new deck. If you have a patio, do the same. Do you have cracks in your stone or concrete? Unless you are trying to sell to flippers, get it fixed. If you really want to wow buyers, you could also consider adding a feature such as a pergola or a fireplace.
As for a porch, a fresh coat of paint does wonders. Make sure your posts, spindles, and floor are free of peeling paint and certainly of rot. Beyond maintenance, you can make your porch more inviting by adding a wood plank ceiling, complete with fans or recessed lights. The porch on the Craftsman-stye home above is well-lit and welcoming, a truly livable outdoor space.
Project by Emeritus
Although this deck is straightforward in design, it's a welcoming gathering place for both current and future homeowners.
While you spend most of your time inside your home, you can't forget about the outside. A well-manicured home shows buyers that you've taken care of the home, and they are willing to pay more for that.
3. Remodeling for Resale: Kitchens
If entering your kitchen is like entering the land before Twitter time, it's time to update. If you have been putting it off, it's no wonder. Kitchen remodels require considerable construction. That being said, they should. Kitchens are the heart of the home and the busiest room in the house. It's why they say, "Kitchens and baths sell homes."
Like a bathroom remodel, a kitchen remodel should make your home more functional, open, and beautiful. It should have ample and proper storage, provide room to move freely, and be the showpiece inside your home. Organized drawers, cabinets, and pantries, as well as task lighting, enhance your kitchen's functions. An island or peninsula not only add function, but they also create a space conducive to conversation and free movement. In addition, well-placed recessed lighting brightens the space, as do light paint and tile colors. Open shelving in lieu of upper cabinets can also help a kitchen feel more open.
Finally, as with every kind of home remodel, beauty is in the eye of the beholder. What makes a kitchen beautiful to you, may not be the same for a potential buyer. If you want to ensure better resale value, you should probably go neutral in your selections. Again, neutral does not have to mean boring. Transitional styles, for example, have broad appeal but are not void of interesting elements.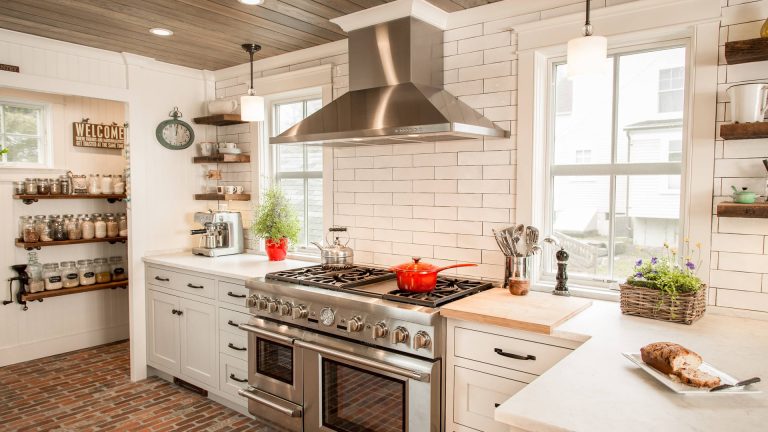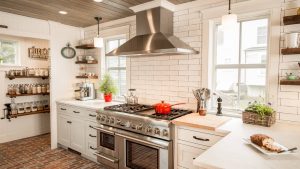 Project by Covenant Kitchens and Baths
This neutral kitchen surprises with a brick floor and a washed-wood plank ceiling. These textures and soft tones add a rustic element to the clean, white Shaker cabinets and tile. The ample natural light and open upper shelves also add an airiness to this small, galley kitchen.
4. Remodeling for Resale: Basements
Finished basements are a major selling point for families. Where do little kids run around when the temperature is below freezing in Chester County? A basement. Where do teens hang out with friends to play video games or watch TV on a lazy Sunday afternoon in Montgomery County? A basement. While a living room can be made into a playroom, it's not the same as a finished basement. Ask any mom.
A finished basement adds at least 25 percent more livable square footage to a home. While you can go all-out—think home theater or sports bar—you don't have to. Finishing a basement is also a less-intrusive renovation project than a kitchen or bath remodel, and it's a bit easier as you generally are not picking cabinetry, fixtures, tile, or countertops. Main selections are limited to paint, flooring, and ceiling tile (if you choose that over drywall)—the basics. If you have thought about finishing your basement, just do it.
5. Remodeling for Resale: Floors
Unlike a fine wine, carpet does not get better with time. If your carpet has "character," it's probably time for new carpet or different flooring. Even if your walls have fresh coats of beautifully neutral paints, they can't save the dinginess of an old carpet, and neither can carpet cleaning. New carpet gives buyers that new-home feel, adds comfort under foot and just looks better.
If it's in your budget, hardwood floors or wood-look laminates really command buyers' attention. They're durable and easy-to-clean. Plus, they don't trap allergens like carpet. For families who deal with seasonal or pet allergies, hardwood or laminate flooring is a major selling point. With 50 million people suffering from allergies each year according to the Asthma and Allergy Foundation of America, it's worth considering hard flooring when remodeling for resale.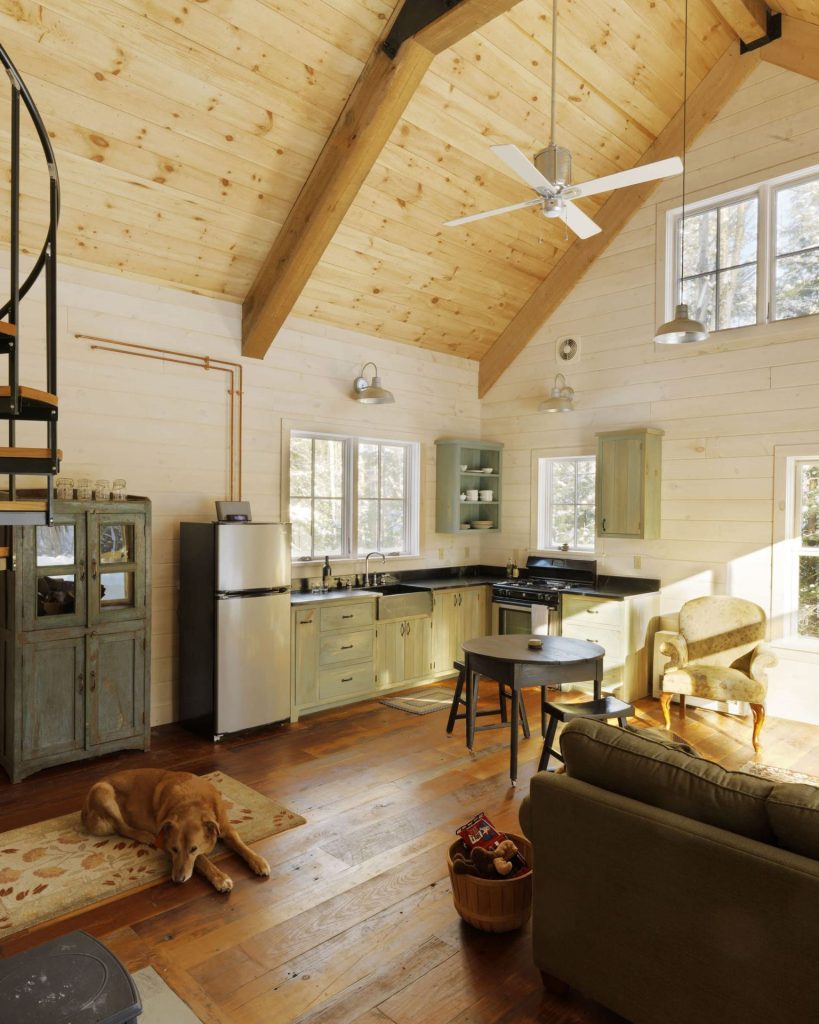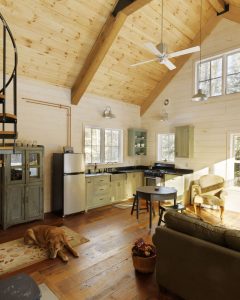 Project by Joan Heaton Architects
The plank floors in this cabin won't trap Fido's fur like carpet would, but you still may need a hand vac.
Improve Your Home, Increase Its Resale Value
Of course, you probably don't want to remodel simply to sell your home. But selling is something to keep in the back of your mind when you are remodeling. For example, maybe it's better to add a pop of color to your kitchen island rather than all of your cabinets. Likewise, in a bathroom, you can use bright blue tiles as a border in your shower rather than on the entire shower wall. You want to show buyers that they're walking into a beautiful home that's been cared for, not a home that's a project.
If you know your home needs an update, contact COCOON today. Our design build team can walk you through options for bathrooms, kitchens, and living spaces.
This is an image round up post featuring work from various sources. If you do not want your work featured on our blog, please contact us at

[email protected]

. Thank you!