In Pennsylvania, and in particular the Philadelphia area, we're lucky enough to have more than just revival style homes that became popular in the 20th century, but homes from the Colonial era itself. They are rich in history and character. But these Colonial homes and other historic properties don't have to be museums, decorated with untouchable artifacts and uncomfortable furniture. You can create a space that honors your older home's architecture and history, while also making it livable for you today.
Architectural Design Tips
Whether you want to build an addition or do an exterior renovation, you should consider the architectural style of the home. (Don't know the style of your home? Check out our post on American home styles.) Knowing the basic architectural elements of its style will help you maintain a cohesive look on the home's exterior. (Plus, here are a few more tips on constructing a seamless addition for your home.)
Roofline
If you're building an addition, you will have to consider the type of roof your original home has. Is it a Queen Anne Victorian with a crossed-gable roof? A Colonial with a gable roof? Or a Craftsman with a subdued pitch? If you don't know you should work with an architectural designer who does. (Contact COCOON to discuss home additions.)
When you think about an addition, you probably think more about the function of the room than the roofline. And who can blame you? Envisioning parties in your new game room or family movie nights in your own home theater sure beats thinking about rooflines. But you should, and here's why. If your new roofline does not match your current one, your addition is going to look off. Every time you pull into the driveway, you'll notice. (And your neighbors might notice too.)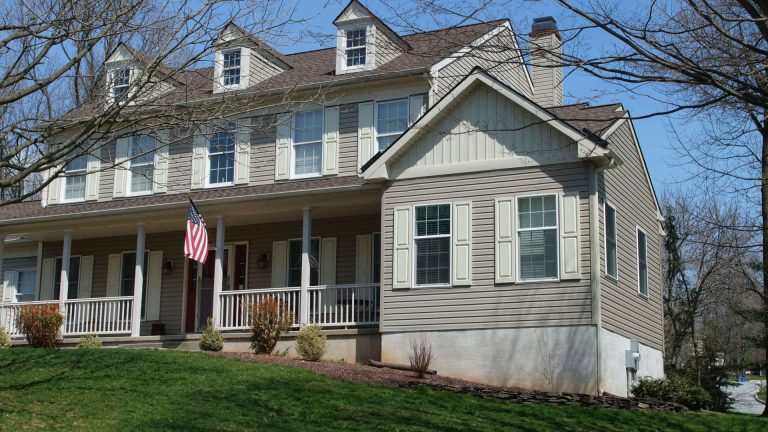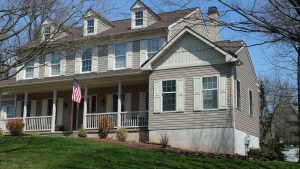 Project by COCOON
Siding
Whether you're constructing an addition or doing an exterior renovation, you'll also want to think about siding. With siding, you have quite a bit of choice. All home styles incorporate a variety of exterior building materials, including wood, stone, brick, and stucco. If your home has a few types of materials, you should ensure that the colors complement each other. For example, if you have a brick or stone facade in front, the siding on the rest of the house should pair well with the color tones in the brick or stone. To ensure complementary colors, match the siding with the mortar.
Windows
Windows are also an important exterior architectural detail to consider. Most historic houses have double-hung, multi-paned windows. The exception is a Tudor revival, which may have a combination of double-hung or casement windows, sometimes with diamond muntin. (Muntin is the wood between the panes of glass.) Colonial homes, Cape Cods, and Victorian homes traditionally have 6 to 9 panes of glass in each window. Craftsman homes often have multi-paned windows on the top and solid glass on the bottom. (This detail can also be found on the doors of built-ins in Craftsman homes.) Shutters, regardless of architecture, are often optional. It's not uncommon to forgo that detail. Doing so does not detract from the style of the home.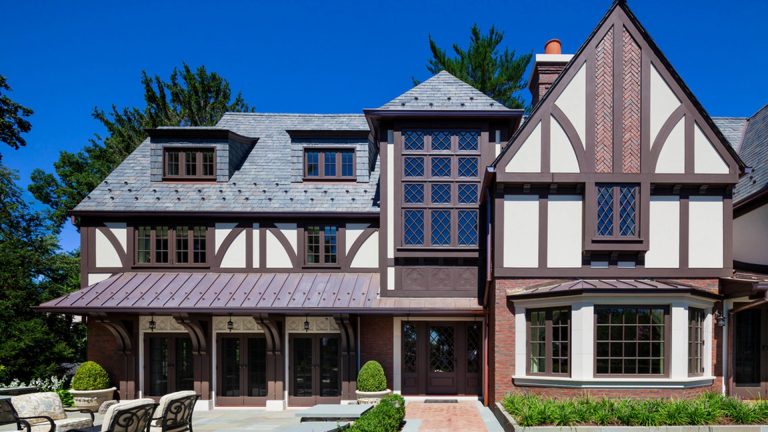 Project by Birdseye Design
This Tudor revival style home has multi-paned casement windows as well as windows with traditional diamond muntin.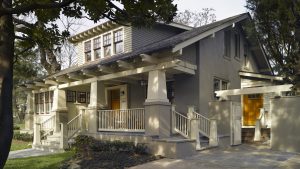 Project by Moore Architects PC
This renovated Craftsman highlights many elements of this style, including the multi-paned top windows.
Interior Design Tips
Coordinating the interior design of your historic home with its exterior creates a cohesive look. Aptly appointed fixtures, woodwork, flooring, and tile add character and establish visual harmony between the exterior and interior. When choosing selections for a home restoration, you should consider the color of metal fixtures and wood stains, as well as shape and design.
Fixtures
It can be hard to determine what kind of fixtures to choose if your home was built prior to electricity and indoor plumbing. After all, plumbing and electric fixtures did not exist in Colonial or even some Victorian homes. To get a clue as to the type of fixtures you need, examine your door and window hardware. In Colonial-era homes, such as Georgian Colonial homes or Cape Cods, iron was often the metal of choice. Complementing your Colonial home with the matte black of iron lighting and plumbing fixtures can give your home a look true to its era. Easy-to-find oil-rubbed bronzed fixtures can also lend the same period look.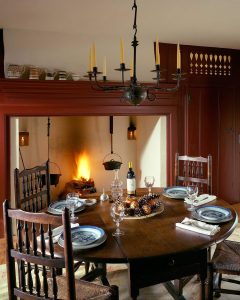 Project by John Milner Architects
This simple iron chandelier is consistent with the era of the home. Its design is mostly functional, with the exception of the scrolls at the base.
If you are about to embark on a Victorian house renovation, start perusing catalogs and websites for brass or brass-plated hardware. Homes from the 19th and early 20th centuries, such as Victorian and Craftsman, often have brass or brass-plated hardware. Antique hardware from this era reveals perfectly aged patina with wear that highlights the design. In your search for fixtures, you may also find fixtures that are silver-plated or chrome, though less often than brass.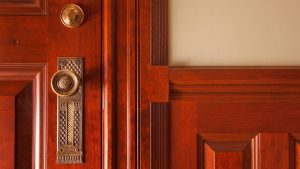 Project by SV Design
Leave it to Victorian craftsmen to create a doorknob with such striking detail.
In addition to the type of metal or color of the fixtures, you'll also want to consider the shape. For example, you're probably not going to install a square faucet in your kitchen. It would be too modern. Consider items like antique candelabras to get a sense of metal shapes conducive to the period of your home. Then you can find fixtures that mimic that same design.
Woodwork
People often buy old homes just for the original woodwork. While there is much to love about newer homes, kit homes and mass-produced homes of the late 20th century often just don't compare. Substantial baseboards, crown molding, built-ins—and wainscoting and tray ceilings if you're lucky—are the definition of old-home character. If you're constructing an addition, renovating a room, or a whole house, how do you still reflect the era of your home?
Pre-WWII homes were adorned with medium- to dark-stained woods throughout, particularly in Victorian, Craftsman, and Tudor homes. Trim, doors, and moldings in Colonial renovations often include subdued colors, such as the molding around the fireplace, as in the picture above. Whether painted or stained, the woodwork adds warmth to the home. The stains also reveal the character of the wood.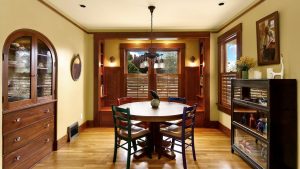 Project by Bellingham Bay Builders
Stained window moldings, a built-in China cabinet, and a window seat embody Victorian character.
As with fixtures, you'll also want to consider the shape of the woodwork. Board-and-batten, bead-board, and paneled wainscoting are found in many types of historic homes. Spindles on a Craftsman, Cape Cod, or Colonial staircase tend to be simple, either square or round with minimal detail. Spindles on a Victorian are much more ornately cut.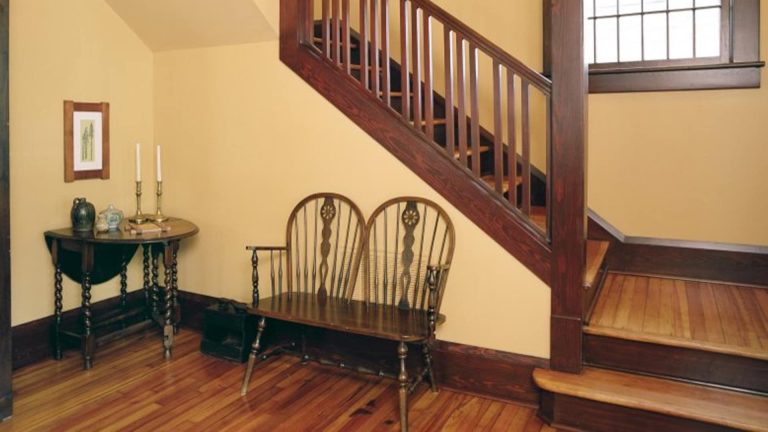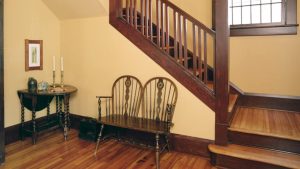 Project by DLM Builders
The clean-cut spindles on this staircase exemplify Craftsman architectural style.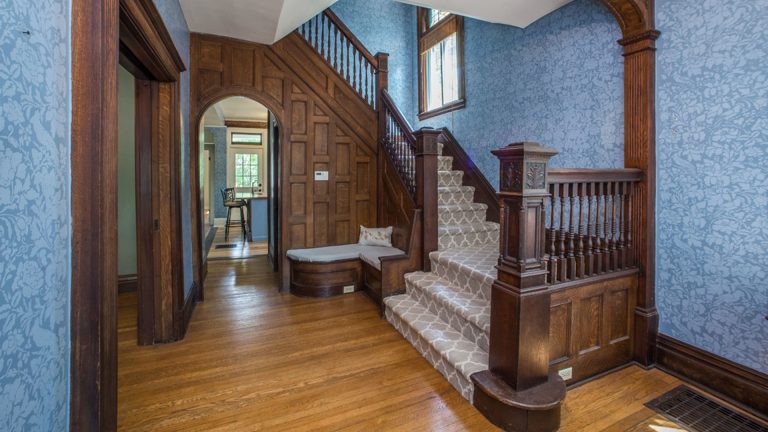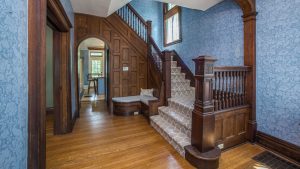 Project by Designed to Sell Homes
Contrary to the simple square shape of the Craftsman spindles above, these carefully crafted spindles are ubiquitous in Victorian homes.
These styles can carry over into kitchen and bathroom cabinets as well. Shaker cabinets easily suit a Craftsman or a Cape Cod. Recessed- or raised-panel cabinets with more detail befit a Victorian.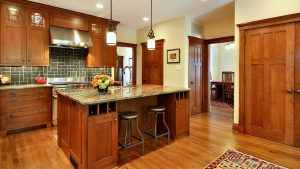 Project by Brooke B. Sammons
Deep, honey-toned Shaker cabinets show off the natural beauty of the oak in this Craftsman-style kitchen. Project by COCOON
Flooring and Tile
Flooring in almost all older homes is wood. As with the rest of the woodwork, it was typically a medium to dark stain. Tile, on the other hand, was generally not in Colonial-era homes. As indoor plumbing became available and bathrooms became part of the home, subway tile became commonplace on the walls of bathrooms, while smaller tiles, such as hexagon, penny, or basketweave patterns covered the floors.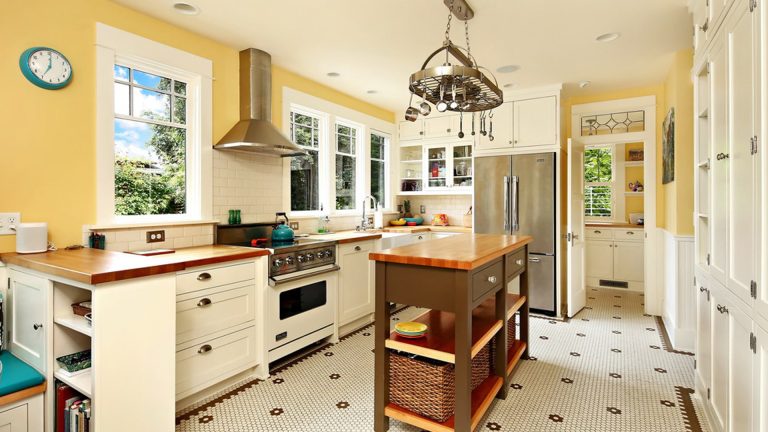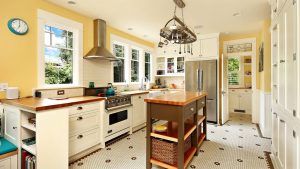 Project by Bellingham Bay Interiors
While homeowners of this Seattle Victorian opted for the ever-popular, white Shaker cabinets in their kitchen, they did choose a classic tile style. Note also that they incorporated a transitional kitchen with the traditional stained woodwork shown in the dining room above. New and old design styles can complement each other as long as the contrast between the styles is not too stark.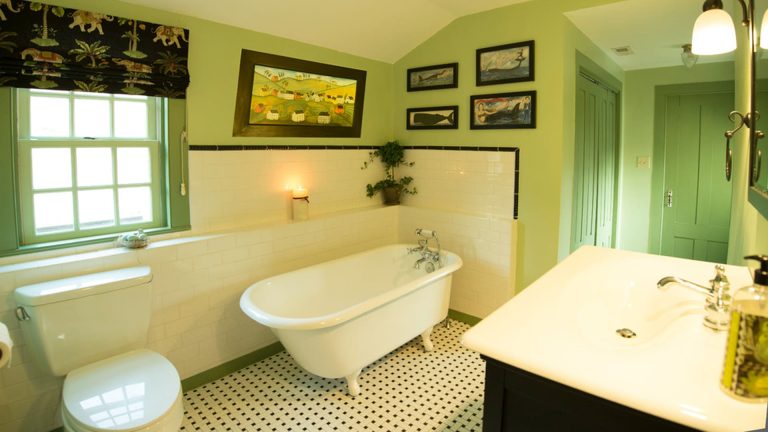 Project by Cummings Architects
Though clearly not original to this 1686 Massachusetts home, this bathroom reflects a historic aesthetic with the black-and-white basketweave tile and the clawfoot tub.
Construction Tips
With age comes wear and tear. The older your home, the more wear and tear it's seen. Sometimes we see it, such as layers of flooring or old, energy-inefficient windows. Whether you're starting a home remodel of a Cape Cod or an old farmhouse renovation, you have budgeted for fixing the problems you see.
Wear and tear is not just on what we see, but also on what we don't see. Surprises often lurk behind the walls. As anyone who has done it will tell you, renovating old homes always comes with surprises. Problems can arise with electrical wiring, plumbing, and the home's foundation or structural supports. To that end, it's worth setting aside some contingency money in your home renovation budget to resolve unforeseen issues.
Wiring
In older homes, electrical upgrades were sometimes made as needed and only to portions of the home. Taken as a whole, the piecemeal wiring system does not meet code and sometimes poses fire hazards. (Wondering if your home's wiring is up to date? Check out It's Electric for more info.)
Plumbing and Leaks
While pipes often last decades, if they are too old, the pipes are often worn and sometimes leak. If left for too long, pipe leaks not only damage ceilings and walls but can foster mold growth and weaken wood support beams. Of course, pipes are not the only leak culprits. Roofs and worn window seals can let in water as well, causing similar problems.
Foundation
Finally, it's important to ensure the structural integrity of the foundation in an old home. Small settling cracks are normal but be cautious of larger cracks in walls. Sloping floors are of course a dead giveaway of a foundation problem, but windows and doors that do not close properly may also signal a compromised foundation.
These are not unsolvable problems, of course. Just keep in mind that patience, proper resources, and good-old-fashioned-elbow grease go a long way in a home's historic preservation.
Renew the Old
If you bought an old home, chances are you bought it for the character. Maybe you loved the wide-plank wood floors and stone exterior of your Colonial-era home in Montgomery County. Maybe you loved the deeply stained soaring staircase of your Victorian in Newtown Square. Whatever the reason you bought it, you now live in a home with a bit more personality.
Also, chances are that your older home has some "personality traits" that you could live without. Previous owners of bygone eras may have left their mark on your home as well. Perhaps you have layers of vinyl in the kitchen, bathroom fixtures in harvest gold, or a sagging front porch. Though your home's original character is still visible, a hodgepodge of less-than-desirable design choices and old-home wear and tear might be visible too.
A home renovation may just be what it needs. Contact COCOON to find out how we can restore and renew your old home. Our team of architectural and interior designers can preserve the character of your home and create a beautiful, yet functional space conducive to your needs.
This is an image round up post featuring work from various sources. If you do not want your work featured on our blog, please contact us at

[email protected]

. Thank you!