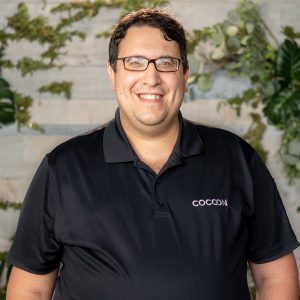 Aaron came to COCOON with a background of over 20 years of experience in residential design build architecture. Born and raised in Delaware County, PA, Aaron graduated from Philadelphia University (which is now Jefferson University) with a Bachelor's Degree in Architecture. Aaron met his wife through church and now they live in the Lansdowne area with their son.
How did you arrive at COCOON, what path brought you here?
There are several people who work at COCOON that I know from my previous employer – but I have known the owner, Chris, for years. We both grew up in Delaware County and went to Elementary School & Middle School together.
When Chris was looking to add someone to his architectural design team, he reached out to me. I was immediately excited about COCOON's vision for the future and I was impressed by their plans for growth.
Who have you worked with in the past? And what have you done for them?
During college, I worked for a design build firm in Springhouse, PA over the summer and other holiday breaks. After graduation, they offered me a position as a Draftsperson. I worked with a lead designer there who I admired and learned a lot from.
From 2005-2020 I worked at Gardner/Fox Associates. During my time there I was able to learn from a certified architect and grew professionally from a Junior Architect to the Architectural Design Manager.
How long have you been doing what you do?
I have over 20 years of design build experience.
What are you known for professionally, what do you have a knack for?
I am known for being very detailed – I think people appreciate having someone who is detailed and enthusiastic about their home's design. I get very excited and I like picturing the impact it makes on our customer's everyday lives.
My approach and philosophy for residential projects stems from something Chris told me – I don't come to the table knowing all the answers, I come open-minded and open to all the possibilities.
What's the one problem you are best at solving for your clients? What do your ideal clients say about you?
I try to make sure that all our customers feel like they collaborated on their design. I am their advocate to make sure we arrived at the right solution.
I think customers would say – "Aaron really helped us by envisioning the solution to our spatial problems. He is passionate and enthusiastic about all ideas."
What are you most passionate about professionally? What most excites you about your work & the contribution you can make?
Architecture is an intersection of creativity and technical knowledge – and I enjoy the everyday problem solving that naturally occurs at this crossroad. Especially at a design build firm like COCOON where we are helping customers who live in a space that is causing problems in their daily life. Being able to offer them my professional eye helps them see the possibilities of their home by bringing them to life on paper and digitally!
What are you passionate about personally? What do you really enjoy? What can't you stop talking about?
I love my family – my wife and my son. I like going to the mountains and I enjoy spending time at a lake in northern PA.
Where can we find you when you're not working? What's your favorite way to spend a weekend or a Sunday afternoon?
When I am not working, I am usually involved with an activity at my church – Fraser Mennonite Church. But if I am at home you can find me sitting on my sun porch and reading history books.
Where did you grow up and why aren't you there now?
I grew up in Delaware County but when I married my wife we moved to Lansdowne. We chose the Lansdowne area for its historic architecture.
In the end, how do you want to be remembered?
I want to be remembered as someone who impacted and influenced people and places for the better.
What would be impossible for you to give up?
Coffee – I love iced coffee – I even love the memories made over a cup of coffee.
What is your favorite Movie?
Stranger Than Fiction
What is your favorite TV Show or Series?
Justified
What is a personal favorite quote?
"History is the means by which society maintains it identity in the face of change." – Robert Adam (Scottish Architect)
What is your favorite restaurant?
GIN ZA Japanese Restaurant
Papone's Pizza in Media
What is your favorite vacation spot?
Anywhere in the mountains with a lake!