Since we started as West Chester Design Build in 2007, we have continued to grow. With a new name and a new office space and design studio at 1150 West Chester Pike, we emerge as a new brand and look forward to sharing continued growth with the community.
By remodeling and reopening this new location, we hope to reimagine the remodeling experience, and even revitalize a piece of West Chester history.
A Little Background on Our New Building
For decades this unassuming building has sat on Route 3 in West Chester, home to a few small businesses. It was originally Glennon's Milk Service, a dairy provider for Chester County and surrounding areas.
This family business was a nod to West Chester's agrarian roots and served as a meeting place for livestock auctions in the 1950s and 60s. It was more than just a place for auctions, however. Vendors even served food and drink here, giving neighbors the chance to bond over a hot dog and soda. As West Chester's population has grown and businesses evolved, this building has changed right along with the town.
More recently, some brothers owned it. They had a mechanic shop in the main building and rented storage units in a newer building adjacent to the original Glennon's Milk Service building.
After sitting in disrepair for a few years, COCOON is bringing this old community hub back to life.
Our New Office and Hospitality Space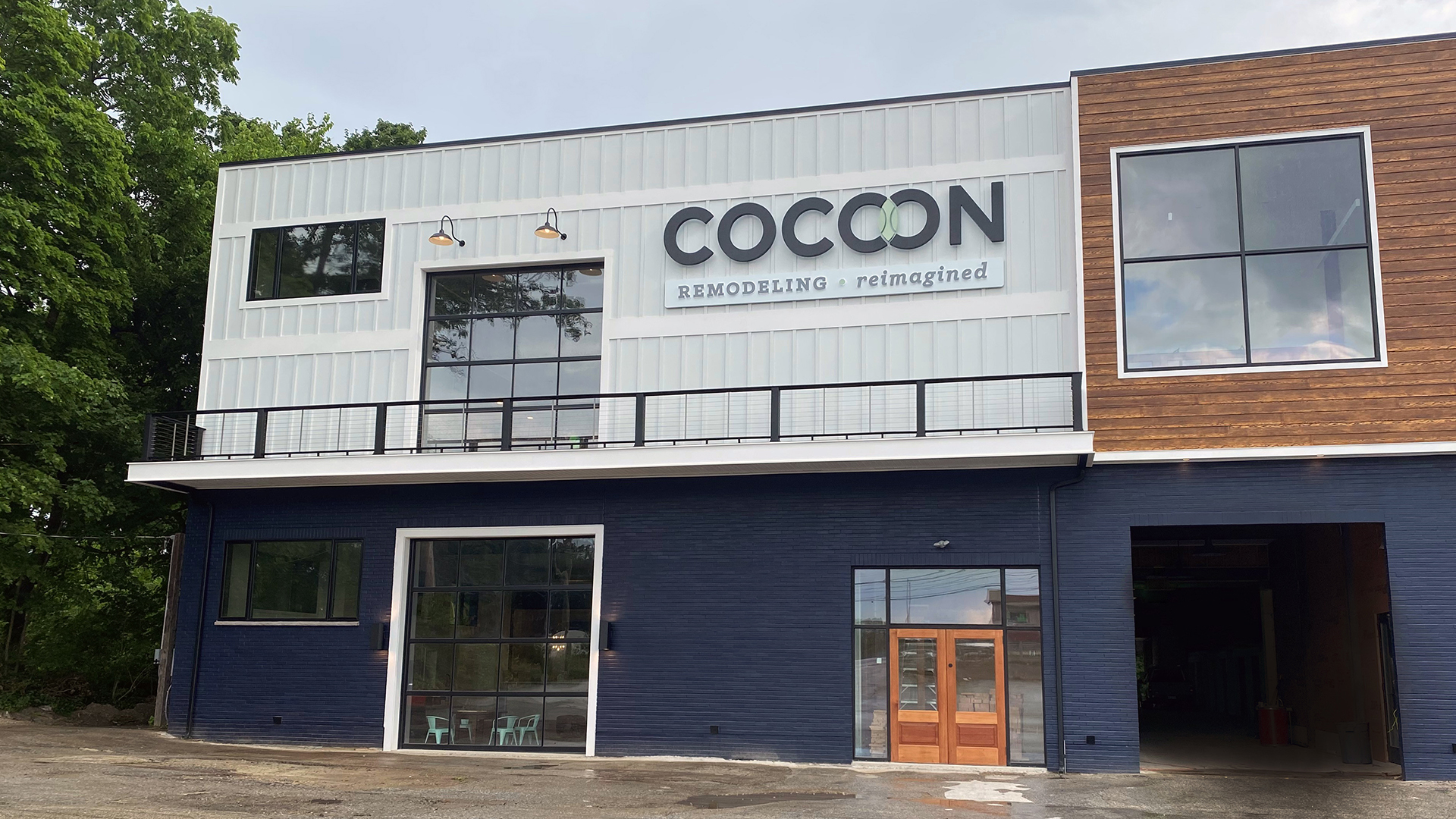 After more than 10 years of reimagining and transforming homes, we did with our own design studio. We have designed and remodeled a new place for our team and customers. And we can't wait for you to see it.
We redesigned the interior to reflect a modern loft. It boasts deep-stained steel beams, exposed ductwork, and plenty of natural light. Our warm neutral palette is the perfect backdrop to help you reimagine your home in any style and any color.
Along with soaring ceilings and clean lines, we have added some cozy touches as well. Notice the fireplace and kitchen? We want you to feel at home when you're working with us.
Coming Soon: Our Selection Center
In addition to our design studio, there are more changes coming. As you may already know COCOON strives to simplify the remodeling experience. There are three components to doing that. With a great team and a 3-stage process, we have already made great strides. The third component is a place to house all the unique finishes we offer.
That place is our selection center. Right now it's a work in progress. Once complete, you will be able to look at everything from cabinets and pulls, to light fixtures and floors. When you work with COCOON, you won't have to drive from store to store or rely on pictures from websites. At our selection center, you can see and touch pieces you may want for your home.
For us, this is one more way that we can make home remodeling easy and exciting for you. We can't wait for you to stop by.